You are here:
Career
Indian Army / Air Force / Navy
Indian Army / Air Force / Navy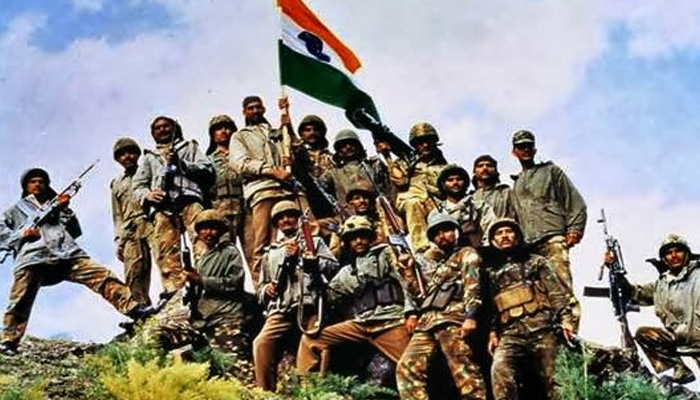 A career in the armed forces is one of honour, prestige and patriotism. Here's a glimpse of the training institutions and establishments that train our armed forces. Direct admission is possible in a select few, including the Armed Forces Medical College, National Defence Academy, Indian Military Academy, Air Force Academy, Indian Naval Academy and Officers' Training Academy. A regular student completing +2 science in all the subjects in his or her first attempt with English, physics, chemistry and biology (other specific criteria mentioned in the notification) may apply for admission to the Armed Forces Medical College for MBBS through a competitive selection process to serve as commissioned officers in the Armed Forces Medical Services. The Armed Forces Medical College, Pune, trains medical undergraduates, but it also trains postgraduates, dental postgraduates, nursing cadets and paramedical staff. Admission to the National Defence Academy Khadakvasla is also after +2 but open only to unmarried male candidates who have qualified the NDA exam and SSB Interview. NDAis a premier interservice training institution for training future officers of the Armed Forces. The duration of training is three years. On successful completion of the degree course, the cadets are awarded a Bachelor's degree in arts, science and computer science by Jawaharlal Nehru University. Based on their academic profile and performance in the classification test, cadets have the option of joining the science or humanities streams. In addition to English, they are also required to learn Hindi and a foreign language. Afterwards, the cadets join their respective service academies, Indian Military Academy, Naval Academy and Air Force Academy +2 Technical Entry Scheme for the Indian Army is for unmarried male candidates (not below 16½ years and above 19 years on the first day of the month when the course is commencing) who have passed +2 exam/equivalent with a minimum aggregate of 70% marks in physics, chemistry and mathematics. They undergo five years of training of which one year at IMA is basic military training and then four years of technical training comprising three years at the College of Military Engineering, Pune; Military College of Telecommunication Engineering, Mhow; Military College of Electronics & Mechanical Engineering, Secunderabad. Permanent commission is granted after four years, and post-commission training of one year takes place at the above colleges.
• • College of Military Engineering (CME) at Pune is a premier technical institution conducting training for personnel of the Corps of Engineers, other Arms and Services, Navy, Air Force, paramilitary forces, police and civilians. It is affiliated to Jawaharlal Nehru University (BTech and MTech degrees).
• • The Combined Defence Services Examination leads to entry into the Indian Military Academy, Dehradun or the Air Force Academy, Dindigul or the Indian Naval Academy Ezhimala or the Officers' Training Academy, Chennai
• • Indian Military Academy, Dehradun, imparts training to cadets for commission into the Army. The Officers' Training Academy, Chennai trains cadets for Short Service Commission
• • Defence Services Staff College Wellington is the premier tri-service training establishment for imparting training to middle level officers of the three wings of the Indian armed forces, friendly foreign countries and Indian civil services
• • College of Defence Management imparts modern, scientific management training to Armed Forces Officers
• • Army War College is the nodal Army instructional facility for all arms training at tactical and operational level in an inter-services environment
• • National Defence College is the only institution imparting knowledge on all aspects of national security and strategy
• • The Armoured Corps Centre and School imparts basic military training for Armoured Corps and trains all Armoured Corps personnel in the tactical and technical aspects of mechanised warfare
• • The Counter Insurgency and Jungle Warfare School functions as the Indian Army nodal instructional facility and a centre of excellence for training in counter insurgency and related aspects of jungle warfare
• • The Air Force Academy (AFA) at Dundigal (Hyderabad) imparts training to the flying, technical and ground duty branches as well as officers of the Army and Navy. It conducts Flying Training, Air Traffic Control Courses, Non-Technical Ground Duty Branches and Joint Services Training
• • The Air Force Technical College (AFTC), located at Jalhalli, is committed to grooming young trainee officers to become aeronautical engineers in the Indian Air Force
• • The Air Force Administrative College (AFAC), located at Coimbatore, has been set up exclusively for conducting training programmes for in-service officers of the Air Force, Navy and Army as well as officers of friendly foreign countries
• • The Indian Air Force has Flying Training Establishments (FTE) exclusively set up to train aspirants to take off as pilots. Bidar is host to an Air Force FTE which conducts Advanced Stage flying training for IAF trainees for 22 weeks, on HJT-16 aircraft. Hakimpet today is a modern training base where pilots selected for the fighter stream undergo a 22-week semester of training on the Polish-built ISKRA jet trainer aircraft. Pilots selected for the Helicopter Stream undergo a semester of 22 weeks on the HAL built Chetak helicopter and subsequently move on to another 22 weeks of training at Yelahanka, Bangalore.
• • Basic Flying Training School (BFTS) at Allahabad imparts flying training to officers of the Indian Army and Indian Navy on HPT-32 pistonengined aircraft. Entry of officers for Army Aviation and Naval Aviation is based on the requirements of the respective service. At the Transport Training Wing, Yelahanka (Bangalore), pilots selected for Transport Stream undergo a one-year programme divided into two semesters wherein they undergo flying training on Avro, Antonov-32 or Dornier-22-8 aircraft. The Yelahanka Station also has a Helicopter Unit operating Mi-8 aircraft where the second semester of training for Helicopter Stream pilots is undertaken.
• • Naval Academy Ezhimala (NAVAC) located at Kannur (Cannanore) Kerala is the premier training establishment of the Indian Navy, which conducts the basic training for all officers being inducted into the Indian Navy under various schemes. The period of initial training is 20 weeks for sub lieutenants of education, logistics, engineering, electrical, submarine (technical), air traffic control, naval architecture and law branches/cadres.
• • Candidates selected for the +2 Cadet (BTech) Entry Scheme (Permanent Commission) in the Indian Navy will be inducted as cadets for four-year BTech course in electronics & communication or mechanical engineering at the Indian Naval Academy, Ezhimala Kerala. During the course, cadets will be allotted executive or technical (Engineering, Electrical or Naval Architect Branch). On completion of the course, BTech degree will be awarded by Jawahar Lal Nehru University (JNU).
• • Many of the institutions are mainly for in-service training for officers of the armed forces and, hence, cannot be institutions to target for direct admission.