Eritrea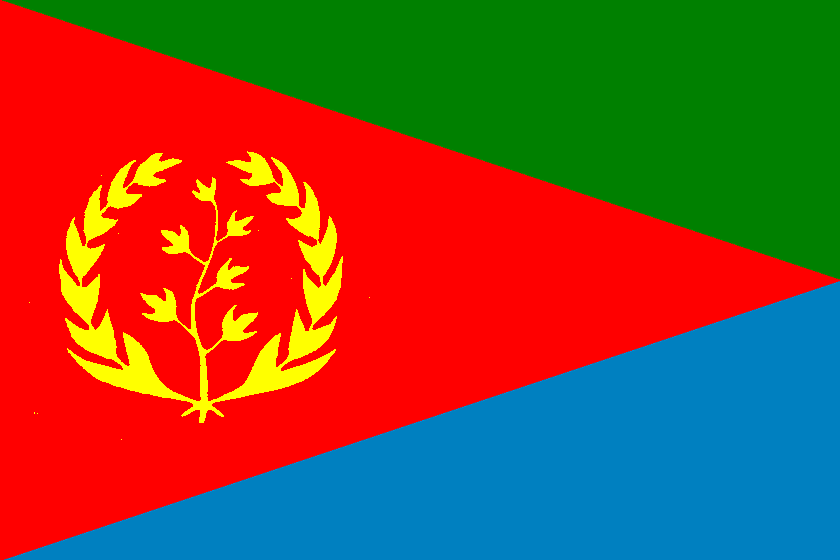 Geography:Eritrea was formerly the northernmost province of Ethiopia and is about the size of Indiana. Much of the country is mountainous. Its narrow Red Sea coastal plain is one of the hottest and driest places in Africa. The cooler central highlands have fertile valleys that support agriculture. Eritrea is bordered by the Sudan on the north and west, the Red Sea on the north and east, and Ethiopia and Djibouti on the south.
Government: A transitional government committed to a democratic system.
History: Eritrea was part of the first Ethiopian kingdom of Aksum until its decline in the 8th century. It came under the control of the Ottoman Empire in the 16th century, and later of the Egyptians. The Italians captured the coastal areas in 1885, and the Treaty of Uccialli (May 2, 1889) gave Italy sovereignty over part of Eritrea. The Italians named their colony after the Roman name for the Red Sea, Mare Erythraeum,and ruled there until World War II. The British captured Eritrea in 1941 and later administered it as a UN Trust Territory until it became federated with Ethiopia on Sept. 15, 1952. Eritrea was made an Ethiopian province on Nov. 14, 1962. A civil war broke out against the Ethiopian government, led by rebel groups who opposed the union and wanted independence for Eritrea. Fighting continued over the next 32 years. Eritrea Becomes an Independent Republic In 1991, the Ethiopian People's Revolutionary Democratic Front deposed the country's hard-line Communist dictator Mengistu. Without Mengistu's troops to battle, the Eritrean People's Liberation Front was able to gain control of Asmara, the Eritrean capital, and form a provisional government. In 1993, a referendum on Eritrean independence was held, supported by the UN and the new Ethiopian government. Eritrean voters almost unanimously opted for an independent republic. Ethiopia recognized Eritrea's sovereignty on May 3, 1993, and sought a new era of cooperation between the two countries. The cooperation did not last long. Following Eritrea's independence, Eritrea and Ethiopia disagreed about the exact demarcation of their borders, and in May 1998 border clashes broke out. Both impoverished countries spent millions of dollars on warplanes and weapons, about 80,000 people were killed, and refugees were legion. The war essentially ended in a stalemate, and a formal peace agreement was signed in Dec. 2000. In Dec. 2005, an international Court of Arbitration ruled that Eritrea had violated international law when it attacked Ethiopia in 1998.
Capital:Asmara,National name: Hagere Ertra Languages: Tigrinya (official), Arabic (official), English (official), Tigre, Kunama, Afar, other Cushitic languages Ethnicity/race: nine recognized ethnic groups: Tigrinya 55%, Tigre 30%, Saho 4%, Kunama 2%, Rashaida 2%, Bilen 2%, other (Afar, Beni Amir, Nera) 5% (2010 est.) National Holiday: Independence Day, May 24 Religions: Muslim, Coptic Christian, Roman Catholic, Protestant Literacy rate: 68.9% (2011 est.) Economic summary: GDP/PPP (2013 est.): $4.717 billion; per capita $1,200 . Real growth rate: 7%. Inflation: 13%. Unemployment: n.a. Arable land: 5.87%. Agriculture: sorghum, lentils, vegetables, corn, cotton, tobacco, coffee, sisal; livestock, goats; fish. Labor force: 2.955 billion (2012); agriculture 80%, industry and services 20%. Industries: food processing, beverages, clothing and textiles, salt, cement, commercial ship repair. Natural resources: gold, potash, zinc, copper, salt, possibly oil and natural gas, fish. Exports: $496.2 million (2013 est.): livestock, sorghum, textiles, food, small manufactures. Imports: $1.027 billion (2013 est.): machinery, petroleum products, food, manufactured goods. Major trading partners: Australia, France, Malaysia, Italy, Sudan, Saudi Arabia, Jordan, Germany, China, Brazil, U.S., Turkey (2006). Communications: Telephones: main lines in use: 60,000 (2012); mobile cellular: 305,300 (2012). Broadcast media: government controls broadcast media with private ownership prohibited; 1 state-owned TV station; state-owned radio operates 2 networks; purchases of satellite dishes and subscriptions to international broadcast media are permitted (2007). Internet hosts: 701 (2012). Internet users: 200,000 (2008). Transportation: Railways: total: 306 km (2008). Highways: total: 4,010 km; paved: 874 km; unpaved: 3,136 km (2000 est.). Ports and harbors: Assab, Massawa. Airports: 13 (2013). International disputes: Eritrea and Ethiopia agreed to abide by 2002 Ethiopia-Eritrea Boundary Commission's (EEBC) delimitation decision, but neither party responded to the revised line detailed in the November 2006 EEBC Demarcation Statement; Sudan accuses Eritrea of supporting eastern Sudanese rebel groups; in 2008 Eritrean troops moved across the border on Ras Doumera peninsula and occupied Doumera Island with undefined sovereignty in the Red Sea.
राजधानी असमारा
इरित्रिया (अरबी: إرتريا Iritriya) पूर्वोत्तर अफ्रीका में स्थित एक देश है, जिसे आधिकारिक तौर पर इरित्रिया राज्य के नाम से जाना जाता है। इसके पश्चिम में सूडान, दक्षिण में इथियोपिया और दक्षिणपूर्व में जिबूती स्थित है। देश के पूर्व और उत्तर पूर्व भाग में सऊदी अरब और यमन के सीध में लाल सागर की विशाल तटरेखा है। धालक द्वीपसमूह और हनीश द्वीप समूह के अनेक भाग इरित्रिया का हिस्सा हैं। 1,18,000 वर्ग किमी से छोटे इस देश की आबादी करीबन 5 लाख है। देश की राजधानी असमारा है।