Kazakhstan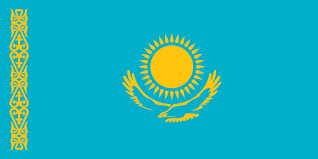 Geography Kazakhstan lies in the north of the central Asian republics and is bounded by Russia in the north, China in the east, Kyrgyzstan and Uzbekistan in the south, and the Caspian Sea and part of Turkmenistan in the west. It has almost 1,177 mi (1,894 km) of coastline on the Caspian Sea. Kazakhstan is about four times the size of Texas. The territory is mostly steppe land with hilly plains and plateaus.
Government Republic.
History The indigenous Kazakhs were a nomadic Turkic people who belonged to several divisions of Kazakh hordes. They grouped together in settlements and lived in dome-shaped tents made of felt called yurts. Their tribes migrated seasonally to find pastures for their herds of sheep, horses, and goats. Although they had chiefs, the Kazakhs were rarely united as a single nation under one great leader. Their tribes fell under Mongol rule in the 13th century and they were dominated by Tartar khanates until the area was conquered by Russia in the 18th century. The area became part of the Kirgiz Autonomous Republic formed by the Soviet authorities in 1920, and in 1925 this entity's name was changed to the Kazakh Autonomous Soviet Socialist Republic (Kazakh ASSR). After 1927, the Soviet government began forcing the nomadic Kazakhs to settle on collective and state farms, and the Soviets continued the czarist policy of encouraging large numbers of Russians and other Slavs to settle in the region. Owing to the region's intensive agricultural development and its use as a testing ground for nuclear weapons by the Soviet government, serious environmental problems developed by the late 20th century. Along with the other central Asian republics, Kazakhstan obtained its independence from the collapsing Soviet Union in 1991. Kazakhstan proclaimed its membership in the Commonwealth of Independent States on Dec. 21, 1991, along with ten other former Soviet republics. In 1993, the country overwhelmingly approved the Nuclear Non-Proliferation Treaty. President Nursultan Nazarbayev restructured and consolidated many operations of the government in 1997, eliminating a third of the government's ministries and agencies. In 1997, the national capital was changed from Almaty, the largest city, to Astana (formerly Aqmola).
Capital:Astana,National name: Qazaqstan Respublikasy Languages: Kazak (Qazaq, state language) 64%; Russian (official, used in everyday business) 95% (2001 est.) Ethnicity/race: Kazakh (Qazaq) 63.1%, Russian 23.7%, Uzbek 2.8%, Ukrainian 2.1%, Uighur 1.4%, Tatar 1.3%, German 1.1%, other 4.5% (2009 census) Religions: Islam 47%, Russian Orthodox 44%, Protestant 2%, other 7% National Holiday: Independence Day, December 16 Literacy rate: 99.7% (2009 est.) Economic summary: GDP/PPP $243.6 billion (2013 est.); $14,100 (2013 est.). Real growth rate: 5%. Inflation:5.8%. Unemployment: 5.3%. Arable land: 8.82%. Agriculture: grain (mostly spring wheat), cotton; livestock. Labor force: 9.022 million; industry 11.9%, agriculture 25.8%, services 62.3% (2013 est.). Industries: oil, coal, iron ore, manganese, chromite, lead, zinc, copper, titanium, bauxite, gold, silver, phosphates, sulfur, iron and steel; tractors and other agricultural machinery, electric motors, construction materials. Natural resources: major deposits of petroleum, natural gas, coal, iron ore, manganese, chrome ore, nickel, cobalt, copper, molybdenum, lead, zinc, bauxite, gold, uranium. Exports: $87.23 billion (2013 est.): oil and oil products, natural gas, ferrous metals, chemicals, machinery, grain, wool, meat, coal. Imports: $52.03 billion (2013 est.): machinery and equipment, metal products, foodstuffs. Major trading partners: China, Germany, Ukraine, Italy, Netherlands, Switzerland, Austria (2012 ). Communications: Telephones: main lines in use: 4.34 million (2012); mobile cellular: 28.731 million (2012). Broadcast media:state owns nearly all radio and TV transmission facilities and operates national TV and radio networks; nearly all nationwide TV networks are wholly or partly owned by the government; some former state-owned media outlets have been privatized and are controlled by the president's daughter, who heads the Khabar Agency that runs multiple TV and radio stations; a number of privately-owned TV stations; households with satellite dishes have access to foreign media; a small number of commercial radio stations operating along with state-run radio stations (2008). Internet Service Providers (ISPs): 67,464 (2012). Internet users: 5.299 million (2009). Transportation: Railways: total: 15,333 km (2012). Roadways: total: 97,418 km ; paved: 87,140 km; unpaved: 10,278 km (2012). Waterways: 4,000 km (on the Ertis (Irtysh) River (80%) and Syr Darya (Syrdariya) River) (2010). Ports and terminals:Aqtau (Shevchenko), Atyrau (Gur'yev), Oskemen (Ust-Kamenogorsk), Pavlodar, Semey (Semipalatinsk). Airports: 96 (2013). International disputes: Kyrgyzstan has yet to ratify the 2001 boundary delimitation with Kazakhstan; field demarcation of the boundaries with Turkmenistan commenced in 2005, and with Uzbekistan in 2004; ongoing demarcation with Russia began in 2007; demarcation with China was completed in 2002; creation of a seabed boundary with Turkmenistan in the Caspian Sea remains under discussion; Azerbaijan, Kazakhstan, and Russia ratified Caspian seabed delimitation treaties based on equidistance, while Iran continues to insist on a one-fifth slice of the sea.
राजधानी अस्ताना
क़ज़ाख़स्तान (क़ज़ाख़: Қазақстан / Qazaqstan, रूसी:Казахстан / Kazakhstán) यूरेशिया में स्थित एक देश है। क्षेत्रफल के आधार से ये दुनिया का नवाँ सबसे बड़ा देश है। एशिया में एक बड़े भूभाग में फैला हुआ यह देश पहले सोवियत संघ का हिस्सा हुआ करता था। 1991 में सोवियत संघ के विघटन के उपरांत इसने सबसे अंत में अपने आपको स्वतंत्र घोषित किया। सोवियत प्रशासन के दौरान यहाँ कई महत्वपूर्ण परियोजनाएँ संपन्न हुईं, जिसमें कई रॉकेटों का प्रक्षेपण से लेकर क्रुश्चेव का वर्ज़िन भूमि परियोजना शामिल हैं। देश की अधिकाँश भूमि स्तेपी घास मैदान, जंगल तथा पहाड़ी क्षेत्रों से ढकी है।
यहाँ के मुख्य निवासी क़ज़ाख़ लोग हैं जो तुर्क मूल के हैं। अपने इतिहास के अधिकांश हिस्से में कज़ाख़स्तान की भूमि यायावर जातियों के साम्राज्य का हिस्सा रही है। इसकी राजधानी सन १९९८ में अस्ताना को बनाई गई जो सोवियत कालीन राजधानी अल्माती से बदलकर बनाई गई थी। यहां की क़ाज़ाक़ भाषा और रूसी भाषा मुख्य- और राजभाषाएँ हैं।
भूगोल
क़ज़ाख़स्तान का अधिकांश भूभाग (जैसा कि उपर कहा जा चुका है) स्तेपी, पहाड़, जंगल या मरुस्थलों से ढका है। मरुस्थल तो पड़ोसी तुर्कमेनिस्तान तथा उज्बेकिस्तान तक फैले हैं। दक्षिण तथा दक्षिण-पश्चिम में कैस्पियन सागर स्थित है, जबकि अरलसागर की सीमा उज्बेकिस्तान के साथ सम्मिलित है। देश के मध्य मे स्थित बलख़श झील विशालकाय झीलों में से एक है। उत्तरी तिएन शान क्षेत्र की कोलसाई झीलें पर्वतीय झीलों की श्रेणी में आती हैं।
यहाँ की प्राकृतिक सम्पदा क्षेत्रों में अक्सू-ज़बागली, अलमाटी, बरसा-केल्मेस, बयान-आउल, मारकोकल उस्तिर्त तथा पश्चिमी अल्ताई के नाम प्रमुखता से गिनाए जाते हैं। संयुक्त राष्ट्र संघ की विश्व धरोहरों में स्टेपी क्षेत्र सर्यरका का नाम 2008 में शामिल हुआ है। नम क्षेत्रों में गुलाबी फ्लेमिंगो, साइबेरियाई व्हाइट क्रेन, डलमाटियन पेलिकन तथा पलाशी फिश ईगल जैसी पक्षियाँ पाई जाती हैं।