Kyrgyzstan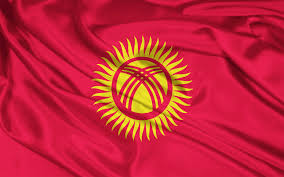 Geography:Kyrgyzstan (formerly Kirghizia) is a rugged country with the Tien Shan mountain range covering approximately 95% of the whole territory. The mountaintops are perennially covered with snow and glaciers. Kyrgyzstan borders Kazakhstan on the north and northwest, Uzbekistan in the southwest, Tajikistan in the south, and China in the southeast. The republic has the same area as the state of Nebraska.
Government: Constitutional republic.
History: The native Kyrgyz are a Turkic people who first settled in the Tien Shan mountains. They were traditionally pastoral nomads. Due to extensive Russian colonization in the 1900s, Russian settlers were given much of the best agricultural land. This led to an unsuccessful and disastrous revolt by the Kyrgyz people in 1916. Kyrgyzstan became part of the Soviet Federated Socialist Republic in 1924 and was made an autonomous republic in 1926. It became a constituent republic of the USSR in 1936. The Soviets forced the Kyrgyz to abandon their nomadic culture and adopt modern farming and industrial production techniques. Kyrgyzstan proclaimed its independence from the Soviet Union on Aug. 31, 1991. On Dec. 21, 1991, Kyrgyzstan joined the Commonwealth of Independent States. The country joined the UN and the IMF in 1992 and adopted a shock-therapy economic program. Voters endorsed market reforms in a referendum held in Jan. 1994, and in 1996, referendum voters overwhelmingly endorsed proposed constitutional changes that enhanced the power of the president. There is an ethnic and economic divide between the more developed north with its Kyrgyz population and the impoverished south, which is made up of Uzbeks and a diverse group of other ethnicities. About 50% of the entire population lived below the poverty line in 2003. Since 1999, several groups of radical Islamic gunmen, believed to be from Uzbekistan or Tajikistan, have led raids and kidnappings from base camps in Kyrgyzstan's mountains.
Capital: Bishkek,National name: Kyrgyz Respublikasy Languages: Kyrgyz (official) 64.7%, Uzbek 13.6%, Russian (official) 12.5%, Dungun 1%, other 8.2% (1999 census) Ethnicity/race: Kyrgyz 64.9%, Uzbek 13.8%, Russian 12.5%, Dungan 1.1%, Ukrainian 1%, Uygur 1%, other 5.7% (1999) Religions: Islam 75%; Russian Orthodox 20%; other 5% National Holiday: Independence Day, August 31 Literacy rate: 99.2% (2009 est.) Economic summary: GDP/PPP (2013 est.): $14.3 billion; per capita $2,500. Real growth rate: 7.4%. Inflation:6.8% (2013). Unemployment: 8.6% (2011 est.). Arable land: 6.38%. Agriculture: tobacco, cotton, potatoes, vegetables, grapes, fruits and berries; sheep, goats, cattle, wool. Labor force: 2.344 million (2007); agriculture 48%, industry 12.5%, services 29.5% (2005 est.). Industries: small machinery, textiles, food processing, cement, shoes, sawn logs, refrigerators, furniture, electric motors, gold, rare earth metals. Natural resources: abundant hydropower; significant deposits of gold and rare earth metals; locally exploitable coal, oil, and natural gas; other deposits of nepheline, mercury, bismuth, lead, and zinc. Exports: $1.881 billion (2013 est.): cotton, wool, meat, tobacco; gold, mercury, uranium, natural gas, hydropower; machinery; shoes. Imports: $5.082 billion (2013 est.): oil and gas, machinery and equipment, chemicals, foodstuffs. Major trading partners: UAE, Russia, China, Uzbekistan, Kazakhstan, Afghanistan, Turkey (2012). Communications: Telephones: main lines in use: 489,000 (2012); mobile cellular: 6.8 million (2012). Broadcast media: state-run television broadcaster operates 2 nationwide networks and 6 regional stations; roughly 20 private TV stations operating with most rebroadcasting other channels; state-run radio broadcaster operates 2 networks; about 20 private radio stations operating (2007). Internet Service Providers (ISPs): 115,573 (2012) Internet users:2.195 million (2009 ). Transportation: Railways: 470 km (2010). Highways: total: 34,000 km (2007 est.). Waterways: 600 km (2010). Ports and harbors: Balykchy (Ysyk-Kol or Rybach'ye). Airports: 28 (2013). International disputes: Kyrgyzstan has yet to ratify the 2001 boundary delimitation with Kazakhstan; disputes in Isfara Valley delay completion of delimitation with Tajikistan; delimitation of 130 km of border with Uzbekistan is hampered by serious disputes around enclaves and other areas
किर्ग़िज़स्तान, आधिकारिक तौर पर किर्ग़िज़ गणतंत्र, मध्य एशिया में स्थित एक देश है। चारों तरफ जमीन और पहाड़ियों से घिरे इस देश की सीमा उत्तर में कज़ाख़िस्तान, पश्चिम में उज़्बेकिस्तान, दक्षिण पश्चिम में ताजिकिस्तान और पूर्व में चीन से मिलती है। "किरगिज़", जिससे देश का नाम पड़ा है, शब्द की उत्पति मूलतः "चालीस लड़कियां" या फिर "चालीस जनजातियां" मानी जाती है। जो संभवतः महानायक मानस की ओर इंगित करती हैं, जिन्होंने किंवदंती के अनुसार, खितान के खिलाफ चालीस जनजातियों को एकजुट किया था। किर्ग़िज़स्तान के झंडे में सूर्य की चालीस किरणें मानस के इन्हीं चालीस जनजातियों का प्रतीक हैं।
आठवीं सदी में जब अरब अफ़वाज ने वुस़्त एशिया फ़तह क्या तो यहां मुकीम आबादी मुस्लमान होने लगी। बअर वीं सदी में चंगेज़ ख़ान ने इस इलाके का क़ब्ज़ा कर लिया और यूं छह सदीयों तक ये चीन का हिस्सा रहा। अठारवीं सदी के आख़िर में दो मुआहिदों के तहत ये इलाका रूसी सल़्तनत का मफुॅज़ह सूबा करगुज़ीह बन गया। इस दूर में कई सरकश करग़ीज़ चीन या अफ़ग़ानिस्तान मुंतकिल हो गए। सन्ॅ 1919 से यहां सोवीत दूर शुरू हुआ जो 31 अगस्त 1991 में जमहूरीया करग़ीज़सतान की आज़ादी के साथ अपने इखतताम पर पहुंचा।
भूगोल किर्गिज गणराज्य का कुल क्षेत्रफल 198500 वर्ग किलोमीटर है जिसमें से 65 प्रतिशत [तयानि शान]] और [पामीर]] के पर्वतीय क्षेत्र हैं। 1606 मीटर की ऊंचाई पर असम्यक कौल की खारी झील स्थित है जो दुनिया में इस प्रकार की दूसरी सब से बड़ी झील है। गुरग़ीज़ी भाषा में इस के मानी "गर्म झील" हैं क्योंकि इतने बर्फ़ानी इलाके में और इस ऊंचाई पर होने के बावजूद यह साल भर जमती नहीं है। इस नमकीन झील के इतर, यह क्षेत्र, अन्य मध्य एशियाई राष्ट्रों के प्रकार ही पूर्ण रूप से शुष्क जलवायु वाला है। इस की सीमा किसी समुंद्र से नहीं मिलतीं।
यहाँ स्वर्ण और अन्य बहुमूल्य खनिज सीमित मात्रा में प्रस्तुत हैं। पहाड़ों से घिरे हुए इस देश में मात्र 8 प्रतिशत क्षेत्र ही कृषि योग्य है, जो कि नदियों की घाटियों में है।। इन घाटियों में से किर्गिजिया की दो बड़ी नदियाँ , [कारओ- नदी-] (काली नदी) और [नारीन] गुज़रते हैं। इन के संगम से [ सियाओ नदी] निकलती है।