Switzerland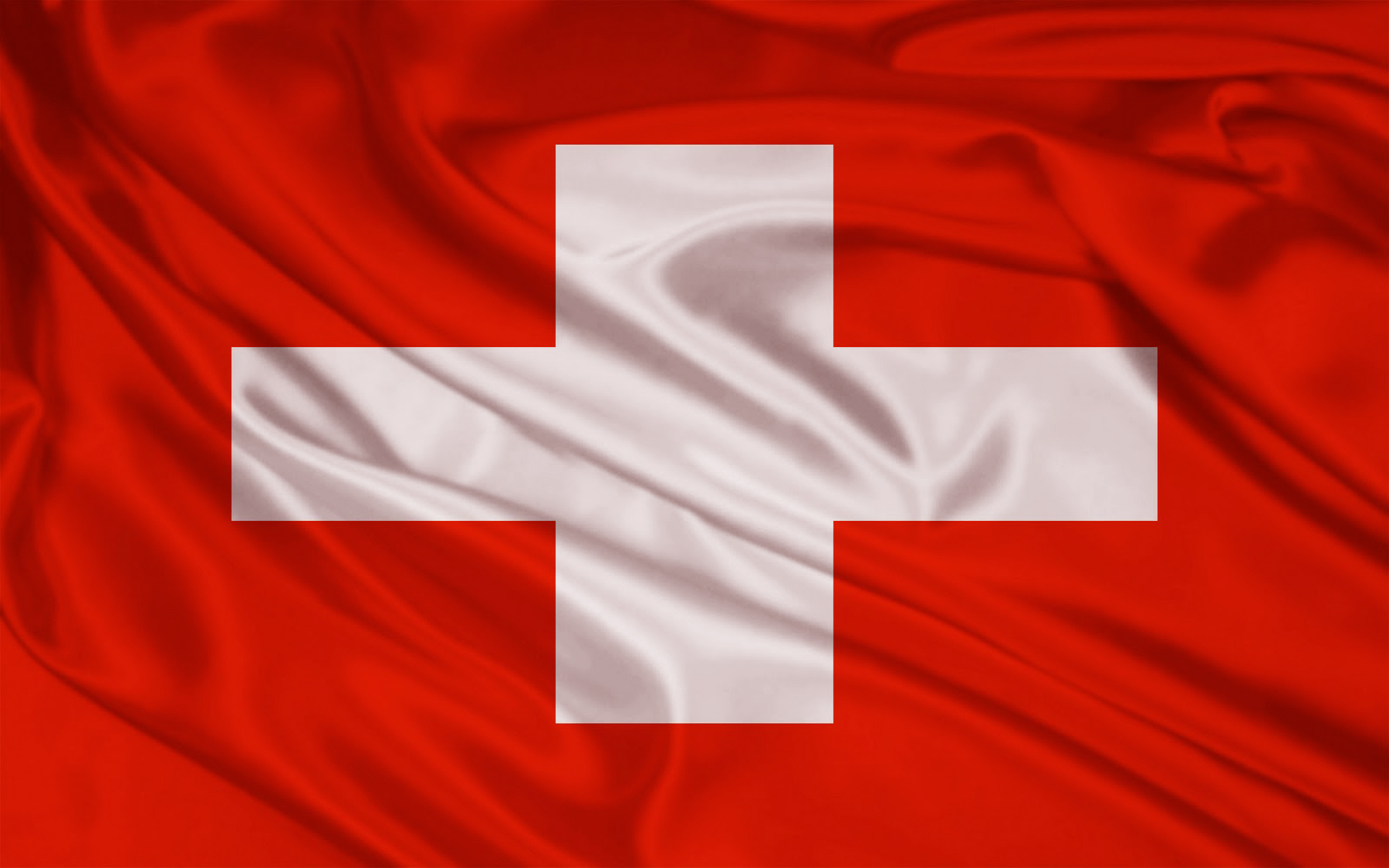 Geography: Switzerland, in central Europe, is the land of the Alps. Its tallest peak is the Dufourspitze at 15,203 ft (4,634 m) on the Swiss side of the Italian border, one of 10 summits of the Monte Rosa massif. The tallest peak in all of the Alps, Mont Blanc (15,771 ft; 4,807 m), is actually in France. Most of Switzerland is composed of a mountainous plateau bordered by the great bulk of the Alps on the south and by the Jura Mountains on the northwest. The country's largest lakes—Geneva, Constance (Bodensee), and Maggiore—straddle the French, German-Austrian, and Italian borders, respectively. The Rhine, navigable from Basel to the North Sea, is the principal inland waterway.
Government: Federal republic.
History: Called Helvetia in ancient times, Switzerland in 1291 was a league of cantons in the Holy Roman Empire. Fashioned around the nucleus of three German forest districts of Schwyz, Uri, and Unterwalden, the Swiss Confederation slowly added new cantons. In 1648 the Treaty of Westphalia gave Switzerland its independence from the Holy Roman Empire. French revolutionary troops occupied the country in 1798 and named it the Helvetic Republic, but Napoléon in 1803 restored its federal government. By 1815, the French- and Italian-speaking peoples of Switzerland had been granted political equality. In 1815, the Congress of Vienna guaranteed the neutrality and recognized the independence of Switzerland. In the revolutionary period of 1847, the Catholic cantons seceded and organized a separate union called the Sonderbund , but they were defeated and rejoined the federation.
Capital: Bern,National name: Schweiz/Suisse/Svizzera/Svizra Languages: German (official) 64.9%, French (official) 22.6%, Italian (official) 8.3%, Serbo-Croatian 2.5%, Albanian 2.6%, Portuguese 3.4%, Spanish 2.2%, English 4.6%, Romansch (official) 0.5%, other 5.1% (2012 est.) Ethnicity/race: German 65%, French 18%, Italian 10%, Romansch 1%, other 6% Religions: Roman Catholic 38.2%, Protestant 26.9%, Muslim 4.9%, other Christian 5.7%, other 1.6%, none 21.4%, unspecified 1.3% (2012 est.) Literacy rate: 99% (2003 est.) Economic summary: GDP/PPP (2013 est.): $371.2 billion; per capita $54,800. Real growth rate: 2%. Inflation: -0.4%. Unemployment: 3.2%. Arable land: 9.8%. Agriculture: grains, fruits, vegetables; meat, eggs. Labor force:4.976 million (2013); services 73.2%, industry 23.4%, agriculture 3.4% (2010). Industries: machinery, chemicals, watches, textiles, precision instruments, tourism, banking, insurance. Natural resources: hydropower potential, timber, salt. Exports: $229.2 billion (2013 est.): machinery, chemicals, metals, watches, agricultural products.Imports: $200.5 billion (2013 est.): machinery, chemicals, vehicles, metals; agricultural products, textiles. Major trading partners: Germany, U.S., France, Italy, UK, China, Austria (2013). Communications: Telephones: main lines in use: 4.382 million (2012); mobile cellular: 10.46 million (2012).Broadcast media: the publicly-owned radio and TV broadcaster, Swiss Broadcasting Corporation (SRG/SSR), operates 7 national TV networks, 3 broadcasting in German, 2 in Italian, and 2 in French; private commercial TV stations broadcast regionally and locally; TV broadcasts from stations in Germany, Italy, and France are widely available via multi-channel cable and satellite TV services; SRG/SSR operates 18 radio stations that, along with private broadcasters, provide national to local coverage (2009). Internet Service Providers (ISPs): 5.301 million (2012). Internet users: 6.152 million (2009). Transportation: Railways: total: 4,876 km (2008). Highways: total: 71,464 km; paved: 71,464 km (including 1,415 km of expressways); unpaved: 0 km (2011). Waterways: 1,292 km (2010) Ports and harbors: Basel. Airports: 63 (2013). International disputes: none.
राजधानी: बर्न,
स्विट्जरलैंड मध्य यूरोप का एक देश है। इसकी 60 % सरज़मीन ऐल्प्स पहाड़ों से ढकी हुई है, सो इस देश में बहुत ही ख़ूबसूरत पर्वत, गाँव, सरोवर (झील) और चारागाह हैं। स्विस लोगों का जीवनस्तर दुनिया में सबसे ऊँचे जीवनस्तरों में से एक है। स्विस घड़ियाँ, चीज़, चॉकलेट, बहुत मशहूर हैं।
इस देश की तीन राजभाषाएँ हैं : जर्मन (उत्तरी और मध्य भाग की मुख्य भाषा), फ़्रांसिसी (पश्चिमी भाग) और इतालवी (दक्षिणी भाग) और एक सह-राजभाषा है : रोमांश (पूर्वी भाग)। इसके प्रान्त कैण्टन कहे जाते हैं। स्विट्स़रलैण्ड एक लोकतन्त्र है जहाँ आज भी प्रत्यक्ष लोकतन्त्र देखने को मिल सकता है। यहाँ कई बॉलीवुड फ़िल्म के गानों की शूटिंग होती है। लगभग 20 % स्विस लोग विदेशी मूल के हैं। इसके मुख्य शहर और पर्यटक स्थल हैं : ज़्यूरिख, जनीवा, बर्न (राजधानी), बासल, इंटरलाकेन, लोज़ान, लूत्सर्न, इत्यादि।यहाँ एक तरफ बर्फ के सुंदर ग्लेशियर हैं। ये ग्लेशियर साल में आठ महीने बर्फ की सुंदर चादर से ठके रहते हैं। तो वहीँ दूसरी तरफ सुंदर वादियाँ हैं जो सुंदर फूलों और रंगीन पत्तियों वाले पेड़ों से ढकीं रहती हैं। भारतीय निर्देशक यश चोपड़ा की फिल्मों में इस खूबसूरत देश के कई नयनाभिराम दृश्य देखने को मिलते हैं।
इतिहास
ला टान सभ्यता ईसापूर्व 450 के समय रही होगी। ईसा के 15 साल पहले यह रोमन साम्राज्य का अंग बन गया। चौथी सदी में यह बिजेन्टाइन साम्राज्य से स्वतंत्र हो गया और कई प्राचीन साम्राज्यों के बीच बँटा रहा।सन् 1798 में फ्रांस के अधीन में आने के बाद नेपोलियन ने यहाँ पर फ्रांस का संविधान लागू किया। बाद में इसे हटा लिया गया। दोनों विश्वयुद्धों में से किसी में भी स्विट्ज़रलैंट पर कोई खास आक्रमण नहीं हुआ। प्रथम विश्वयुद्ध में 1917 तक लेनिन यहीं रहे थे।
भूगोल
दक्षिण तथा दक्षिण-पूर्व में आल्प्स पर्वत श्रेणिया हैं। देश में कई झीले है - जेनेवा झील का नाम इनमें प्रमुख है। इसके उत्तर पूर्व में जर्मनी, पश्चिम में फ्रांस, दक्षिण में इटली और पूर्व में आस्ट्रिया स्थित है।