Uzbekistan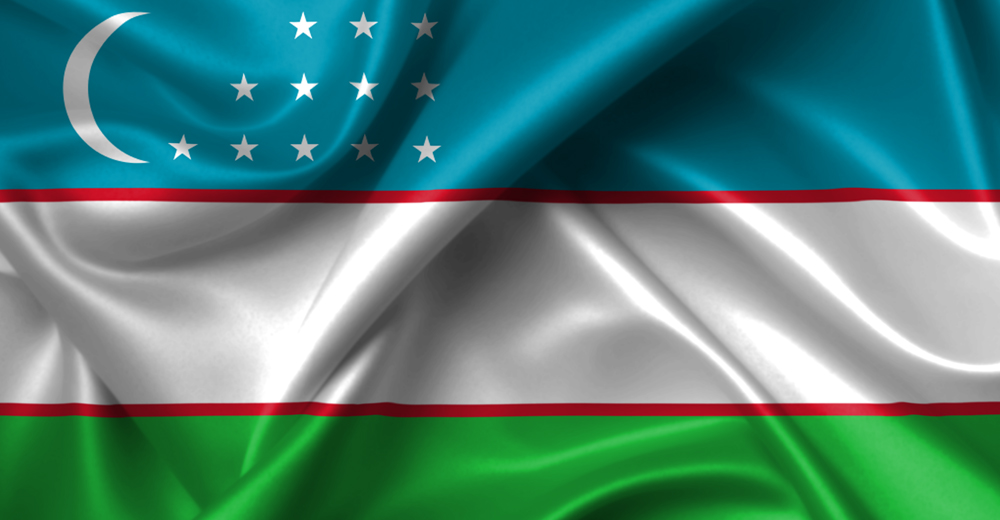 Geography: Uzbekistan is situated in central Asia between the Amu Darya and Syr Darya Rivers, the Aral Sea, and the slopes of the Tien Shan Mountains. It is bounded by Kazakhstan in the north and northwest, Kyrgyzstan and Tajikistan in the east and southeast, Turkmenistan in the southwest, and Afghanistan in the south. The republic also includes the Karakalpakstan Autonomous Republic, with its capital, Nukus (1992 est. pop., 182,000). The country is about one-tenth larger in area than the state of California.
Government: Republic; authoritarian presidential rule.
History: The Uzbekistan land was once part of the ancient Persian Empire and was later conquered by Alexander the Great in the 4th century B.C.During the 8th century, the nomadic Turkic tribes living there were converted to Islam by invading Arab forces who dominated the area. The Mongols under Ghengis Khan took over the region from the Seljuk Turks in the 13th century, and it later became part of Tamerlane the Great's empire and that of his successors until the 16th century. The Uzbeks invaded the territory in the early 16th century and merged with the other inhabitants in the area. Their empire broke up into separate Uzbek principalities, the khanates of Khiva, Bukhara, and Kokand. These city-states resisted Russian expansion into the area but were conquered by the Russian forces in the mid-19th century. The territory was made into the Uzbek Republic in 1924 and became the independent Uzbekistan Soviet Socialist Republic in 1925. Under Soviet rule, Uzbekistan concentrated on growing cotton with the help of irrigation, mechanization, and chemical fertilizers and pesticides, causing serious environmental damage.
Capital :Tashkent,National name: Ozbekiston Respublikasi Languages:Uzbek 74.3%, Russian 14.2%, Tajik 4.4%, other 7.1% Ethnicity/race:Uzbek 80%, Russian 5.5%, Tajik 5%, Kazak 3%, Karakalpak 2.5%, Tatar 1.5%, other 2.5% (1996 est.) Religions:Islam (mostly Sunnis) 88%, Eastern Orthodox 9%, other 3% Literacy rate: 99.4% (2011 est.) Economic summary: GDP/PPP (2013 est.): $112.6 billion; per capita $3,800. Real growth rate: 7%. Inflation:10.1% officially; 22% based on analysis of consumer prices. Unemployment: 4.9% officially, plus another 20% underemployed. Arable land: 9.61%. Agriculture: cotton, vegetables, fruits, grain; livestock. Labor force: 16.99 million (2013); agriculture 25.9%, industry 13.2%, services 60.9% (2012). Industries: textiles, food processing, machine building, metallurgy, mining, hydrocarbon extraction, chemicals. Natural resources: natural gas, petroleum, coal, gold, uranium, silver, copper, lead and zinc, tungsten, molybdenum. Exports: $14.91 billion (2013 est.): energy products, cotton, gold, mineral fertilizers, ferrous and nonferrous metals, textiles, food products, machinery, automobiles. Imports: $12.64 billion (2013 est.): machinery and equipment, foodstuffs, chemicals, ferrous and nonferrous metals. Major trading partners: Russia, China, Turkey, Kazakhstan, Kyrgyzstan, Bangladesh, South Korea, Germany, Ukraine (2012). Communications: Telephones: main lines in use: 1.963 million (2012); mobile cellular: 20.274 million (2012).Radio broadcast stations: AM 15, FM 7, shortwave 10 (1998). Radios: 10.2 million (1997). Television broadcast stations: 10 (2013). Televisions: 6.4 million (1997). Internet Service Providers (ISPs): 56,075 (2012). Internet users: 4.689 million (2009). Transportation: Railways: total: 4,230 km (2012) Highways: total: 86,496 km; paved: 75,511 km; unpaved: 10,985 km (2000). Waterways: 1,100 (2012). Ports and harbors: Termiz (Amu Darya river). Airports: 53 (2013). International disputes: prolonged drought and cotton monoculture in Uzbekistan and Turkmenistan created water-sharing difficulties for Amu Darya river states; field demarcation of the boundaries with Kazakhstan commenced in 2004; border delimitation of 130 km of border with Kyrgyzstan is hampered by serious disputes around enclaves and other areas.
राजधानी: ताशकंद,
एशिया के केन्द्रीय भाग में स्थित एक देश है जो चारो ओर से जमीन से घिरा है। इतना ही नहीं, इसके चहुँदिश के देश की खुद भी समुद्र तक कोई पहुँच नहीं है। इसके उत्तर में कज़ाख़िस्तान, पूरब में ताज़िकिस्तान दक्षिण में तुर्कमेनिस्तान और अफ़गानिस्तान स्थित है। यह 1991 तक सोवियत संघ का एक घटक था। उज़्बेकिस्तान के प्रमुख शहरों में राजधानी ताशकंत के अलावा समरकंद तथा बुख़ारा का नाम प्रमुखता से लिया जा सकता है। यहाँ के मूल निवासी मुख्यतः उज़्बेक नस्ल के हैं, जो बोलचाल में उज्बेक भाषा का प्रयोग करते हैं।
इतिहास
मानववास यहाँ पर ईसा के 2000 साल पहले से है। ऐसा माना जाता है कि आज के उज़्बेकों ने वहाँ पर पहले से बसे आर्यों को विस्थापित कर दिया। सन् 327 ईसापूर्व में सिकंदर जब विश्व विजय (जो वास्तव में फ़ारस विजय से ज्यादा अधिक नहीं थी) पर निकला तो यहाँ उसे बहुत प्रतिरोध का सामना करना पड़ा। उसने यहाँ की राजकुमारी रोक्साना से शादी भी की पर युद्ध में उसे बहुत फ़ायदा नहीं हुआ। सिकंदर के बाद ईरान के पार्थियन तथा सासानी साम्राज्य का अंग यह आठवीं सदी तक रहा। इसके बाद अरबों ने ख़ुरासान पर कब्जा कर लिया और क्षेत्र में इस्लाम का प्रचार हुआ।
नौंवी सदी में यह सामानी साम्राज्य का अंग बना। सामानियों ने पारसी धर्म त्यागकर सुन्नी इस्लाम को आत्मसात किया। चौदहवीं सदी के अंत में यह तब महत्वपूर्ण क्षेत्र बन गया जब यहाँ तैमूर लंग का उदय हुआ। तैमूर ने मध्य और पश्चिमी एशिया में अद्भुत सफ़लता पाई। तैमूर ने उस्मान (ऑटोमन) सम्राट को भी हरा दिया था। उन्नीसवीं सदी में यह बढ़ते हुए रूसी साम्राज्य और 1924 में सोवियत संघ का सदस्य का अंग बना। 1991 में इसने सोवियत संघ से आजादी हासिल की।