One Day Internationals (ODI)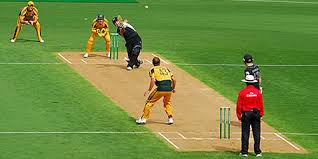 One Day Internationals (ODI) is one of the three officially recognized formats of Cricket, played between two teams with 11 players on each team. A One Day International (ODI) is a form of limited overs cricket, played between two teams with international status, in which each team faces a fixed number of overs, usually 50. The Cricket World Cup is played in this format. One Day International matches are also called Limited Overs Internationals (LOI), although this generic term may also refer to Twenty20 International matches. They are major matches and considered the highest standard of List A, limited overs competition.
The International Cricket Council (ICC) determines which teams have ODI status (meaning that any match played between two such teams under standard one-day rules is classified as an ODI).
Teams with permanent ODI status: The twelve Test-playing nations (which are also the twelve full members of the ICC) with permanent ODI status are: Australia, England, New Zealand, Pakistan, West Indies, India, Sri Lanka, South Africa, Zimbabwe, Bangladesh, Afghanistan, Ireland
Teams with temporary ODI status: Since 2005, the ICC has granted temporary ODI and T20 status to six other teams (known as Associate members). Teams earn this temporary status for a period of four years based on their performance in the ICC World Cup Qualifier, which is the final event of the ICC World Cricket League. The following four teams currently have this status: Scotland (from 27 June 2006, until the 2018 Cricket World Cup Qualifier), United Arab Emirates (from 1 February 2014, until the 2018 Cricket World Cup Qualifier), Hong Kong (from 1 May 2014, until the 2018 Cricket World Cup Qualifier), Papua New Guinea (from 8 November 2014, until the 2018 Cricket World Cup Qualifier).
Tournaments: Most ODI cricket takes place in a stand-alone series between two nations, often immediately before or after a Test series. Triangular or quadrangular series are also common. There are two major ODI tournaments which feature most or all permanent ODI teams, and often also associate members:
Cricket World Cup, played every four years since 1975.
ICC Champions Trophy, played every two years or four years since 1998.
The other major multi-country ODI tournament is the Asia Cup, organised by the Asian Cricket Council since 1983. It has mainly featured Pakistan, Sri Lanka, Bangladesh and India.