Indoor Cricket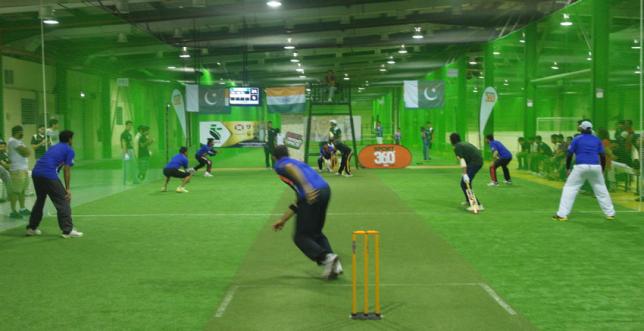 Indoor Cricket is a fully codified indoor variant of outdoor cricket. The sport originated in Germany, and was later adapted by all cricket playing nations. Indoor cricket retains the basic aspects of the outdoor form, but has several modifications to make it suitable for playing indoors. The game is most often played between two teams each consisting of six or eight players.
Some of the rules from indoor cricket are:
Every player has to mandatorily bat and bowl in a match. Each player has to bowl two overs and bat in partnership with other player for 4 overs.
Each team can only have 8 (unlike 11) players. There are versions of the sport played with 6 players per team.
Each innings is played for 16 overs (12 overs for the 6 player version). Depending on the league, an over will consist of 6 or 8 balls. A batsman who has played in one quarter cannot play in any other quarters.
Anytime a batsman gets out, five runs (3 in some leagues) are deducted from the team's total score.
The team that bats second, plays for the entire 16 overs, even if they exceed the first team's score, because multiple wickets could bring down their total score. Winners are decided only after both 16 over innings are done.
The World Indoor Cricket Federation (WICF) is the international governing body of indoor cricket. The WICF is responsible for the organisation and promotion of various international indoor cricket events (such as the World Cup) as well as the development of the sport itself throughout the world.
The Indian Indoor Sports Foundation (IISF) was founded in 2010 with a vision to advocate the growth of Indoor Sports in India. The IISF is currently affiliated as a Full Member of the World Indoor Cricket Federation and by virtue of this affiliation is mandated to nurture, grow and govern the sport of Indoor Cricket in India. Indoor Cricket is a relatively new concept in India and at present there is only one IISF affiliated arena in India. Bangalore Tuskers, an arena of the Action Sports Franchise started in Bangalore in 2010 boasts of 4 indoor playing courts set to WICF standards.
Types of match and competition:
Test Match: Test indoor cricket is the highest standard of indoor cricket and is played between members of the World Indoor Cricket Federation. Test matches are usually played in a group of matches called a "series" featuring two to four nations. These series can consist of three to five matches and where more than two nations are involved, may also include a finals series. Matches played at World Cup events are also considered Test matches.
National championships: Each member nation of the WICF usually holds its own national titles.
Minor Competition: In addition to social competition played throughout the world there are several state leagues and competitions within each nation. Various states, provinces or geographical areas organise their own state championships
World Cup: The Indoor Cricket World cup was first held in Birmingham, England in 1995 and has run every two or three years since. The event usually also features age-group, masters' and women's competitions.