Jianzi (Shuttlecock)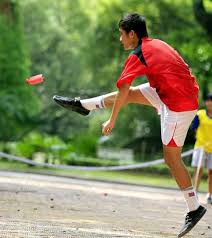 Jianzi is a traditional Chinese national sport in which players aim to keep a heavily weighted shuttlecock in the air by using their bodies, apart from the hands, unlike in similar games peteca and indiaca. Jianzi's competitive sport types are played on a badminton court using inner or outer lines in different types of jianzi's competitive sports, respectively. It can also be played artistically, among a circle of players in a street or park, with the objective to keep the shuttle 'up' and show off skills. In English, both the sport and the object with which it is played are referred to as "shuttlecock" or "featherball".
The shuttlecock (called a jianzi in the Chinese game and also known in English as a 'Chinese hacky sack' or 'kinja') typically has four feathers fixed into a rubber sole or plastic discs. Some handmade jianzis make use of a washer or a coin with a hole in the center.
Formal game: Competitively, the government-run game is called "Hackey-Sack (jianqiu 毽球)" played on a rectangular court 6.10 by 11.88 meters, divided by a net (much like badminton) at a height of 1.60 metres (1.50 metres for women). In recent years, jianzi has been transformed from a folk leisure activity to a formal competitive sport on a national and international scale. It not only has well-established official rules but also strict specifications about the components of a standard jianzi, from its weight and dimensions down to the number of feathers and the texture of its plastic base. It is now played over a net and deploys some of the goal-shooting techniques of football. The shuttlecock is kicked towards the other side and points are scored when the opposing team is unable to return it, as in the case of volleyball or badminton. The game has singles and doubles tournaments for men, women and mixed teams.
According to the International Shuttlecock Association, jianzi entered the international spotlight when a Chinese athlete from Jiangxu demonstrated it at the Summer Olympics in Berlin in 1936. The sport has since gained great recognition and has spread to many countries around the world. Since the foundation of the International Shuttlecock Association in 1999, the list of official members has expanded to include England, Finland, Germany, Hungary, Laos, Vietnam, Greece, France, India, Pakistan and Indonesia.
For more information visit: International Shuttlecock Association