Sports car racing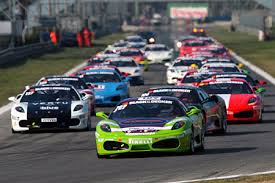 Sports car racing is a form of circuit auto racing with sports cars that have two seats and enclosed wheels. They may be purpose-built (Prototype) or related to road-going models (Grand Touring).
A type of hybrid between the purism of open-wheelers and the familiarity of touring car racing, this style is often associated with the annual Le Mans 24 Hours endurance race. First run in 1923, Le Mans is one of the oldest motor races still in existence. Other classic but now defunct sports car races include the Italian classics, the Targa Florio (1906–1977) and Mille Miglia (1927–1957), and the Mexican Carrera Panamericana (1950-1954). Most top class sports car races emphasize endurance (typically between 2.5-24 hours), reliability, and strategy, over pure speed. Longer races usually involve complex pit strategy and regular driver changes. As a result, sports car racing is seen more as a team endeavor than an individual sport, with team managers such asJohn Wyer, Tom Walkinshaw, driver-turned-constructor Henri Pescarolo, Peter Sauber and Reinhold Joest becoming almost as famous as some of their drivers.
The prestige of storied marques such as Porsche, Ferrari, Jaguar, Bentley, Aston Martin, Lotus, Maserati, Lamborghini, Alfa Romeo, Lancia, Mercedes-Benz, and BMW is built in part upon success in sports car racing and the World Sportscar Championship. These makers' top road cars have often been very similar both in engineering and styling to those raced. This close association with the 'exotic' nature of the cars serves as a useful distinction between sports car racing and touring cars.