Flying fox (cablecar)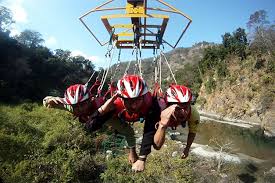 A flying fox is a small cable car, often propelled by gravity, and used as an item of children's play equipment and more rarely for other purposes. The term flying fox isAustralian English and New Zealand English. In other countries, it is also known as a zip-line or zip-wire. The toy should not be confused with a foxtail (or fox tail), which is a children's toy consisting of a ball with a rope attached to it, allowing it to be thrown like a sling.
In South Africa it is referred to as a Foofy Slide.