वेङ्ङालिल कृष्णन कृष्ण मेनन -जन्म: (3 मई, 1896)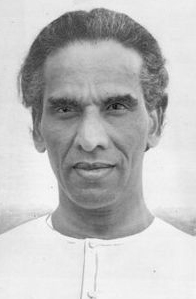 वेङ्ङालिल कृष्णन कृष्ण मेनन (जन्म: 3 मई, 1896; मृत्यु: 6 अक्टूबर, 1974) एक भारतीय राष्ट्रवादी, राजनीतिज्ञ, कूटनीतिज्ञ और भारत के पूर्व रक्षा मंत्री थे।
परिचय-
वी. के. कृष्ण मेनन का जन्म 3 मई, 1896 ई. को कालीकट, मद्रास (अब चेन्नई) के एक सम्पन्न नायर परिवार में हुआ था। उन्होंने मद्रास से स्नातक और क़ानून की परिक्षाएं उत्तीर्ण कीं। 1924 में वे लंदन चले गये और वहाँ एम. ए., एम. एस-सी. बैरिस्टर तथा अध्यापन का डिप्लोमा प्राप्त किया। उसके बाद 1947 तक वे इंग्लैंड में ही रहे। एनी बेसेंट के विचारों का उन पर प्रभाव था और जवाहरलाल नेहरू से उनकी मैत्री थी। इंग्लैंड में रहकर वे भारत की स्वतंत्रता के पक्ष में विचार करते रहे। वे ब्रिटेन की लेबर पार्टी के पक्षधर थे और लंदन में 'इण्डिया लीग' बनाई थी। यह संस्था एक प्रकार से वहाँ भारतीय काँग्रेस की प्रतिनिधि के रूप में कम थी।
द्वितीय विश्वयुद्ध की समाप्ति के बाद जब भारत स्वतंत्र हो गया तो 1947 में मेनन वापस आए। उन्होंने प्रधानमंत्री नेहरू जी के विशेष दूत के रूप में यूरोपीय देशों का भ्रमण किया। संयुक्त राष्ट्र संघ की सामान्य सभा में भारत के प्रतिनिधि रहे। 1947 से 1952 तक मेनन लंदन में भारत के हाई कमिश्नर थे। उन्होंने अनेक बार संयुक्त राष्ट्र संघ में भारत के प्रतिनिधि मंडल का नेतृत्व किया। 1957 और 1962 में वे लोकसभा के सदस्य चुने गए। 1957 में उन्हें देश का रक्षामंत्री बनाया गया। परंतु उनका यह कार्यकाल बहुत ही विवादित रहा। उन्होंने देश की रक्षा तैयारियों की यहाँ तह उपेक्षा की कि एक बार तीनों सेनाध्यक्षों ने त्याग पत्र तक दे दिया था। मेनन के समय में विदेशी खतरों से बेखबर रहकर आयुध कारखानों में घरेलू उपयोग के कुकर तक बनने लगे थे। जब 1962 में चीन का आक्रमण हुआ तब सेना की तैयारियों की उपेक्षा का परिणाम सामने आया। साधनहीन भारतीय सेना को पीछे हटना पड़ा। चारों ओर से वी. के. कृष्ण मेनन की कटु आलोचना होने लगी। उनके मित्र नेहरूजी भी उन्हें नहीं बचा सके। मेनन को रक्षा मंत्री का पद छोड़ने के लिए बाध्य होना पड़ा।
पुरस्कार-
वी. के. कृष्ण मेनन 1954 में भारत के दूसरे सर्वश्रेष्ठ नागरिक पुरस्कार पद्म विभूषण से सम्मानित होने वाले पहले व्यक्ति थे।
वी. के. कृष्ण मेनन का 6 अक्टूबर 1974 को दिल्ली में निधन हो गया।
Vengalil Krishnan Krishna Menon (3 May 1896 – 6 October 1974) was an Indian nationalist, diplomat, and politician, described by some as the second most powerful man in India, after his ally, 1st Prime Minister of India Jawaharlal Nehru.
Noted for his eloquence, brilliance, and forceful, highly abrasive persona, Menon inspired widespread adulation and fervent detraction in both India and the West; to his supporters, he was an unapologetic champion of India in the face of Western imperialism, who famously "taught the white man his place";to his Western detractors, "Nehru's evil genius".U.S. president Dwight D Eisenhower characterised him as a "menace ... governed by an ambition to prove himself the master international manipulator and politician of the age", while Indian president K.R. Narayanan eulogised him as a truly great man; decades after his death, Menon remains an enigmatic and controversial figure.
As a young man, Menon served as founding editor of the Pelican Imprint of Penguin Books, and led the overseas wing of the Indian independence movement, launching the India League in London, aggressively campaigning within the United Kingdom to win public support for Indian independence, and rallying the support of such superpowers as the Soviet Union. In the immediate wake of independence, Menon emerged as engineer of and spokesman for India's foreign policy, and, more generally, architect of the non-aligned movement; he headed India's diplomatic missions to the United Kingdom and the United Nations, and distinguished himself in diplomatic matters including the Suez crisis. In 1957, Menon set the record for the longest speech before the U.N. Security Council while defending India's rights to the disputed territory of Kashmir, in the process earning widespread popularity and the sobriquet "Hero of Kashmir" in India.
Returning to India, he was repeatedly elected to both houses of the Indian parliament from constituencies as varied as Mumbai, Bengal, and Trivandrum in his native state of Kerala, and served as a minister without portfolio, and later as Minister of Defence, overseeing the modernization of the Indian military and development of the Indian military-industrial complex, and spearheading the Indian annexation of Goa. He resigned in the wake of the Sino-Indian War, following allegations of India's military unpreparedness, but remained counselor to Nehru, member of parliament and elder statesman until his death.

Menon was born at Thiruvangad Thalassery and later moved to Panniyankara in Kozhikode, Kerala, in the Vengalil family of Malabar. His father Vakil [Advocate] Komath Krishna Kurup, Ayancheri, Vatakara, the son of Orlathiri Udayavarma, Raja of Kadathanadu and Komath Sreedevi Kettilamma Kurup, was a wealthy and influential lawyer. His mother was the granddaughter of Raman Menon who had been the Dewan of Travancore between 1815 and 1817, serving Gowri Parvati Bayi. Menon had his early education at the Zamorin's College, Kozhikode. In 1918 he graduated from Presidency College, Chennai, with a B.A. in History and Economics.
While studying in the Madras Law College, he became involved in Theosophy and was actively associated with Annie Besant and the Home Rule Movement. He was a leading member of the "Brothers of Service", founded by Annie Besant who spotted his gifts and helped him travel to England in 1924.
In London, Menon pursued further education at University College, London and the London School of Economics, where Harold Laski described him as the best student he had ever had.[6] In 1930 Menon was awarded an M.A. in Psychology with First Class Honours from University College, London, for a thesis entitled An Experimental Study of the Mental Processes Involved in Reasoning, and in 1934 he was awarded an MSc in Political Science with First Class Honours from the London School of Economics, for a thesis entitled English Political Thought in the Seventeenth Century. He had continued to study law and was admitted to the Middle Temple, also, in 1934, thus marking the end of his formal education at the age of 37.
During the 1930s, Menon worked as an editor for Bodley Head and Twentieth Century Library, and then with Penguin Books with founder Sir Allen Lane.According to S Muthiah, the idea for Penguin Books was Menon's. In his celebrated history of the old British port, Madras Miscellany, he writes:
" .. he (Menon) dreamt of flooding the market with cheap paperback editions of quality titles. He discussed the idea with a colleague at Bodley Head and Allen Lane jumped at it. In 1935, they quit Bodley Head and with 100 Pounds capital, set up office in the crypt of St Pancras Borough Church. Thus was born Penguin Books."
Menon edited the titles published by Pelican Books which grew into respected British institution with great political and cultural influence.
Menon became a passionate proponent of India's independence, working as a journalist and as secretary of the India League from 1929 to 1947, and a close friend of fellow Indian nationalist leader and future Prime Minister Jawaharlal Nehru, as well as such political and intellectual figures as Bertrand Russell, J.B.S. Haldane, Michael Foot, Aneurin Bevan, and E.M. Forster, whose A Passage to India he secured the publication of, according to Shashi Tharoor.[11] Menon's legendary relationship with Nehru would later be analogised by Sir Isaiah Berlin as like that of Ezra Pound and T.S. Eliot. In 1932 he inspired a fact-finding delegation headed by Labour MP Ellen Wilkinson to visit India, and edited its report entitled "Conditions in India", obtaining a preface from his friend Bertrand Russell. Menon also worked assiduously to ensure that Nehru would succeed Mahatma Gandhi as the moral leader and executive of the Indian independence movement, and to clear the way for Nehru's eventual accession as the first Prime Minister of an independent India. As Secretary, he built the India League into the most influential Indian lobby in the British Parliament, and actively turned British popular sentiment towards the cause of Indian independence.
The origins of what would become the policy of non-alignment were evident in Menon's personal sympathies even in England, where he simultaneously condemned both the British Empire and Nazi Germany, although he did march several times in anti-Nazi demonstrations. When asked whether India would prefer to be ruled by the British or the Nazis, Menon famously replied that "(one) might as well ask a fish if it prefers to be fried in butter or margarine".

After India gained independence in 1947, Menon was appointed high commissioner to the United Kingdom, a post in which he remained until 1952. Menon's intense distrust of the West extended to the United Kingdom itself, and his frequent thwarting of British political manoeuvres eventually led MI5 to deem him a "serious menace to security". From 1929 onwards Menon had been kept under surveillance, with a warrant to intercept his correspondence being issued in December 1933, identifying him as an "important worker in the Indian revolutionary movement". Clandestine surveillance intensified following Menon's 1946 meeting in Paris with Soviet Foreign Minister Vyacheslav Molotov, and Indian independence. In 2007, hundreds of pages of MI5 files documenting their coverage of Menon were released, including transcripts of phone conversations and intercepted correspondences with other statesmen and Nehru himself.
During his tenure as the high commissioner, Menon was accused of being involved in the Jeep scandal case of 1948, but the Government closed the case in 1955, ignoring suggestion by the Inquiry Committee.
Menon was an intensely controversial figure during his life, and has remained so even well after his death. Widely described as brilliant[49] and arrogant,he was known for the sheer force of his personality, and for his eloquence and wit as an orator. In response to US Secretary of State John Foster Dulles' assertion that US weapons supplied to Pakistan were intended solely for defence against a Soviet invasion, Menon snapped that "the world has yet to see an American gun that can only shoot in one direction", and that "I am yet to come across a vegetarian tiger". In London, Menon responded to novelist Brigid Brophy's surprise at the quality of his English with the retort: "my English is better than yours. You merely picked it up: I learnt it." When critiqued for the Rolls-Royces he kept as official vehicles, he replied, "I can scarcely hire a bullock-cart to call on 10 Downing Street.". Personally, Menon preferred to use London's double-decker buses whenever possible,underscoring the contrast between his public appearance as a statesman and his personal asceticism. Indian President R. Venkataraman would later describe him as "the very epitome of a representative of the (...) Indian State, personally abstemious but at the same time uncompromising in maintaining the prestige of his high office."
In private, Menon abstained from tobacco, alcohol and meat, often fasting for days, and forwent his luxury townhouse in Kensington Palace Gardens in favour of a single room in the Indian High Commission during his official tenure in London. As high commissioner, Menon drew only the token salary of one rupee per month, later refusing a salary outright. Menon nonetheless dressed publicly in bespoke suits, earning him the epithet "Mephistopheles in a Savile Row suit",
Menon was widely reviled by Western statesmen who loathed his arrogance, outspokenness, and fiercely anti-Western stances. American President Dwight D. Eisenhower considered the outwardly courteous Menon a "menace ... governed by ambition to prove himself the master international manipulator and politician of the age". Western publications routinely referred to him as "India's Rasputin" or "Nehru's Evil Genius".
Menon died at the age of 78 on 6 October 1974, whereupon Indian Prime Minister Indira Gandhi remarked that "a volcano is extinct". At a 1984 memorial lecture for Menon, K.R. Narayanan extolled that "India has been fortunate to have had not only a glorious heritage of culture and civilisation but a succession of great men from the Buddha to Gandhi, from Ashoka to Nehru, from Kautilya to Krishna Menon.