देवीप्रसाद चट्टोपाध्याय -मृत्यु: (8 मई, 1993)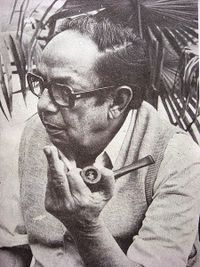 देवीप्रसाद चट्टोपाध्याय ( जन्म- 19 नवम्बर, 1918; मृत्यु- 8 मई, 1993) भारत के प्रसिद्ध इतिहासकार थे। इसके साथ ही वे एक जानेमाने मार्क्सवादी दार्शनिक भी थे। भारत सरकार द्वारा उन्हें 'पद्म भूषण' से सम्मानित किया गया था।
परिचय
देवीप्रसाद चट्टोपाध्याय का जन्म 19 नवम्बर सन 1918 को ब्रिटिशकालीन भारत के कलकत्ता (वर्तमान कोलकाता) में हुआ था। उन्होंने प्राचीन भारतीय दर्शन में भौतिकवादी संस्कृति की गवेषणा में महत्त्वपूर्ण योगदान दिया था। प्राचीन भारतीय लोकायत दर्शन पर भी देवीप्रसाद चट्टोपाध्याय ने बहुत काम किया। प्राचीन भारतीय विज्ञान के इतिहास तथा प्राचीन भारत में वैज्ञानिक विधि के विषय में उनके कार्य भी बहुत महत्त्वपूर्ण हैं, विशेष रूप से प्राचीन भारत के चिकित्साशास्त्रियों चरक तथा सुश्रुत पर उनका अनुसंधान कार्य उच्च कोटि का है।
सम्मान
साहित्य एवं शिक्षा के क्षेत्र में विशेष योगदान के लिए देवीप्रसाद चट्टोपाध्याय को सन 1998 में भारत सरकार द्वारा 'पद्म भूषण' से सम्मानित किया गया था।
रचनाएँ
भारत और दुनिया के लोग
भारतीय दर्शन सरल परिचय
प्राचीन भारत में विज्ञान और समाज
जानने की बातें - भाग एक प्रकृति विज्ञान
प्राचीन विश्व का इतिहास
प्रकृति, पदार्थ और परमाणु
लोकायत
मनुष्य जन्मा
आधुनिक विश्व का इतिहास
Debiprasad Chattopadhyaya (19 November 1918 – 8 May 1993) was an Indian Marxist philosopher. He made contributions to the exploration of the materialist current in ancient Indian philosophy. He is known for Lokayata: A Study in Ancient Indian Materialism, which is his exposition of the philosophy of Lokayata. He is also known for work on history of science and scientific method in ancient India, especially his 1977 book Science and Society in Ancient India on the ancient physicians Charaka and Sushruta. He was awarded the Padma Bhushan, India's third highest civilian honour, posthumously, in 1998.
Debiprasad Chattopadhyaya was born on 19 November 1918 in Calcutta. His father was a supporter of India's freedom struggle. It was probably his influence that initiated Debiprasad to two major passions in his life – Indian philosophy and politics; however, he quickly progressed towards radical streams in both fields, developing a lifelong commitment to Marxism and communist movement. At a very early stage of his life Chattopadhyaya immersed himself in the left nationalist movement by joining the Association of Progressive Writers, which was formed in 1936.
Debiprasad Chattopadhyaya obtained his academic training in philosophy in Calcutta, West Bengal under eminent philosophers like Sarvapalli Radhakrishnan and S. N. Dasgupta. After standing first in philosophy at University of Calcutta both in B.A. (1939) and M.A. (1942), he did his post-graduate research work under Prof S. N. Dasgupta. He taught philosophy at the University of Calcutta for two decades. Subsequently, he was appointed a UGC Visiting Professor at the universities of Andhra Pradesh, Calcutta and Poona. He remained associated with the activities of the Indian Council of Historical Research (ICHR), Indian Council of Philosophical Research (ICPHR) and the National Institute of Science, Technology and Development Studies (NISTADS) of the Council of Scientific & Industrial Research (CSIR) under various capacities. His second wife was the renowned educationist and Tibetologist, Dr. Alaka Majumder Chattopadhyaya (1926–1998).
Debiprasad Chattopadhyaya's work on materialism and scientific method led to his active interactions with the international community of philosophers, historians and Indologists. He collaborated with some of the outstanding western scholars of the 20th century, like Joseph Needham, George Thomson, Bongard Levin and Walter Ruben. He was fellow of the German and USSR Academies of Sciences.
In his writings, Debiprasad Chattopadhyaya aimed to illuminate science and materialism in ancient India, and to trace their evolution. While commenting on his work on Lokayata, German indologist Walter Ruben called him a "thought-reformer", who was "conscious of his great responsibility towards his people living in a period of struggle for national awakening and of world-wide fighting for the forces of materialism, progress, humanism and peace against imperialism. He has written this book Lokayata: A Study in Ancient Indian Materialism against the old fashioned conception that India was and is the land of dreamers and mystics".
This study questioned the mainstream view that Indian philosophy's sole concern was the concept of Brahman. "From the scattered references in the ancient philosophical literature which were completely hostile to the ancient materialist schools, Debiprasad Chattopadhyaya reconstructed the philosophy of Lokayata, which consistently denied the existence of brahman and viewed pratyaksa (perception) as the sole means of knowledge. He demolished the so-called "interpretation of synthesis" which sought to combine the diverse philosophical traditions of India to form a ladder that leads to the philosophy of Advaita Vedanta.
Being a Marxist, Chattopadhyaya's uses the method of historical materialism to study "the ultimate material basis of the primitive deha-vada and the primitive rituals related to it" and to reveal how these could "be connected with the mode of securing the material means of subsistence". He also traced "the course of development this archaic outlook eventually underwent".
It was an introductory book that examined Indian philosophy through an interdisciplinary approach, drawing on anthropological, economic and philological studies. The book traced the philosophical development in India from the Vedic period to later Buddhism. In this introductory study, Debiprasad Chattopadhyaya targets another important myth that overshadows the study of Indian philosophy – that of the presupposed predominance of shastrartha or textual interpretation. He views the development of Indian philosophy as the consequence of real clashes of ideas – "contradiction constituted the moving force behind the Indian philosophical development".[9] Dale Riepe in his review of this book says that Chattopadhyaya "combines the analytic sagacity of Hume with the impatient realism of Lenin".
Books
Lokayata: A Study in Ancient Indian Materialism (1959) New Delhi: People's Publishing House.
Indian Philosophy: A Popular Introduction (1964) New Delhi: People's Publishing House.
Indian Atheism: A Marxist Analysis (1969) Calcutta: Manisha.
What is Living and What is Dead in Indian Philosophy (1976 ) New Delhi: People's Publishing House.
Science and Society in Ancient India (1977) Calcutta: Research India Publications. (Reprint 2014, K.P. Bagchi and Company, 978-81-7074-335-4)
Two Trends in Indian Philosophy (1977).Prasaranga, University of Mysore.
Lenin, the Philosopher (1979) New Delhi: Sterling Publishers.
An Encyclopaedia of South Indian Culture (1983, with G. Ramakrishna & N. Gayathri) Calcutta: K.P. Bagchi.
Knowledge and intervention:Studies in society and consciousness(1985) Calcutta: Firma KLM
History of Science and Technology in Ancient India Volume 1: The Beginnings (1986) Calcutta: Firma KLM.
Religion and Society (1987). Bangalore:Navakarnataka Publications.
In Defence of Materialism in Ancient India (1989) New Delhi: People's Publishing House.
History of Science and Technology in Ancient India Volume 2: Formation of the Theoretical Fundamentals of Natural Science (1991) Calcutta:Firma KLM.
History of Science and Technology in Ancient India Volume 3: Astronomy, Science and Society (1996) Calcutta:Firma KLM.
Musings in Ideology- An Anthology of Analytical Essays by Debiprasad Chattopadhyaya (2002) G. Ramakrishna and Sanjay K. Biswas (Eds) Bangalore: Navakarnataka Publications Pvt. Ltd.