आर. के. नारायण -मृत्यु: (13 मई, 2001)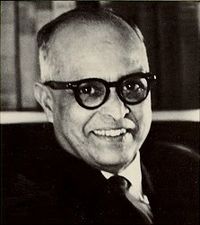 आर. के. नारायण का पूरा नाम रासीपुरम कृष्णास्वामी नारायणस्वामी है। आर. के. नारायण का जन्म 10 अक्टूबर, 1906 ई. को मद्रास (वर्तमान चेन्नई), भारत में हुआ था और इनकी मृत्यु 13 मई, 2001 में हुई। आर. के. नारायण अपनी पीढ़ी के अंग्रेज़ी में लिखने वाले उत्कृष्ट भारतीय लेखकों में से एक थे।
जीवन -
अपनी दादी द्वारा पालित-पोषित नारायण ने 1930 में अपनी शिक्षा पूरी की और पूर्णत: लेखन में जुट जाने का निर्णय लेने से पहले कुछ समय तक शिक्षक के रूप में काम किया। उनके पहले उपन्यास स्वामी एण्ड फ़्रेंड्स (1935) में स्कूली लड़कों के एक दल के रोमांचक कारनामों का विभिन्न प्रकरणों में वर्णन है। इस पुस्तक और नारायण की इसके बाद की सभी कृतियों के पृष्ठभूमि दक्षिण भारत का काल्पनिक शहर मालगुडी है। नारायण आमतौर पर मानवीय सम्बन्धों की विशेषताओं तथा भारतीय दैनिक जीवन की विडंबनाओं का चित्रण करते हैं, जिसमें आधुनिक शहरी जीवन, पुरानी परम्पराओं के साथ टकराता रहता है। उनकी शैली शालीन है, जिससे सुसंस्कृत हास्य, लालित्य और सहजता का मिश्रण है।
कृतियां-
-द इंग्लिश टीचर (1945)
-वेटिंग फ़ॉर द महात्मा (1955)
-द गाइड (1958)
-द मैन ईटर आफ़ मालगुडी (1961)
-द वेंडर ऑफ़ स्वीट्स (1967)
-अ टाइगर फ़ॉर मालगुडी (1983)
प्रसिद्ध कहानियाँ-
-लॉली रोड (1956)
-अ हॉर्स एण्ड गोट्स एण्ड अदर स्टोरीज़ (1970)
-अन्डर द बैनियन ट्री एण्ड अद स्टोरीज़ (1985)
इसके अतिरिक्त उन्होंने ग़ैर कथा कृतियों (मुख्यत: संस्मरण) के साथ-साथ दो भारतीय महाकाव्यों रामायण-1972 और महाभारत-1978 का संक्षिप्त आधुनिक गद्य संस्करण भी प्रकाशित किया है। उनकी दो खण्डों वाली आत्मकथा का शीर्षक माई डेज़-अ मे'म्वा एण्ड माई डेटलेस डायरी-एन अमेरिकन जर्नी है।
कई पुरस्कारों के विजेता आर.के. नारायण को भारत सरकार ने 1964 में पद्म भूषण और वर्ष 2000 में पद्म विभूषण से सम्मानित किया। 1958 में उनकी कृति 'द गाइड' के लिए उन्हें साहित्य अकादमी पुरस्कार प्राप्त हुआ। वह रॉयल सोसायटी ऑफ़ लिटरेचर के फ़ेलो और अमेरिकन अकैडमी ऑफ़ आटर्स एण्ड लैटर्स के मानद सदस्य भी रहे। नारायण को रॉयल सोसायटी ऑफ़ लिटरेचर द्वारा 1980 में ए. सी. बेसन पुरस्कार से सम्मानित किया गया।
आर. के. नारायण का निधन 13 मई, 2001, चेन्नई, भारत में हुआ था।
R. K. Narayan (10 October 1906 – 13 May 2001), full name Rasipuram Krishnaswami Iyer Narayanaswami, was an Indian writer known for his works set in the fictional South Indian town of Malgudi. He was a leading author of early Indian literature in English along with Mulk Raj Anand and Raja Rao.
Narayan's mentor and friend Graham Greene was instrumental in getting publishers for Narayan's first four books including the semi-autobiographical trilogy of Swami and Friends, The Bachelor of Arts and The English Teacher. The fictional town of Malgudi was first introduced in Swami and Friends. Narayan's The Financial Expert was hailed as one of the most original works of 1951 and Sahitya Akademi Award winner The Guide was adapted for film and for Broadway.
Narayan highlights the social context and everyday life of his characters. He has been compared to William Faulkner who also created a similar fictional town and likewise explored with humour and compassion the energy of ordinary life. Narayan's short stories have been compared with those of Guy de Maupassant because of his ability to compress a narrative. However he has also been criticised for the simplicity of his prose.
In a career that spanned over sixty years Narayan received many awards and honours including the AC Benson Medal from the Royal Society of Literature, the Padma Bhushan and the Padma Vibhushan, India's third and second highest civilian awards. He was also nominated to the Rajya Sabha, the upper house of India's parliament.

R. K. Narayan was born in Madras (now Chennai), British India. He was one of eight children; six sons and two daughters. Narayan was the oldest of the sons; his younger brother Ramachandran later became an editor at Gemini Studios, and the youngest brother Laxman became a cartoonist. His father was a school headmaster, and Narayan did some of his studies at his father's school. As his father's job entailed frequent transfers, Narayan spent a part of his childhood under the care of his maternal grandmother, Parvati. During this time his best friends and playmates were a peacock and a mischievous monkey.
His grandmother gave him the nickname of Kunjappa, A name that stuck to him in family circles. She taught him arithmetic, mythology, classical Indian music and Sanskrit. According to Laxman, the family mostly conversed in English, and grammatical errors on the part of Narayan and his siblings were frowned upon. While living with his grandmother, Narayan studied at a succession of schools in Madras, including the Lutheran Mission School in Purasawalkam,[4] C.R.C. High School, and the Christian College High School. Narayan was an avid reader, and his early literary diet included Dickens, Wodehouse, Arthur Conan Doyle and Thomas Hardy. When he was twelve years old, Narayan participated in a pro-independence march, for which he was reprimanded by his uncle; the family was apolitical and considered all governments wicked.
Narayan moved to Mysore to live with his family when his father was transferred to the Maharajah's College High School. The well-stocked library at the school, as well as his father's own, fed his reading habit, and he started writing as well. After completing high school, Narayan failed the university entrance examination and spent a year at home reading and writing; he subsequently passed the examination in 1926 and joined Maharaja College of Mysore. It took Narayan four years to obtain his bachelor's degree, a year longer than usual. After being persuaded by a friend that taking a master's degree (M.A.) would kill his interest in literature, he briefly held a job as a school teacher; however, he quit in protest when the headmaster of the school asked him to substitute for the physical training master. The experience made Narayan realise that the only career for him was in writing, and he decided to stay at home and write novels. His first published work was a book review of Development of Maritime Laws of 17th-Century England.Subsequently, he started writing the occasional local interest story for English newspapers and magazines. Although the writing did not pay much (his income for the first year was nine rupees and twelve annas), he had a regular life and few needs, and his family and friends respected and supported his unorthodox choice of career. In 1930, Narayan wrote his first novel, Swami and Friends, an effort ridiculed by his uncle and rejected by a string of publishers.[11] With this book, Narayan created Malgudi, a town that creatively reproduced the social sphere of the country; while it ignored the limits imposed by colonial rule, it also grew with the various socio-political changes of British and post-independence India.
Malgudi is a fictional, semi-urban town in southern India, conjured by Narayan.He created the town in September 1930, on Vijayadashami, an auspicious day to start new efforts and thus chosen for him by his grandmother. As he mentioned in a later interview to his biographers Susan and N. Ram, in his mind, he first saw a railway station, and slowly the name Malgudi came to him. The town was created with an impeccable historical record, dating to the Ramayana days when it was noted that Lord Rama passed through; it was also said that the Buddha visited the town during his travels. While Narayan never provided strict physical constraints for the town, he allowed it to form shape with events in the various stories, becoming a reference point for the future. Dr James M. Fennelly, a scholar of Narayan's works, created a map of Malgudi based on the fictional descriptors of the town from the many books and stories.
Malgudi evolved with the changing political landscape of India. In the 1980s, when the nationalistic fervor in India dictated the changing of British names of towns and localities and removal of British landmarks, Malgudi's mayor and city council removed the long-standing statue of Frederick Lawley, one of Malgudi's early residents. However, when the Historical Societies showed proof that Lawley was strong in his support of the Indian independence movement, the council was forced to undo all their earlier actions.[92] A good comparison to Malgudi, a place that Greene characterised as "more familiar than Battersea or Euston Road", is Faulkner's Yoknapatawpha County. Also, like Faulkner's, when one looks at Narayan's works, the town gets a better definition through the many different novels and stories.
Narayan won numerous awards during the course of his literary career. His first major award was in 1958, the Sahitya Akademi Award for The Guide. When the book was made into a film, he received the Filmfare Award for the best story. In 1964, he received the Padma Bhushan during the Republic Day honours. In 1980, he was awarded the AC Benson Medal by the (British) Royal Society of Literature, of which he was an honorary member. In 1982 he was elected an honorary member of the American Academy of Arts and Letters.He was nominated for the Nobel Prize in Literature multiple times, but never won the honour.
Recognition also came in the form of honorary doctorates by the University of Leeds (1967), the University of Mysore (1976) and Delhi University (1973). Towards the end of his career, Narayan was nominated to the upper house of the Indian Parliament for a six-year term starting in 1989, for his contributions to Indian literature. A year before his death, in 2001, he was awarded India's second-highest civilian honour, the Padma Vibhushan.