जॉनी वॉकर-(जन्म: 15 मई, 1923)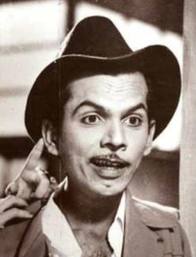 जॉनी वॉकर ( जन्म: 15 मई, 1923, इन्दौर-मध्य प्रदेश - निधन: 29 जुलाई, 2003, मुम्बई-महाराष्ट्र) भारत के एक सुप्रसिद्ध हास्य अभिनेता का नाम है। इनका असली नाम बदरुद्दीन जमालुद्दीन क़ाज़ी था। अपना नाम उन्होंने विस्की के एक लोकप्रिय ब्रैंड से उधार लिया था; लेकिन बाद में यह तय करना मुश्किल हो गया था कि दोनों में ज़्यादा लोकप्रिय कौन है?


पारिवारिक जीवन
जॉनी वॉकर की शादी नूरजहाँ से हुई थी। इन दोनों की मुलाक़ात 1955 में गुरुदत्त की फ़िल्म 'मिस्टर एंड मिसेज़ 55' के सेट पर हुई। जॉनी वॉकर और नूर के तीन बेटियाँ है: कौसर, तसनीम, फ़िरदौस और तीन बेटे है: नाज़िम, काज़िम और नासिर। नासिर एक प्रसिद्ध फ़िल्म और टीवी अभिनेता है। जॉनी वॉकर एक विनम्र आदमी थे।
ज़िन्दगी की शुरुआत
ज़िन्दगी की शुरुआत उन्होंने बस कंडक्टर के रूप में की। बस में यात्रियों से मज़ाकिया बातें करना उनका शगल था, जिसने बलराज साहनी को आकर्षित किया। बलराज साहनी ने इन्हें गुरु दत्त से मिलवाया और संवेदना और हास्य के दो शिखर एक हो गए, जिसने हिन्दी सिनेमा के लिए नई परिभाषाएं गढ़ीं।
सफलता
'बाज़ी', 'आर-पार' ', मिस्टर एंड मिसेज 55', 'सीआईडी', 'काग़ज़ के फूल', 'प्यासा' जैसी गुरु दत्त की फ़िल्मों की एक समानांतर पहचान बने जॉनी वॉकर। 'चोरी-चोरी', 'नया दौर', 'मधुमती', 'मेरे महबूब', 'आनंद' आदि फ़िल्मों में जॉनी वॉकर मीठी फुहार की तरह राहत देने आते थे, जब दर्शकों को फ़िल्म की गंभीरता से उबरना मुश्किल लगने लगता था। जॉनी वॉकर के अभिनय में इतनी ऊंचाई थी कि आमतौर पर हल्की-फुल्की मनोरंजक फ़िल्मों की जगह गंभीर फ़िल्मों की गंभीरता के बर्फ़ को तोड़ने की जवाबदेही मिली। हैरानी नहीं कि बरसों बाद भी कमल हासन के साथ जब वह 'चाची 420' में दिखे तो उतने ही जीवंत, उतने ही ताजा दम थे।[1]
पुरस्कार
1959 फ़िल्मफ़ेयर सर्वश्रेष्ठ सहायक अभिनेता पुरस्कार - मधुमती
फ़िल्मफ़ेयर सर्वश्रेष्ठ हास्य अभिनेता पुरस्कार - शिकार
प्रमुख फ़िल्में
जॉनी वॉकर की प्रमुख फ़िल्में
वर्ष फ़िल्म का नाम
1951 बाज़ी
1954 आर पार
1954 टैक्सी ड्राइवर
1955 मिस्टर एंड मिसेज़ 55
1956 सी. आई. डी.
1956 चोरी चोरी
1957 प्यासा
1957 नया दौर
1958 मधुमती
1958 अमरदीप
1959 काग़ज़ के फूल
वर्ष फ़िल्म का नाम
1960 मुग़ल-ए-आज़म
1960 चौदहवीं का चाँद
1963 बीस साल बाद
1963 मेरे महबूब
1968 हसीना मान जायेगी
1968 शिकार
1970 आनन्द
1972 राजा जानी
1975 प्रतिज्ञा
1977 फ़रिश्ता या क़ातिल
1980 शान
1997 चाची 420
Badruddin Khan Jamaluddin Kazi (1924 – 29 July 2003), better known by his stage name Johnny Walker, was an Indian actor who acted in around 300 films. He was born in Indore, British India, the son of a mill worker. His father was made redundant and the family moved to Bombay (now Mumbai). Kazi took various jobs as the sole breadwinner for the family, eventually becoming a bus conductor with Brihanmumbai Electric Supply and Transport.
Johnny Walker was born in 1924 to a mill-worker in Indore. Born to a Muslim family, he was named Badruddin Jamaluddin Kazi at birth. The mill in which his father worked closed and the family, of which Kazi was the second of ten children, moved to Maharashtra. There Kazi tried his hand at several jobs, and eventually secured a post as a bus conductor in the B.E.S.T (Bombay Electric Supply and Transport) bus service. He became the sole breadwinner, travelling many miles and at unsocial hours at various times in order to buy and then sell ice candy, fruit, vegetables, stationery and other goods. Throughout his youth he dreamed of being involved in films, idolising Noor Mohammed Charlie and practising stunts that he saw on-screen.

He nurtured his desire to work in films and entertained passengers while working the buses with amusing routines, hoping that he would at some point be spotted by someone with connection to the movie industry. His wish came true, although the details are unclear. Balraj Sahni saw him, perhaps on a bus or perhaps while Kazi was amusing the cast of Hulchul, a film for which he had obtained a bit part, with an extemporised routine as a drunk. Sahni, who sources say was either at that time writing the script for Baazi (1951) or acting in Hulchul, told Kazi to demonstrate his drunkard act to Guru Dutt. From that meeting he gained a role in Baazi. It was Dutt who gave him the name of Johnny Walker, a reference to the brand of Scotch whisky, when he was inspired by Kazi's display in the role of a drunkard.
Thereafter, Walker appeared in all but one of Dutt's movies and the director encouraged him to ad lib and to draw on his varied life experiences. He was primarily an actor of comedic roles but towards the end of his life became disenchanted, saying, "Earlier, comedians had a respectable position and an almost parallel role with the protagonist, now it is just to bring a touch of humour. I don't buy that." His attempts to portray heroic personae in the eponymous Johnny Walker and Mr. Qartoon were not successful but films such as Mere Mehboob, C.I.D., Pyaasa and Chori Chori made him a star. His heyday was in the 1950s and 1960s and his later career was affected by the death of Dutt, who had greatly influenced it, in 1964. He worked with directors such as Bimal Roy and Vijay Anand but his career faded in the 1980s.He was unwilling to adopt the cruder form of comedy and changed priorities that had become the vogue, saying that
"In those days we used to do clean comedy. We were aware that the person who had come to the cinema had come with his wife and children ... the story was the most important thing. Only after selecting a story would Abrar Alvi and Guru Dutt find suitable actors! Now it's all upside down ... they line up a big hero and find a story to fit in. The comedian has ceased to be a character, he's become something to fit in between scenes. ... I opted out because comedy had become hostage to vulgarity. I acted in 300 films and the Censor Board never cut even one line."
Walker was particularly satisfied with his work in B. R. Chopra's Naya Daur (1957), Chetan Anand's Taxi Driver (1954) and Bimal Roy's Madhumati (1958).His final film came after an absence of 14 years when he took a role in a remake of Mrs. Doubtfire titled Chachi 420 (1997). During the intervening period, he had a successful business dealing with precious and semi-precious stones.
Songs were written especially for him. His drawing power at the box office was such that distributors would insist on him having a song and would pay extra to ensure it. He also produced and directed the 1985 film Pahunche Huwey Log.

Johnny Walker married Noor (short for Noorjahan), a sister of Shakila, despite the opposition of her family. They had three daughters and three sons of whom one is an actor Nasir Khan Jamaluddin Kazi.Regretting that he had been forced to leave school at 6th standard, he sent his sons to the US for schooling.
Despite often playing the roles of a drunk, Walker was a teetotaller.
Awards
Filmfare Best Supporting Actor Award for his role in Madhumati
Filmfare Best Comedian Award for his role in Shikar
Filmography
This list is incomplete; you can help by expanding it.
Walker acted in around 300 films, including:
Baazi (1952)
Jaal (1952)
Aandhiyan (1953 film) (1953)
Aag Ka Dariya (1953)
Thokar (1953)
Baaz (1953)
Aar Paar (1954)
Munna (1954)
Taxi Driver (1954)
Lal Pari (1954)
Barati (1954)
Devdas (1955)
Shahzada (1955)
Marine Drive (1955)
Jawab (1955)
Society (1955)
Shahi Mehmaan (1955)
Railway Platform (1955)
Musafirkhana (1955)
Miss Coca-Cola (1955)
Milap (1955)
Mast Qalandar (1955)
Joru ka Bhai (1955)
Jashan (1955)
Char Paise (1955)
Bahu (1955)
Albeli (1955)
Mr. & Mrs. '55 (1955)
Chori Chori (1956)
C.I.D. (1956)
Shrimati 420 (1956)
Ghulam Begum Badshah (1956)
Justice (1956)
Naya Andaz (1956)
Rajdhani (1956)
Anjaan (1956)
Somewhere in Delhi (1956)
26 January (1956)
Awara Shehzadi (1956)
Bharti (1956)
Chanrakanta (1956)
Samundari Daku (1956)
Choo Mantar (1956)
Johnny Walker (1957)
Mr. X (1957)
Do Roti (1957)
Duniya Rang Rangili (1957)
Ek Saal (1957)
Gateway of India (1957)
Mai Baap (1957)
Qaidi (1957)
Changez Khan (1957)
Naya Daur (1957)
Pyaasa (1957)
Madhumati (1958)
Amar Deep (1958)
Kala Pani (1958)
Mr. Qartoon M.A. (1958)
Light House (1958)
Do Mastane (1958)
Zindagi ya Toofan (1958)
Sitaron Se Aage (1958)
Naya Paisa (1958)
Mujrim (1958)
Khota Paisa (1958)
Ghar Sansar (1958)
Detective (1958)
Chandan (1958)
Aji Bas Shukriya (1958)
Aakhri Dao (1958)
12 O'Clock (1958)
Paigham (1958)
Kaagaz Ke Phool (1958)
Zara Bachke (1959)
Satta Bazaar (1959)
Pehli Raat (1959)
Jawani Ki Hawa (1959)
Black Cat (1959)
Bhai-Bahen (1959)
Chaudhvin Ka Chand (1960)
Rikshawala (1960)
Mughal-E-Azam (1960)
Kala Aadmi (1960)
Ek Phool Chaar Kaante (1960)
Basant (1960)
Vilayat Pass (1961)
Modern Girl (1961)
Full Moon (1961)
Wanted (1961)
Suhag Sindoor (1961)
Chhote Nawab (1961)
Aashiq (1962)
Sachche Moti (1962)
Neeli Aankhen (1962)
Girls Hostel (1962)
Baat Ek Raat Ki (1962)
Ghar Basake Dekho (1963)
Ustado ke Ustad (1963)
Pyar ka Bandhan (1963)
Phool Bane Angaare (1963)
Mulzim (1963)
Mere Mehboob (1963)
Kaun Apna Kaun Paraya (1963)
Kahin Pyaar Na Ho Jaaye (1963)
Shehnai (1964)
Door Ki Awaaz (1964)
Zindagi Aur Maut (1965)
Bombay Race Course (1965)
Suraj (1966)
Sagaai (1966)
Preet na Jane Reet (1966)
Pati Patni (1966)
Dillagi (1966)
Dil Diya Dard liya (1966)
Baharen Phir Bhi Aayengi (1966)
Jaal (1967)
Bahu Begum (1967)
Dulhan Ek Raat Ki (1967)
Night in London (1967)
Noorjehan (1967)
Palki (1967)
Taqdeer (1967)
Nawab Sirazuddaula (1967)
Rajoo (1967)
Wahan ke Log (1967)
Duniya (1968)
Baazi (1968)
Mere Huzoor (1968)
Shikar (1968)
Dil Aur Mohabbat (1968)
Haseena Maan Jayegi (1968)
Kahin Din Kahin Raat (1968)
Aadmi Aur Insaan (1969)
Nannha Farishta (1968)
Pyar Ka Sapna (1969)
Sachaai (1969)
Do Raaste (1969)
Anand (1970)
Gopi (1970)
Hungama (1971)
Dushman (1972)
Raja Jani (1972)
Pyaar Ka Rishta (1973)
Madhosh (1974)
Pratigya (1975)
Zakhmee (1975)
Bundal Baaz (1976)
Khel Khilari Ka (1977)
Nawab Sahib (1978)
Shaan (1980)
Madine ki Galian (1981)
Mazdoor (1983)
Bindiya Chamkegi (1984)
Hum Dono (1985)
Mera Karam Mera Dharam (1987)
The Perfect Murder (1988)
Sapno ka Mandir (1991)
Chachi 420 (1997)