माधुरी दीक्षित- (जन्म: 15 मई, 1965)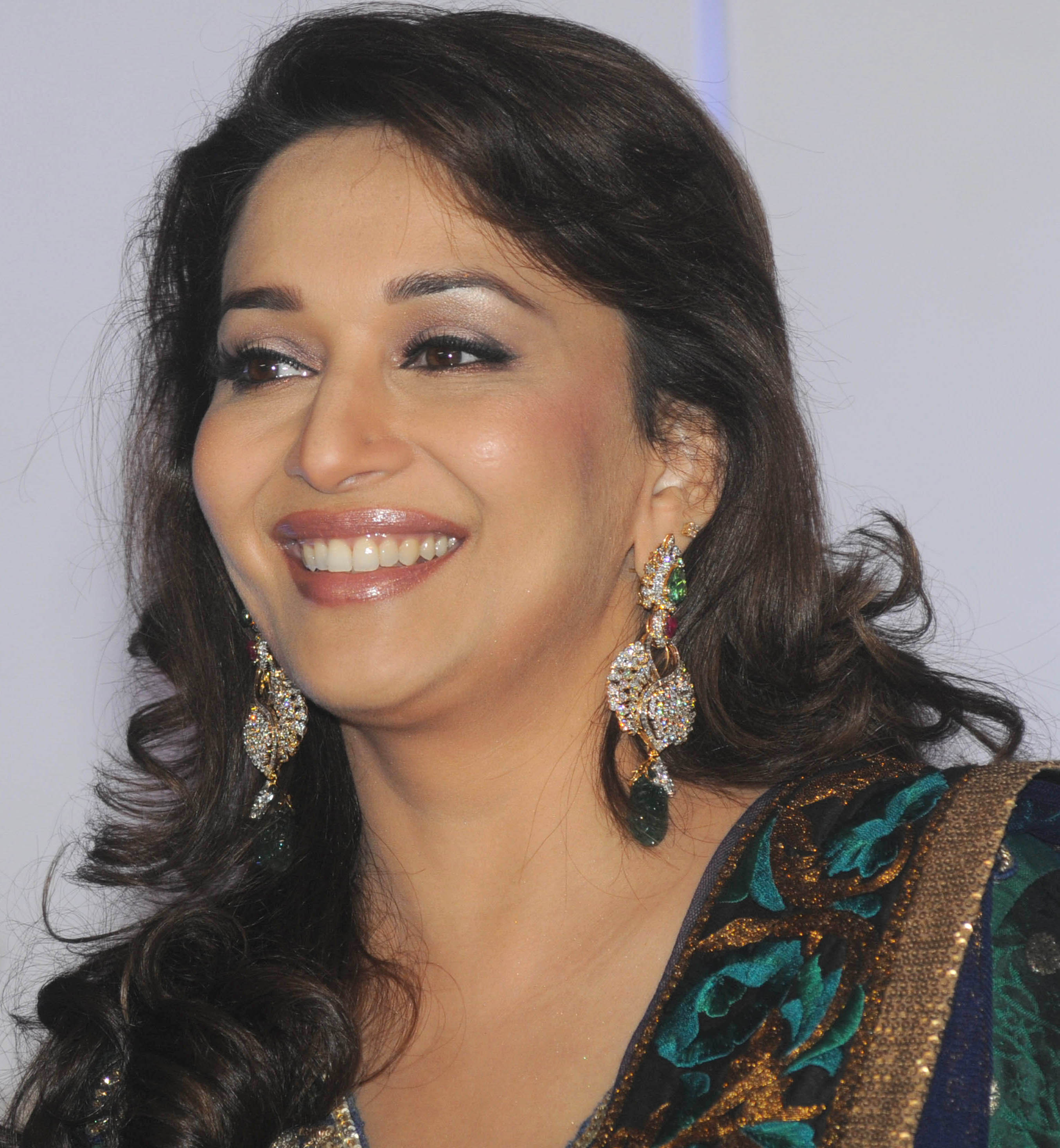 माधुरी दीक्षित (जन्म: 15 मई, 1965) हिन्दी फ़िल्मों की एक प्रसिद्ध अभिनेत्री हैं। माधुरी दीक्षित 1987 से 2003 के समय की प्रमुख नायिकाओं में से एक हैं। उनका जन्म शंकर तथा स्नेहलता के परिवार में हुआ था। वे एक प्रशिक्षित कत्थक नृत्यांगना भी हैं। माधुरी दीक्षित ने सन् 1984 में फ़िल्म 'अबोध' से अपने फ़िल्मी जीवन की शुरुआत की।


जीवन परिचय
15 मई, 1967 मुंबई में मराठी परिवार में माधुरी दीक्षित का जन्म हुआ। पिता शंकर दीक्षित और माता स्नेहलता दीक्षित की लाडली माधुरी को बचपन से डॉक्टर बनने की चाह थी और शायद यह भी एक वज़ह रही कि माधुरी ने अपना जीवन साथी श्रीराम नेने को चुना जो कि पेशे से एक चिकित्सक हैं। माधुरी दीक्षित ने भारतीय हिन्दी फ़िल्मों में एक ऐसा मुकाम तय किया है जिसे आज की अभिनेत्रियाँ अपने लिए आदर्श मानती हैं।
शिक्षा
डिवाइन चाइल्ड हाई स्कूल से पढने के बाद माधुरी दीक्षित ने मुंबई यूनिवर्सिटी से स्नातक की शिक्षा पूरी की। बचपन से ही उन्हें नृत्य में रुचि थी जिसके लिए माधुरी ने आठ वर्ष से ही प्रशिक्षण लेना शुरू कर दिया। 80 और 90 के दशक में इन्होंने स्वयं को हिन्दी सिनेमा मे एक प्रमुख अभिनेत्री तथा सुप्रसिद्ध नृत्यांगना के रूप में अपने आपको स्थापित किया। उनके नृत्य और स्वाभाविक अभिनय का जादू ऐसा चला कि ये पूरे देश की धड़कन बन गयीं।
फ़िल्मी सफ़र
माधुरी दीक्षित ने सन् 1984 में फ़िल्म 'अबोध' से अपने फ़िल्मी जीवन की शुरुआत की। अभिनेत्री के रूप में उनकी पहली फ़िल्म 'तेज़ाब' थी। 'तेज़ाब' फ़िल्म से ही उन्हें अपनी पहली सफलता मिली और वे बॉलीवुड की जानी मानी अभिनेत्रियों में गिनी जाने लगीं। माधुरी दीक्षित ने दयावान, राम लखन, दिल, साजन, बेटा, खलनायक, हम आपके हैं कौन आदि सफल फ़िल्मों में भी अभिनय किया है।
पुरस्कार
सन 2008 में उन्हें भारत सरकार के चतुर्थ सर्वोच्च नागारिक सम्मान पद्मश्री से सम्मनित किया गया। माधुरी दीक्षित को सन 2001 में नेशनल सिटीजन्स पुरस्कार की उपाधि से सम्मानित किया गया था।
Madhuri Dixit Nene (born 15 May 1967)[1] is an Indian actress who is known for her work in Hindi cinema. She has been praised by critics for her acting and dancing skills. She has received six Filmfare Awards, four for Best Actress, one for Best Supporting Actress and one special award for her contribution to the film industry. She has been nominated for the Filmfare Award for Best Actress a record fourteen times, and along with Raakhee is the most nominated actress in the acting categories, with 16 nominations. She was awarded the Padma Shri, India's fourth-highest civilian award, by the Government of India in 2008.
Dixit made her film debut in Abodh (1984)[4] and received wider public recognition with Tezaab (1988).[5] She went on to establish herself as a leading actress of Hindi cinema with the films Ram Lakhan (1989), Dil (1990), Saajan (1991), Beta (1992), Khalnayak (1993), Hum Aapke Hain Koun..! (1994), Raja (1995) and Dil To Pagal Hai (1997).[5][6] She garnered critical acclaim for her work in the dramas Anjaam (1994), Mrityudand (1997),[6] Pukar (2000), Lajja (2001) and Devdas (2002). In 2002, she took a sabbatical from films to raise her children and made a comeback with the musical Aaja Nachle in 2007,[8] later starring in the 2014 dramas Dedh Ishqiya and Gulaab Gang.[5] Her first role in Marathi cinema came with the 2018 comedy drama Bucket List.
In addition to acting in films, Dixit has been featured as a talent judge for four seasons of the dance reality show Jhalak Dikhhla Jaa.[9] She has participated in several stage shows and has engaged in philanthropic activities. Since 1999, she is married to Doctor Shriram Madhav Nene, with whom she has two children.
Dixit is a native of Mumbai, India. She was born on 15 May 1967 in a Maharashtrian family to Shankar and Snehlata Dixit.She had always desired dance since the age of 3 and went on to practice the art of Kathak and later on to become a trained professional Kathak dancer.
Dixit attended Divine Child High School and joined Sathaye college (Vile Parle) where she studied micro biology as one of her subjects in BSc.However, as she narrated in a 2018 interview with AIB, six months after she had commenced her BSc course, she decided to discontinue studies and work in films full time.
Dixit made her acting debut in Rajshri Productions' movie Abodh in 1984 opposite the Bengali actor, Tapas Paul. The film failed to do well but Dixit earned positive reviews from critics. Aakash Barvalia on Gomolo praised her as he wrote "Madhuri excels in her role as a young bride who acquits herself well as the naive village girl and does not realize what marriage actually entails." Her only release of 1985 was Awara Baap which turned out to be another failure for Dixit. During this time, a monochrome photograph of hers, shot by Gautam Rajadhyaksha was featured on the cover of the then popular magazine Debonair. She had already appeared as the cover girl of Film Fare in April 1986.
In 1986, Dixit starred in two movies, Swati and Manav Hatya but both films flopped at the box office. Dixit had three releases in 1987 with Mohre, Hifazat and Uttar Dakshin but her films continued to flop at the box office. Among Dixit's three releases of 1988, the first of them - and Khatron Ke Khiladi too failed to do well commercially.
In 1988, Dixit finally attained recognition after a series of consecutive flops when she landed the lead female role of Mohini in N. Chandra's romantic thriller Tezaab opposite Anil Kapoor. The film went on to become that year's highest-grossing movie. It was Dixit's first commercial success and her earliest of several collaborations with Kapoor. Akshay Shah of Planet Bollywood praised Dixit for her dancing skills and her acting. He wrote "Mahduri Dixit gives a fine-tuned performance. Though she is more remembered for her crowd pleasing dance act Ek Do Teen, her acting needs to be noted, especially in the scenes where she is pitted against Anupam Kher. She looks and dances like a dream." Dixit received her first nomination for the Filmfare Best Actress Award for her work in Tezaab.
In 1989, her first release was Subhash Ghai's drama Ram Lakhan, in which she was paired once again with Anil Kapoor. The film became a super-hit and went on to become the second highest-grossing film of the year. Dixit's next release, the critically acclaimed romantic drama Prem Pratigyaa, in which she starred opposite Mithun Chakraborty, failed to do well commercially. However, critics were appreciative of her portrayal and she received her second nomination for the Filmfare Best Actress Award. Thereafter Dixit got success in Rajiv Rai's multi-starrer action thriller Tridev, in which she starred alongside Naseeruddin Shah, Jackie Shroff, Sunny Deol, Sangeeta Bijlani, Sonam and Amrish Puri. Dixit was paired with Deol. The movie became the year's third highest-grossing film. Dixit continued her success with her fourth pairing with Anil Kapoor in Vidhu Vinod Chopra's drama Parinda. Although Dixit's role was small, she received praise for her work. Aniket Joshi has praised her as he wrote "Madhuri Dixit, the only female character in the film, has a small role as Paro (Karan´s love interest and Prakash´s sister) yet still does well in the few scenes she has.
In the year 1985, she appeared in the Rajshri Production's TV show Paying Guest. She came into the first episode of the show as Neena.[104]
In 2001 on the game show Kaun Banega Crorepati's first season, hosted by Amitabh Bachchan, she won ₹ 5,000,000 that she donated for people affected in natural calamities. She also made an appearance in season 4's Grand Finale that aired in 2010. In 2002, Dixit hosted a TV show Kahina Kahi Koi Hai which was a match-making show that aired on Sony Entertainment.
She also made appearances on Koffee with Karan in Seasons two and three that aired in 2007 and 2011, respectively. Her Season 2 appearance was a solo appearance and in Season 3 she shared the chat show with Sonakshi Sinha. In 2014, Madhuri made her third appearance on Koffee with Karan and on its fourth season alongside Juhi Chawla.
Dixit has been a guest on Nach Baliye Season 1 and 3, a celebrity-couple dancing competition in 2005 (aired on Star One) & 2007 (aired on Star Plus).
In 2011, she appeared as a judge on the dance reality show Jhalak Dikhhla Jaa 4 along with other co-judges Remo D'souza and Malaika Arora Khan.
In 2012 and 2013, Dixit rejoined Jhalak Dikhhla Jaa 5 and Jhalak Dikhhla Jaa 6 along with her co-judges Remo D'souza and Karan Johar.
Madhuri also appeared on Indias Got Talent as a guest judge on two separate occasions for the promotion of her upcoming movies Dedh Ishqiya and Gulaab Gang that released in early 2014.
Later on in 2014, Jhalak Dikhhla Jaa was renewed for a new season, Jhalak Dikhhla Jaa 7 where Madhuri Dixit returned to the judging panel for her fourth time with her co-judges Remo D'souza and Karan Johar.
During the making of Saajan in 1990, Madhuri had an affair with Sanjay Dutt who was married at the time. Despite her father's objections, the relationship continued.However, with Dutt's arrest under TADA in 1993, Madhuri ended the relationship.Talking about this break-up, film journalist Bharati Pradhan reported in The Telegraph that "Madhuri had always been a clean player. A Dutt-Dixit alliance would've been disastrous and she was too sensible not to see it."
On 17 October 1999, Dixit married Shriram Madhav Nene, a cardiovascular surgeon from Los Angeles, California.They have two sons, Arin (b. March 2003) and Rayaan (b. March 2005). After her marriage, Dixit relocated to Denver, Colorado, for over a decade. She moved back to Mumbai with her family in October 2011.
Dixit has been the Muse for the Indian painter M. F. Husain. He was so fascinated by Dixit in Hum Aapke Hain Koun..! that he watched the film 67 times, and in 2007 he booked an entire theatre to see her comeback movie Aaja Nachle. He made a series of paintings of her, and in 2000 made a film named Gaja Gamini starring her, which was intended as a tribute to Dixit herself.