के. एम. करिअप्पा-(मृत्यु: 15 मई, 1993)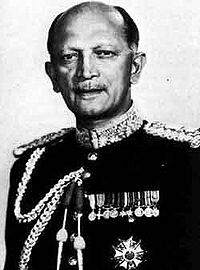 के. एम. करिअप्पा [पूरा नाम- कोडंडेरा मडप्पा करिअप्पा, जन्म: 28 जनवरी, 1899 - मृत्यु: 15 मई, 1993)] भारत के पहले नागरिक थे, जिन्हें 'प्रथम कमाण्डर इन चीफ़' बनने का सौभाग्य प्राप्त हुआ था। करिअप्पा ने जनरल के रूप में 15 जनवरी, 1949 ई. को पद ग्रहण किया था। इसके बाद से ही 15 जनवरी को 'सेना दिवस' के रूप में मनाया जाने लगा। करिअप्पा भारत की राजपूत रेजीमेन्ट से सम्बद्ध थे। 1953 ई. में करिअप्पा सेवानिवृत्त हो गये थे, लेकिन फिर भी किसी न किसी रूप में उनका सहयोग भारतीय सेना को सदा प्राप्त होता रहा।


जन्म तथा शिक्षा
स्वतंत्र भारत की सेना के 'प्रथम कमाण्डर इन चीफ़', फ़ील्ड मार्शल करिअप्पा का जन्म 1899 ई. में दक्षिण में कुर्ग के पास हुआ था। करिअप्पा को उनके क़रीबी लोग 'चिम्मा' नाम से भी पुकारते थे। इन्होंने अपनी औपचारिक शिक्षा 'सेंट्रल हाई स्कूल, मडिकेरी' से प्राप्त की थी। आगे की शिक्षा मद्रास के प्रेसिडेंसी कॉलेज से पूरी की। अपने छात्र जीवन में करिअप्पा एक अच्छे खिलाड़ी के रूप में भी जाने जाते थे। वे हॉकी और टेनिस के माने हुए खिलाड़ी थे। संगीत सुनना भी इन्हें पसन्द था। शिक्षा पूरी करने के बाद ही प्रथम विश्वयुद्ध (1914-1918 ई.) में उनका चयन सेना में हो गया।
उपलब्धियाँ
अपनी अभूतपूर्व योग्यता और नेतृत्व के गुणों के कारण करिअप्पा बराबर प्रगति करते गए और अनेक उपलब्धियों को प्राप्त किया। सेना में कमीशन पाने वाले प्रथम भारतीयों में वे भी शामिल थे। अनेक मोर्चों पर उन्होंने भारतीय सेना का पूरी तरह से सफल नेतृत्व किया था। स्वतंत्रता से पहले ही ब्रिटिश सरकार ने उन्हें सेना में 'डिप्टी चीफ़ ऑफ़ जनरल स्टाफ़' के पद पर नियुक्त कर दिया था। किसी भी भारतीय व्यक्ति के लिए यह एक बहुत बड़ा सम्मान था। भारत के स्वतंत्र होने पर 1949 में करिअप्पा को 'कमाण्डर इन चीफ़' बनाया गया था। इस पद पर वे 1953 तक रहे।
सार्वजनिक जीवन
सेना से सेवानिवृत्त होने पर उन्होंने ऑस्ट्रेलिया और न्यूजीलैण्ड में भारत के 'हाई-कमिश्नर' के पद पर भी काम किया। इस पद से सेवानिवृत्त होने पर भी करिअप्पा सार्वजनिक जीवन में सदा सक्रिय रहते थे। करिअप्पा की शिक्षा, खेलकूद व अन्य कार्यों में बहुत रुचि थी। सेवानिवृत्त सैनिकों की समस्याओं का पता लगाकर उनके निवारण के लिए वे सदा प्रयत्नशील रहते थे।
निधन
करिअप्पा के सेवा के क्षेत्र में स्मरणीय योगदान के लिए 1979 में भारत सरकार ने उन्हें 'फ़ील्ड मार्शल' की मानद उपाधि देकर सम्मानित किया था। 15 मई, 1993 ई. में करिअप्पा का निधन 94 वर्ष की आयु में बैंगलौर (कर्नाटक) में हो गया।
Field Marshal Kodandera "Kipper" Madappa Cariappa, OBE (28 January 1899 – 15 May 1993) was the first Indian Commander-in-Chief (C-in-C) of the Indian Army. He led Indian forces on the Western Front during the Indo-Pakistani War of 1947. He is one of only two Indian Army officers to hold the five-star rank of field marshal; the other being Field Marshal Sam Manekshaw. He was appointed commander-in-chief of the Indian Army in 1949.
His distinguished military career spanned almost three decades. Born on 28 January 1899, in Madikeri, Kodagu, Cariappa joined the British Indian Army shortly after the end of World War I, and was commissioned as a temporary second lieutenant into the 2/88 Carnatic Infantry. He was transferred between multiple regiments early in his career before settling on 1/7 Rajputs, which became his permanent regiment.
He was the first Indian military officer to attend the Staff College, Quetta, the first Indian to command a battalion, and was also one of the first two Indians selected to undergo training at the Imperial Defence College, Camberley, UK. He served in various staff capacities at various unit and command headquarters (HQ) and also at the General HQ, New Delhi. Before taking over as the C-in-C of the Indian Army, Cariappa served as the commander of the Indian Army's Eastern and Western Commands.
Cariappa was born on 28 January 1899, in Madikeri, Kodagu (Coorg), to a family of farmers belonging to the Kodandera clan. His father, Madappa, worked with the revenue department. Cariappa was the second child in a family of four sons and two daughters.
He was known as "Chimma" to his relatives. After completing his education in the Central High School at Madikeri in 1917, he attended Presidency College, Chennai to pursue his education further.[2] During college, he learned that Indians were being recruited into the Army, and that they were to be trained in India. As he wished to serve as a soldier he applied for the training.[3] Of the 70 applicants, Cariappa was one of 42 who were finally granted admission into the Daly Cadet College, Indore. He scored well in all the aspects of his training and graduated seventh in his class.

Cariappa graduated on 1 December 1919, and was granted a temporary commission. Subsequently, a permanent commission was granted on 9 September 1922, with effect from 17 July 1920. This was done to make Cariappa's rank junior to those British officers who passed out from Sandhurst on 16 July 1920.He was commissioned into the 2nd Battalion of the 88th Carnatic Infantry at Bombay (Mumbai) as a temporary second lieutenant.He was promoted to temporary lieutenant on 1 December 1920.Later he was transferred to the 2/125 Napier Rifles which moved to Mesopotamia (present-day Iraq) in May 1920. He was promoted to lieutenant on 17 July 1921.On his return to India, Cariappa was posted to the 37th (Prince of Wales's Own) Dogras in June 1922.In June 1923, Cariappa was transferred to the 1/7 Rajputs, which became his permanent regimental home.
In 1925, Cariappa went on a world tour to Europe as well as the United States, Japan, and China. He met a large number of soldiers and civilians in various nations. The tour proved to be educational for him. After this he was able to settle down. He was given his nickname "Kipper" by a British officer's wife, who found his name difficult to pronounce, while he was serving in Fatehgarh. In 1927, Cariappa was promoted to Captain,but the appointment was not officially gazetted until 1931.
Cariappa was appointed as the deputy assistant quarter master general (DAQMG) at HQ Peshawar District in 1931. The experience he had gained at headquarters, his coaching at Royal United Services Institute in 1932, and the courses he attended at Small Arms School (SAS) and the Royal School of Artillery (RSA) helped him to get through the Quetta Staff College's entrance examination. He was the first Indian military officer to attend the course.Though officers were generally given staff appointments after completion of the course, Cariappa was not given his staff appointment until two years later. Until then, he rendered regimental service with his parent unit on the North-West Frontier. In March 1936, he was appointed as staff captain of the Deccan Area. In 1938, Cariappa was promoted to majorand was appointed the deputy assistant adjutant and quarter master general (DAA & QMG).
Cariappa was married in March 1937, in Secunderabad, to Muthu Machia, a forest officer's daughter. Though their married life was happy initially, later, due to an age gap of almost 17 years, ideological differences, and Cariappa's professional commitments, their marriage broke down. In September 1945, the couple separated without any formal divorce. Three years later Muthu died in an accident.[30]
Cariappa and Muthu had a son and a daughter. Their son, K.C. Cariappa, was born on 4 January 1938, and daughter Nalini on 23 February 1948. Their son, called "Nanda", joined the Indian Air Force and rose to the rank of air marshal.
Cariappa's alliance with the Indian Army was spread over a period of around three decades, during which he had broad experience of staff and command work. After his retirement in 1953, he served as the Indian high commissioner to Australia and New Zealand until 1956.[31][32] With a view toward ex-servicemen's welfare, Cariappa founded the Indian Ex-Servicemen's League (IESL) in 1964.[33] He was also instrumental in setting up the Directorate of Resettlement[34] (later Directorate General Resettlement), an inter-service organisation under the Department of Ex-servicemen Welfare, Ministry of Defence, that looked after the various issues surrounding the resettlement of retired soldiers, especially those who retired young.
Cariappa took part in the re-organisation of the armed forces in many foreign countries. He was awarded the Legion of Merit in the degree of Chief Commander by the American President Harry S. Truman.
Cariappa also tried his luck in politics after a lot of persuasion from his friends and admirers. In the 1957 general elections, he contested the Lok Sabha seat for North-East Bombay as an independent against Krishna Menon and J.B. Kripalani, but lost.
As a mark of recognition for the commendable service rendered by him to the nation, the Government of India conferred the rank of field marshal on Cariappa on 28 April 1986, at a special investiture ceremony held at Rashtrapati Bhavan, the official home of the president of India.
Cariappa's health began to deteriorate in 1991; he suffered from arthritis and heart problems. He died in his sleep on 15 May 1993, at the Bangalore Command Hospital where he had been receiving treatment for a few years. His mortal remains were cremated in Madikeri two days later. The cremation was attended by the three service chiefs along with Field Marshal Sam Manekshaw. Cariappa's son, Nanda, lit the pyre while the Honour Guard reversed arms.
According to biographer Vijay Singh, it was unheard of for Cariappa to use his power and status for personal purposes. One example Singh cites occurred when Cariappa went to the Rajput Regimental Centre to pay farewell before he retired. He brought his son and daughter with him, and both of them stayed at the commandant's house till the next day. According to the rules, children were forbidden to attend the officers' mess. As chief Cariappa might have taken them to the mess but he did not.
After he was the C-in-C, he wanted Major (later Lieutenant General) Srinivas Kumar Sinha to be his aide-de-camp (military assistant). The military secretary noted that a military assistant must hold the rank of lieutenant colonel which required a minimum of six-and-a-half years of service. Sinha was only a major with five years of service. On learning this, Cariappa backed off the idea not wanting to break the rules.
During the 1965 war, his son, Nanda, was shot down over Pakistan. He was captured and held as a prisoner of war (POW). On realizing the identity of the wounded soldier at Kargil, Radio Pakistan immediately announced the capture of the younger Cariappa. General Ayub Khan himself contacted General Cariappa, who was living a retired life at Mercara, his hometown, with information about his son's safety. When Ayub Khan offered to release his son immediately, Cariappa is reported to have scoffed at the idea and told him to give his son no better treatment than any other POW. Singh recounts that Cariappa replied, "He is my son no longer. He is the child of this country, a soldier fighting for his motherland like a true patriot. My many thanks for your kind gesture, but I request you to release all or release none. Give him no special treatment.