यिंगलक शिनावात्रा (जन्म: 21 जून, 1967)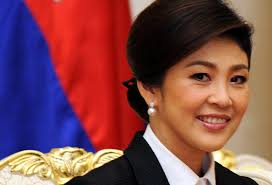 यिंगलक शिनावात्रा (जन्म: 21 जून, 1967, थाईलैंड) एक व्यवसायी और राजनीतिज्ञ हैं। वे थाईलैण्ड की प्रथम महिला प्रधानमंत्री हैं। वर्ष 2011 में वे थाईलैण्ड की 28वीं प्रधानमंत्री बनीं।
यिंगलक शिनावात्रा का जन्म सैन कमफैंग, चियांग माई, थाईलैंड में हुआ था।
यह थाईलैण्ड की प्रथम महिला हैं, जिन्हें पिछले 60 वर्षों के इतिहास में सबसे कम उम्र में प्रधानमंत्री बनने का सौभाग्य प्राप्त हुआ है।
मई, 2014 में थाईलैण्ड की सेना ने उन्हें प्रधानमंत्री के पद से हटा दिया।
Yingluck Shinawatra (born 21 June 1967), nicknamed Pu (meaning "crab"), is a Thai businesswoman and politician. She is a member of the Pheu Thai Party who became the 28th Prime Minister of Thailand following the 2011 election. Yingluck was Thailand's first female Prime Minister and its youngest in over 60 years. Also, she holds the distinction as the world's first female of Chinese descent to have had led the government of a UN member state. She was removed from office on 7 May 2014 by a controversial Constitutional Court decision. She is the third Pheu Thai Prime minister removed from office by the Constitution Court.
Born in Chiang Mai Province into a wealthy family of Hakka Chinese descent, Yingluck Shinawatra earned a bachelor's degree from Chiang Mai University and a master's degree from Kentucky State University, both in public administration. She then became an executive in the businesses founded by her elder brother, Thaksin Shinawatra, and later became the president of property developer SC Asset and managing director of Advanced Info Service. Thaksin served as Prime Minister from 2001 until 2006 when he was overthrown by a military coup. He fled abroad shortly before he was convicted in absentia of using his position to increase his own wealth. He has since lived in self-imposed exile to avoid his sentence in prison.
In May 2011, the Pheu Thai Party, which maintains close ties to Thaksin, nominated Yingluck as their candidate for Prime Minister in the 2011 election.She campaigned on a platform of national reconciliation, poverty eradication, and corporate income tax reduction and won a landslide victory.
After mass protests against her government in late 2013, she asked for a dissolution of parliament on 9 December 2013, triggering a snap election, but continued to act as caretaker prime minister. On 7 May 2014, the Constitutional Court of Thailand removed Yingluck Shinawatra from the office of caretaker prime minister and defence minister following months of political crisis. The court found her guilty of charges of abuse of power over the removal of national security chief Thawil Pliensri in 2011. In the wake of the May 2014 military coup, Yingluck was arrested along with former cabinet ministers and political leaders of all parties and held at an army camp for a few days while the coup was consolidated.
She was tried in 2016 but did not appear in court in August 2017 for the verdict. An arrest warrant was issued. She reportedly fled the country. In September 2017, she was found guilty in absentia and sentenced to five years in prison. She is rumoured to now be in London, England.
Yingluck Shinawatra is the youngest of nine children of Loet Shinawatra and Yindi Ramingwong. Her father was a businessman and member of parliament for Chiang Mai.She is a descendant of a former monarch of Chiang Mai through her maternal grandmother, Princess Chanthip na Chiangmai (Great-great-granddaughter of King Thammalangka of Chiang Mai). Yingluck grew up in Chiang Mai and attended Regina Coeli College, a private girls' school, for the lower secondary level, followed by Yupparaj College, a co-educational school, at the upper secondary level.She graduated with a BA degree from the Faculty of Political Science and Public Administration, at Chiang Mai University in 1988 and received a MPA degree (specialisation in Management Information Systems) from Kentucky State University in 1991.
Yingluck began her career as a sales and marketing intern in 1993 at Shinawatra Directories Co., Ltd., a telephone directory business founded by AT&T International. She later became the director of procurement and the director of operations. In 1994, she became the general manager of Rainbow Media, a subsidiary of International Broadcasting Corporation (which later became TrueVisions). She left as Deputy CEO of IBC in 2002, and became the CEO of Advanced Info Service (AIS), Thailand's largest mobile phone operator. After the sale of Shin Corporation (the parent company of AIS) to Temasek Holdings, Yingluck resigned from AIS, but remained Managing Director of SC Asset Co Ltd, the Shinawatra family property development company. She was investigated by Thailand's Securities and Exchange Commission regarding possible insider trading after she sold shares of her AIS stock for a profit prior to the sale of the Shin Corporation to Temasek Holdings. However, no charges were filed.[16] Yingluck Shinawatra is also a committee member and secretary of the Thaicom Foundation.
Yingluck received 0.68 percent of Shin Corp shares out of the 46.87 percent that Thaksin Shinawatra and his then-wife held in 1999. The military junta-appointed Assets Examination Committee charged that Yingluck made up false transactions and that "there were no real payments for each Ample Rich Co., Ltd shares sold" and "the transactions were made at a cost basis of par value in order to avoid income taxes, and all the dividends paid out by Shin to those people were transferred to [her sister-in-law] Potjaman's bank accounts". However, the AEC did not pursue a case against her. Yingluck, in response, claimed that "her family has been a victim of political persecution".
She has one son, Supasek, with her common law husband, Anusorn Amornchat. Anusorn was an executive of the Charoen Pokphand Group and managing director of M Link Asia Corporation PCL. Her sister, Yaowapa Wongsawat, is the wife of former prime minister, Somchai Wongsawat.
After the governing People's Power party was dissolved and its executive board was banned from political activity for five years by the Constitutional Court on 2 December 2008,the former People's Power Party MPs formed the Pheu Thai Party. Yingluck was asked to become the party's leader, but she declined, saying that she had no desire to be prime minister and wanted to concentrate on business. Yongyuth Wichaidit became the leader of the party.
US diplomatic cables leaked in 2011 revealed that during a 9 September 2009 meeting, former Deputy Prime Minister and "close Thaksin ally" Sompong Amornvivat told Ambassador to Thailand Eric John that he did not envision a big role for Yingluck in the Pheu Thai Party, and that "Thaksin himself was not eager to raise her profile within the party, and was more focused on finding ways to keep his own hand active in politics." However, in a subsequent cable dated 25 November 2009, the ambassador noted that in a meeting with Yingluck, she spoke with confidence about the "operations, strategy and goals" of the Pheu Thai party and seemed "far more poised" than in previous meetings. The cable cited Yingluck saying that, "Someone could easily emerge relatively late in the game to take the reins of the party and serve as the next Prime Minister."
Yingluck's bank account was among 86 accounts that the Abhisit government accused of being used to finance the Red Shirt protesters during their demonstrations in 2010. Abhisit accused the Red Shirts of trying to overthrow the monarchy, something they denied. However, the government did not pursue any legal action against her. The Department for Special Investigation found that from 28 April 2009 to May 2010, 150 million baht was deposited into one of her accounts while 166 million baht was withdrawn. On 28 April 2010 alone, 144 million baht was withdrawn.
Following the general election, the first separate session of the House of Representatives was held in the morning of 5 August to select a new Prime Minister. 296 of the 500 members of parliament voted to approve the premiership of Yingluck Shinawatra, three disapproved, and 197 abstained. Four Democrat lawmakers were absent. Somsak Kiatsuranont, President of the National Assembly, advised and consented King Bhumibol Adulyadej to appoint Yingluck Prime Minister on 8 August. The Proclamation on her appointment was made retroactive, taking effect from 5 August.
Yingluck established her Council of Ministers on 9 August. She and her Ministers were sworn in on 10 August. They were then required to complete addressing their administrative policy to the National Assembly. According to the Constitution, the address had to be made within fifteen days from the effective date of the Proclamation on Yingluck's appointment.
Key members of Yingluck's cabinet include former Interior Permanent Secretary Yongyuth Wichaidit as Interior Minister, Securities and Exchange Commission Secretary-General Thirachai Phuvanatnaranubala as Finance Minister, and former Defense Permanent Secretary General Yuthasak Sasiprapa as Defense Minister. Absent from Yingluck's cabinet were Red Shirts who had spearheaded protests against the Democrat-led government.
Polls from shortly after her cabinet was announced found that the cabinet rated most highly in terms of economic competency. It also showed that Yingluck was much more popular than her exiled brother Thaksin.