मैल्कम फ्रेजर (जन्म- 21 मई, 1930)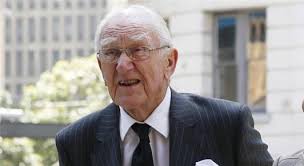 जॉन मैल्कम फ्रेजर (अंग्रेज़ी: John Malcolm Fraser, जन्म- 21 मई, 1930; मृत्यु- 20 मार्च, 2015) ऑस्ट्रेलियाई राजनीतिज्ञ थे, वह ऑस्ट्रेलिया के 22वें प्रधानमंत्री थे और 21 मार्च, 1975 से 11 मार्च, 1983 तक लिबरल पार्टी के नेता रहे।
जॉन मैल्कम फ्रेजर का जन्म 21 मई 1930 को टोराक, विक्टोरिया में हुआ था।
1955 में वेनोन की ऑस्ट्रेलियाई संसद सीट के लिए 25 वर्ष की आयु में चुने गये फ्रेजर को 1966 में मंत्रिमंडल में नियुक्त किया गया था।
1969 में रक्षा मंत्री बनने के बाद, उन्हें लिबरल पार्टी के नेतृत्व के लिए एक प्रतियोगी माना जाता था।
फ्रेजर ने 1975 में स्नेडन को चुनौती दी और विपक्ष के नेता बनने के बाद उन्हें लिबरल पार्टी का नेता चुना गया।
उनको 11 नवंबर 1975 को ऑस्ट्रेलिया के गवर्नर-जनरल सर जॉन केर ने विट्लम सरकार की विवादास्पद खारिज होने के बाद कार्यवाहक प्रधानमंत्री के रूप में नियुक्त किया था, जिसमें उन्होंने महत्त्वपूर्ण भूमिका निभाई थी।
कार्यवाहक प्रधनामंत्री बनाने के बाद होने वाले चुनाव में वह ऑस्ट्रेलियाई राजनीतिक इतिहास में सीटों के अनुपात के रूप में सबसे ज्यादा संसदीय बहुमत से जीते गए।
1977 और 1980 में दो और चुनाव जीत के बाद, [[1983] में बॉब हॉक की अगुवाई वाली ऑस्ट्रेलियाई लेबर पार्टी ने उन्हें पराजित कर दिया और कुछ समय बाद उन्होंने संसद छोड़ को दिया था।
वह 11 नवम्बर, 1975 से 11 मार्च, 1983 तक ऑस्ट्रेलिया के प्रधानमंत्री के रूप में कार्यरत रहे।
मैल्कम फ्रेज़र ऑस्ट्रेलिया के एकमात्र ऐसे प्रधानमंत्री थी, जो 1979 में गणतंत्र दिवस पर मुख्य अतिथि के रूप में भारत आये थे।
मैल्कम फ्रेज़र का निधन 20 मार्च, 2015 को मेलबॉर्न, ऑस्ट्रेलिया में हुआ था।
John Malcolm Fraser (21 May 1930 – 20 March 2015) was an Australian politician who served as the 22nd Prime Minister of Australia, in office from 1975 to 1983 as leader of the Liberal Party.
Fraser was raised on his father's sheep stations, and after studying at Magdalen College, Oxford, returned to Australia to take over the family property in the Western District of Victoria. After an initial defeat in 1954, he was elected to the House of Representatives at the 1955 federal election, standing in the Division of Wannon. He was 25 at the time, making him one of the youngest people ever elected to parliament. When Harold Holt became prime minister in 1966, Fraser was made Minister for the Army. He was later Minister for Defence (1968–1969) and Minister for Education and Science (1969–1971) under John Gorton. In 1971, Fraser resigned from cabinet and denounced Gorton as "unfit to hold the great office of prime minister"; this precipitated the replacement of Gorton with William McMahon. He subsequently returned to his old education and science portfolio.
After the Coalition was defeated at the 1972 election, Fraser unsuccessfully stood for the Liberal leadership, losing to Billy Snedden. When the party lost the 1974 election, he began to move against Snedden, eventually mounting a successful challenge in March 1975. As Leader of the Opposition, Fraser used the Coalition's control of the Senate to block supply to the Whitlam Government, precipitating a constitutional crisis. This culminated with Gough Whitlam being dismissed as prime minister by Governor-General John Kerr, a unique occurrence in Australian history. The correctness of Fraser's actions in the crisis and the exact nature of his involvement in Kerr's decision have since been a topic of debate.
After Whitlam's dismissal, Fraser was sworn in as prime minister on an initial caretaker basis. The Coalition won a landslide victory at the 1975 election, and was re-elected in 1977 and 1980. Fraser took a keen interest in foreign affairs as prime minister, and was more active in the international sphere than many of his predecessors. He was a strong supporter of multiculturalism, and during his term in office Australia admitted significant numbers of non-white immigrants (including Vietnamese boat people) for the first time. His government also established the Special Broadcasting Service (SBS). Particularly in his final years in office, Fraser came into conflict with the economic rationalist faction of his party. His government made few major changes to economic policy.
Fraser and the Coalition lost power at the 1983 election, and he left politics a short time later. In retirement, he held advisory positions with the UN and Commonwealth of Nations, and was president of the aid agency CARE from 1990 to 1995. He resigned his membership of the Liberal Party in 2009, having been a critic of its policy direction for a number of years. Evaluations of Fraser's prime ministership have been mixed. He is generally credited with restoring stability to the country after a series of short-term leaders, but some have seen his government as a lost opportunity for economic reform. Only three Australian prime ministers have served longer terms in office – Menzies, Bob Hawke, and John Howard.
John Malcolm Fraser was born in Toorak, Melbourne, Victoria, on 21 May 1930. He was the second of two children born to Una Arnold (née Woolf) and John Neville Fraser; his older sister Lorraine had been born in 1928. Both he and his father were known exclusively by their middle names. His paternal grandfather, Sir Simon Fraser, was born in Nova Scotia, Canada, and arrived in Australia in 1853. He made his fortune as a railway contractor, and later acquired significant pastoral holdings, becoming a member of the "squattocracy". Fraser's maternal grandfather, Louis Woolf, was born in Dunedin, New Zealand, and arrived in Australia as a child. He was of Jewish origin, a fact which his grandson did not learn until he was an adult. A chartered accountant by trade, he married Amy Booth, who was related to the wealthy Hordern family of Sydney and was a first cousin of Sir Samuel Hordern.
Fraser had a political background on both sides of his family. His father served on the Wakool Shire Council, including as president for two years, and was an admirer of Billy Hughes and a friend of Richard Casey. Simon Fraser served in both houses of the colonial Parliament of Victoria, and represented Victoria at several of the constitutional conventions of the 1890s. He eventually become one of the inaugural members of the new federal Senate, serving from 1901 to 1913 as a member of the early conservative parties. Louis Woolf also ran for the Senate in 1901, standing as a Free Trader in Western Australia. He polled only 400 votes across the whole state, and was never again a candidate for public office.
Fraser spent most of his early life at Balpool-Nyang, a sheep station of 15,000 hectares (37,000 acres) on the Edward River near Moulamein, New South Wales. His father had a law degree from Magdalen College, Oxford, but never practised law and preferred the life of a grazier. Fraser contracted a severe case of pneumonia when he was eight years old, which nearly proved fatal. He was home-schooled until the age of ten, when he was sent to board at Tudor House School in the Southern Highlands. He attended Tudor House from 1940 to 1943, and then completed his secondary education at Melbourne Grammar School from 1944 to 1948 where he was a member of Rusden House. While at Melbourne Grammar, he lived in a flat that his parents owned on Collins Street. In 1943, Fraser's father sold Balpool-Nyang – which had been prone to drought – and bought Nareen, in the Western District of Victoria. He was devastated by the sale of his childhood home, and regarded the day he found out about it as the worst of his life.

After more than a decade on the backbench, Fraser was appointed to the Cabinet by the prime minister, Harold Holt, in 1966. As Minister for the Army he presided over the controversial Vietnam War conscription program.
Under the new prime minister, John Gorton, he became Minister for Education and Science and in 1969 was promoted to Minister for Defence, a particularly challenging post at the time, given the height of Australia's involvement in the Vietnam War and the protests against it.
In March 1971 Fraser abruptly resigned from the Cabinet in protest at what he called Gorton's "interference in (his) ministerial responsibilities".
This precipitated a series of events which eventually led to the downfall of Gorton and his replacement as prime minister by William McMahon. Gorton never forgave Fraser for the role he played in his downfall; to the day Gorton died in 2002, he could not bear to be in the same room with Fraser.
McMahon immediately reappointed Fraser to the Cabinet, returning him to his old position of Minister for Education and Science. When the Liberals were defeated at the 1972 election by the Labor Party under Gough Whitlam, McMahon resigned and Fraser became Shadow Minister for Labour under Billy Snedden.
In retirement Fraser served as Chairman of the UN Panel of Eminent Persons on the Role of Transnational Corporations in South Africa 1985, as Co-Chairman of the Commonwealth Group of Eminent Persons on South Africa in 1985–86 (appointed by Prime Minister Hawke), and as Chairman of the UN Secretary-General's Expert Group on African Commodity Issues in 1989–90. He was a distinguished international fellow at the American Enterprise Institute from 1984 to 1986. Fraser helped to establish the foreign aid group CARE organisation in Australia and became the agency's international president in 1991, and worked with a number of other charitable organisations. In 2006, he was appointed Professorial Fellow at the Asia Pacific Centre for Military Law, and in October 2007 he presented his inaugural professorial lecture, "Finding Security in Terrorism's Shadow: The importance of the rule of law"
On 20 March 2015, his office announced that Fraser had died in the early hours of the morning, noting that he had suffered a brief illness.[52][53] An obituary noted that there had been "greater appreciation of the constructive and positive nature of his post-prime ministerial contribution" as his retirement years progressed.
Fraser was given a state funeral at Scots' Church in Melbourne on 27 March 2015.His ashes are interred within the 'Prime Ministers Garden' of Melbourne General Cemetery.