ऐलन गार्सिया (जन्म- 23 मई, 1949)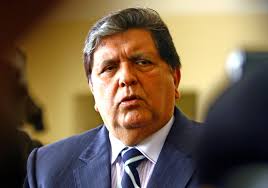 ऐलन गेब्रियल लुडविग गार्सिया पेरेज़ (अंग्रेज़ी: Alan Gabriel Ludwig Garcia Perez, जन्म- 23 मई, 1949) पेरू के प्रसिद्ध राजनीतिज्ञ हैं।
उनका जन्म 23 मई, 1949 को पेरू के लीमा शहर में हुआ था।
ऐलन गार्सिया दो बार पेरू के राष्ट्रपति रह चुके हैं।
उनका कार्यकाल 1985 से 1990 तक 61वें और 2006 से 2011 64वें राष्ट्रपति के रूप में रहा।
वह पेरुविंग अप्रिस्टा पार्टी के नेता थे।
ऐलन गार्सिया 1987 में गणतंत्र दिवस पर भारत आने वाले मुख्य अतिथि थे।
Alan Gabriel Ludwig García Pérez ( born 23 May 1949) is a Peruvian politician who served as President of Peru from 1985 to 1990 and again from 2006 to 2011.[1] He was the leader of the Peruvian Aprista Party and the only party member ever to have served as President.
His first term was marked by a severe economic crisis, social unrest and violence. He ran unsuccessfully for the Presidency in 2001, losing in a run-off to Alejandro Toledo. He ran again in 2006 and was elected to a second term, even though his first term in the 1980s was considered by many to have been disastrous. During García's second term, due to the increase in metal prices, Peru averaged seven percent GDP growth a year, held inflation below three percent annually and collated Peru's foreign exchange reserves at US$47 billion; however, his tenure also resulted in increased environmental damage, according to critics, and increased social conflict, according to the national human rights ombudsman's office.
Born in the Maison de Santé Clinic of the Barranco District into a middle-class family, García met his father for the first time when he was 5 years old, due to his father's imprisonment for being a member of the Peruvian Aprista Party. His mother founded the party's base in the Camaná Province of the Arequipa Region. Since very young, he accompanied his father in party meetings and began acquainted with future leaders of the American Popular Revolutionary Alliance (APRA), such as Luis Alva Castro and Mercedes Cabanillas. At the age of 14, he was already an immensely talented orator when he first gave a speech in honor of patriarch Víctor Raúl Haya de la Torre, who he admired and followed until his death.
García studied law, first at the Pontifical Catholic University of Peru, and earned his law degree at the National University of San Marcos in 1971. A year later, he left Peru for Spain, where he studied for a PhD. in law, for years Alan Garcia claimed to have earned a PhD, however in 2014, documents from the university proved he never finished his PhD. In 1974, he travelled to France with other members of the APRA to study at the prestigious University of Paris I. After earning a degree in sociology, he was called by Víctor Raúl Haya de la Torre to come back to Peru in order to run for the Constituent Assembly election in 1978. García was elected for public office as Member of the Assembly, impressing his colleagues with his oratory and skillful rhetoric. As Secretary of Organization of the APRA, he was assigned to conduct the party's public affairs during the wake of Haya de la Torre's death.
From his first marriage, he has one daughter, Carla, who is also active in Peruvian politics. From his current wife Pilar Nores, with whom he separated from in 2010,[6] Garcia has four children. He also has another child from an extramarital affair with a woman named Roxanne Cheesman.
Already recognized as a young leader with a bright future for the country, he was elected Member of Congress in 1980. Two years later, he was elected General Secretary of the Peruvian Aprista Party, the highest position ever achieved by a member of the party. He was elected as presidential nominee for the 1985 general election.
Alan García won the presidential election on April 14, 1985 with 45% of the votes. Since he did not receive the 50% of the votes required to win the presidency, García had to enter a run-off against Alfonso Barrantes (the leftist former mayor of Lima) of the United Left party. Barrantes, however, retired and decided not to enter the run-off, saying he did not want to prolong the political uncertainty of the country. García was thus declared President on 1 June and officially took power on 28 July 1985. For the first time in its sixty-year history, the APRA party came to power in Peru. Aged 36, García was dubbed "Latin America's Kennedy", becoming the region's youngest president at the time, and the second youngest president in Peruvian history (the youngest was Juan Crisostomo Torrico in 1842, aged 34).

Alfonso Guerra and Alan García at Moncloa Palace, August 1988.
Despite his initial popularity among Peruvian voters, García's term in office was marked by bouts of hyperinflation, which reached 7,649% in 1990 and had a cumulative total of 2,200,200% over the five years, thereby profoundly destabilising the Peruvian economy. Owing to such chronic inflation, the Peruvian currency, the sol, was replaced by the Inti in mid-1985, which itself was replaced by the nuevo sol ("new sun") in July 1991, at which time the new sol had a cumulative value of one billion (1,000,000,000) old soles. During García's administration, the per capita annual income of Peruvians fell to $720 (below the level of 1960) and Peru's GDP dropped 20%. By the end of his term, national reserves were negative $900 million.
According to studies of the National Institute of Statistics and Informatics and the United Nations Development Programme, around the start of his presidency, 41.6% of Peruvians lived in poverty. During his presidency, this percentage increased by 13% (to 55%) in 1991. García also made an attempt to nationalise the banking and insurance industries. The International Monetary Fund and the financial community retracted after the presidency unilaterally declared a limit on debt repayment equal to 10% of the Gross National Product, thereby isolating Peru from the international financial markets.
The economic turbulence exacerbated social tensions in Peru and contributed in part to the rise of the violent rebel movement known as the Shining Path, which launched the internal conflict in Peru and began attacking electrical towers, causing a number of blackouts in Lima. The García administration unsuccessfully sought a military solution to the growing terrorism, allegedly committing human rights violations, which are still under investigation. These include the Accomarca massacre, where 47 campesinos were gunned down by Peruvian armed forces in August 1985, the Cayara massacre (May 1988) in which some thirty people were killed and dozens disappeared, and the summary execution of more than 200 inmates during prison riots in Lurigancho, San Juan Bautista (El Frontón) and Santa Bárbara in 1986. According to an official inquiry, an estimated 1,600 forced disappearances took place during García's presidency. His own personal involvement in these events is not clear. García was allegedly tied to the paramilitary Rodrigo Franco Command, which is accused of carrying out political murders in Peru during García's presidency. A U.S. declassified report, written in late 1987, said that García's party, APRA, and top government officials were running a paramilitary group, responsible for the attempted bombing of the El Diario newspaper, then linked to Shining Path, had sent people to train in North Korea and may have been involved in executions.[8] According to investigative journalist Lucy Komisar, the report made it clear that it believed García had given the orders.[8]
His presidency left the country with hyperinflation, isolated from the international financial community, with negative reserves of US$900 million, continuous subversive activities by the Shining Path, a great increase in poverty levels and a multimillion-dollar investment in an electric train in Lima that was not finished during his first government, and is still under construction as of 2011. His critics claim many poor decisions he made created an environment that led to the rise of an authoritarian leader like Alberto Fujimori. García was accused of multiple charges of corruption during Fujimori's government, during which he remained overseas. Investigations were abandoned and archived without verdict and the statute of limitations has expired.[citation needed] His economic policies were used by economists Rudi Dornbusch and Sebastian Edwards to coin the term macroeconomic populism.