रवि शास्त्री (जन्म:27 मई, 1962)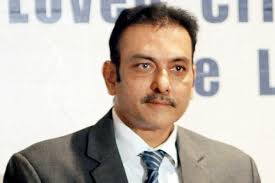 रवि शास्त्री (जन्म:27 मई, 1962) भारत के प्रसिद्ध पूर्व क्रिकेटर और वर्तमान समय में उम्दा कमेंटेटर हैं। इनके माता-पिता कर्नाटक के रहने वाले थे, पर इनका जन्म मुंबई में हुआ।
जीवन परिचय
रवि शास्त्री के पिताजी डॉक्टर थे। घर में बच्चों को पढ़ाई की तरफ ज़्यादा से ज़्यादा ध्यान देने को कहा जाता था। जब रवि शास्त्री बहुत छोटे थे तब वे गिल्ली-डंडा, कंचे और फुटबॉल-हॉकी खेलने में ही ज़्यादा समय बिताते थे। उन्हें दोस्तों के साथ बाहर खेलकूद में ही ज़्यादा मजा आता था। बचपन में रवि शास्त्री के पास ही खेलने का ज़्यादातर सामान था और किसी भी खेल में आउट हो जाने पर वे खेल बंद कर देते थे तो सारे दोस्त उनकी बात मानकर उन्हें एक मौक़ा और दे देते थे। क्रिकेट में भी जब वे आउट हो जाते थे तो बैट लेकर भाग जाते थे। फिर उनके दोस्त उन्हें घर से मनाकर लाते थे कि अच्छा चलो एक बार बल्लेबाज़ी और कर लेना। ये बातें तबकी हैं जब वे बहुत छोटे थे। फिर बड़ा होने पर उन्हें मालूम हुआ कि हार-जीत खेल का हिस्सा है।
स्कूल में रवि शास्त्री अपनी क्लास में सबसे पीछे की बेंच पर बैठते थे। इसका एक कारण थी आखिरी बेंच के पास की खिड़की। इस खिड़की से वे क्लास से बाहर क्या चल रहा है यह देख पाते थे और जरूरत लगने पर चॉकलेट की पन्नी या फलों के छिलके खिड़की से बाहर भी फेंक सकते थे। वे क्लास में बैठे-बैठे चॉकलेट और दूसरी चीज़ें भी खाते थे। जब वे स्कूल में थे तो खाने के बहुत-सी चीज़ें अपने दोस्तों के लिए ले जाते थे ताकि वे अपनी चीज़ें एक-दूसरे के साथ बाँट सकें। जब रवि शास्त्री 9वीं में थे, तब स्कूल की क्रिकेट टीम बनी और उनके कोच देसाई सर ने उन्हें क्रिकेट सीखने में खूब मदद की। उनकी वजह से ही वे क्रिकेटर बन सके। उनकी स्कूल की टीम ने चैंपियनशिप भी जीती थी और वह पहली ट्रॉफी थी जिसने उन्हें बहुत उत्साहित किया था। यह ट्रॉफी जीतने के बाद ही वे तय किये थे कि अब उन्हें एक अच्छा क्रिकेटर बनना है और देश के लिए क्रिकेट खेलनी है। उनका यह निर्णय आगे चलकर सही साबित हुआ और वे देश के लिए क्रिकेट खेला भी। दोस्तो, क्रिकेट से सन्न्यास के बाद भी उन्हें इस खेल से इतना लगाव हो गया है कि अब वे कमेंट्री में भी खूब आनंद लेते है।
रवि शास्त्री ने क्रिकेट से पहले बहुत से खेलों में हाथ आजमाए। जब वे बड़े हो रहे थे तब वे टेनिस भी खेलते थे। खेलों के प्रति रुचि जगाने में उनका स्कूल डॉन बॉस्को का भी बड़ा योगदान रहा, क्योंकि यहाँ उन्हें तरह-तरह के खेलों में भाग लेने के लिए प्रोत्साहित किया जाता था। गिल्ली-डंडा और टेनिस से होते हुए सबसे आखिर में उनकी गाड़ी क्रिकेट पर आकर रुकी।
Ravishankar Jayadritha Shastri (born 27 May 1962) is an Indian cricket commentator, former player and current head coach of the Indian national cricket team. As a player, he played for the India national cricket team between 1981 and 1992 in both Tests and ODIs. Although he started his career as a left arm spin bowler, he later transformed into a batting all-rounder.
As a batsman, Shastri was essentially defensive with his trademark "chapati shot" (a flick off the pads), but he could raise his strike rate when required. Due to his above-average height (he stood 6' 3" tall) and an upright stance, he had a limited number of shots against fast bowling, but was able to put the lofted shot to good use against spin bowling. Shastri played either as an opening batsman or in the middle order.
The highlight of his career was when he was elected Champion of Champions in the World Championship of Cricket in Australia in 1985. In the same season, on 10 January 1985 , he equaled West Indian Garry Sobers's record of hitting six sixes in an over in first class cricket. He was regarded as a potential captain, but his image outside cricket,[4] injuries and tendency to lose form at crucial times meant that he captained India in only one Test match.
In domestic cricket, he played for Bombay and led them to the Ranji Trophy title in his final year of playing. He also played four seasons of county cricket for Glamorgan. He was forced to retire aged 31 due to a recurring knee injury. He has done commentary on behalf of BCCI in the matches that India play.[5] In 2014, he became the director of Indian cricket team for a period of eight months from India's tour of England till the 2015 World Cup. On July 13 2017, he was appointed as the head coach of Indian cricket team.
Ravi Shastri is of Mangalorean descent, was born in Bombay and studied at Don Bosco High School, Matunga. As a teenager, he took to cricket seriously. Playing for Don Bosco (Matunga), Shastri reached the final of the 1976 inter-school Giles Shield, finally losing to St Mary's, whose lineup included two future Ranji players, Shishir Hattangadi and Jignesh Sanghani. The next year, under Shastri's captaincy, Don Bosco won the Giles Shield in 1977, the first time in the history of that school.[9] At school, his coach was B.D. Desai, once a Tatas and Dadar Union player. While Don Bosco was not traditionally a major force in schools cricket, the R.A. Podar College, where Shastri later studied commerce, produced many good cricketers. Vasant Amladi and, in particular, VS "Marshall" Patil, were integral figures in Shastri's development as a cricketer.
In his last year at the junior college, he was selected to represent Bombay in the Ranji trophy. At 17 years and 292 days, he was then the youngest cricketer to play for Bombay.
An Indian under–19 team was scheduled to tour Pakistan in 1980–81. Shastri was included in the coaching camp at the last minute by the National Coach Hemu Adhikari. Shastri captained one of the two teams in a trial game and was then asked to lead the Indian Under-19 team. The tour, however, was cancelled. The team later went to Sri Lanka, but the games were frequently interrupted by rain.
His only notable achievement in his first two Ranji seasons were bowling figures of 6-61, which he took against Delhi in the 1979–80 Ranji final that Bombay lost. While he was playing against Uttar Pradesh at Kanpur in the next season, he was called up to the squad touring New Zealand to stand in for the injured left arm spinner Dilip Doshi. Shastri arrived in Wellington the night before the first Test. His first over in Test cricket was a maiden to the New Zealand captain Geoff Howarth. In the second innings, he took 3 wickets in four balls, all to catches by Dilip Vengsarkar, to bring a quick close to the New Zealand innings. In the third Test, his seven wickets won him the man of the match award, while his 15 wickets in the series were the highest for eIther side.
The Ranji final of 1984/85 turned out to be one of the finest matches in Indian domestic cricket history. A sleepy Gavaskar won the toss and batted. He could hardly close his eyes before Bombay was 3 down for 42. Batting at No.5, he scored his 20th and last hundred in Ranji trophy and took Bombay to 333. Shastri made 29 before he was bowled attempting to cut an arm–ball. Delhi was in early trouble before they were rescued by Chetan Chauhan, batting with a fractured finger in his last first class match. Ajay Sharma, in his first season, scored a hundred and took Delhi into the lead with nine wickets down.
The rules of the competition specified that in the event of a draw, the team with the first innings lead would be declared the winners. With two days and 100 minutes left, Bombay went for quick runs. A crowd of about 46,000 turned up for match on the fourth day and the organizers ran out of tickets. Shastri top scored with 76 as Bombay set Delhi 300 to win in a day and ninety minutes.
Except for the odd delivery, the ball spun slowly and afforded enough time for the batsmen to play their strokes. Early on the final day, Delhi reached 95 for no loss and then collapsed. His first wicket was Chauhan who was declared out caught behind with the ball having spun across the face of the bat without apparently touching it. The match changed dramatically and the batsmen lost their head. Gursharan Singh was lbw playing no stroke, Kirti Azad played on, Surinder Khanna was stumped after a few slogs. Shastri took 8 for 91; Bombay won by 90 runs. In the 50th year of Ranji trophy, it was their 30th title.
After the tour of Australia in 1985–86, he also began to decline as a bowler. Bombay lost to Haryana in the semifinal of the Ranji trophy but West Zone won the Duleep Trophy. His major contribution was as a bowler in the semifinal against North Zone on a flat wicket at Trivandrum. Like in the Ranji final, North looked the likely winner going into the last day, before he took 8 for 145.
He scored hundreds in the quarter final and semifinal of the Duleep trophy, but West Zone lost to South on first innings lead in the latter match. Shastri's only other score over fifty in the season was a particularly dull 125 against Pakistan in the Jaipur Test. He did well enough to be the man of the one day series. In the first one-day match against Pakistan he captained India for the first time, scoring 50 and taking three wickets. He took four wickets at Calcutta and 69* at Hyderabad in two thrilling finishes. Later at Nagpur with India facing a big target, he scored 52 in 40 balls.
In 1987, Glamorgan contracted Shastri to play for them. He stayed with them until 1991, with a break in 1990 due to India's tour of England. Shastri's presence did little for the fortunes of the county which finished at the bottom of the first class table in two of those seasons. Shastri topped 1000 runs in 1989 and scored hundreds in both innings against Middlesex. His best bowling performance of 7 for 49 (11 for 90) in the match came against Lancashire in 1988, where he got bounce and turn and was 'unplayable' according to Wisden. The almanack noticed that Shastri was already becoming reluctant to bowl.
1988 was by far the best of the seasons for Glamorgan in one day matches. They finished 5th in the Sunday League – up from 14 in 1987 – and reached the semifinal of the Benson & Hedges Cup. Shastri won the leading six hitter award for the Sunday league matches of 1988 with 14 sixes. He was part of the MCC team that played a Rest of the World team in the MCC bicentennial match at Lord's in 1987.
Bombay breezed through the West Zone league of the 1993–94 Ranji trophy winning all four matches – a very rare feat [13] – by big margins. With the Test players away, Shastri captained the young team in the knockout matches. Bombay defeated Haryana by an innings and 202 runs in the pre quarter final but ran into trouble against Karnataka in the next round. Against 406, Bombay lost their first six for 174, before Shastri and Sairaj Bahutule added 259 in six hours. Shastri's individual score was 151. Bombay survived the best part of the last day to win on first innings lead. Shastri scored 612 runs in the season and took 17 wickets at 15. Bombay went on to beat Bengal in a low scoring final to lift the Ranji trophy. It was their first championship since the famous win against Delhi nine years ago.
In September 1994, while in Sri Lanka covering the Singer World Series, Shastri announced his retirement from first class cricket.
Within eighteen months of his Test debut, Shastri had moved up from tenth position in the batting order to being an opening batsman. "His calm, sensible batting lower in the order", wrote Wisden, commenting on his first series,"raised promise of his developing into a useful all-rounder, and his fielding too was an asset". By the end of his career, he had batted in every position from one to ten. By his own admission,[10] he ignored his bowling in favour of his batting. This was reflected in his performances. However, his figures of 9-101 in the season-opening 1981 Irani Trophy stood as a tournament record for nearly twenty years.
It was the failure of the regular openers Pranab Roy and Ghulam Parkar that led to Shastri being made to open at the Oval against England in 1982. He distinguished himself by scoring 66 runs in that match. An injury in the webbing of his hand ruled him out of four of the Tests to be played in Pakistan. Forced again to open in the final Test at Karachi, against the fast bowling of Imran Khan (then at the peak of his career), he scored his first Test hundred. He later made another hundred against the West Indies in Antigua. Indian Cricket was impressed enough to suggest that, given time, he could become one of the best batsmen in the Indian team.
Shastri was not selected to play in most of the important matches in the 1983 World Cup. In the series against the West Indies later that year, he again distinguished himself with his bold effort in batting against the domineering West Indian pace bowlers.
Except for a few series in Pakistan and the 1983 World Cup final, the World Championship of Cricket in Australia was the first time overseas cricket matches were shown live in India. The WCC saw India win every match convincingly. The WCC was conceived as a celebration of the 150th year of the formation of Victoria, but the finalists turned out to be India and Pakistan.
Shastri had a slow start to the tournament but finished with fifties in the last three matches. Srikkanth too scored three fifties and India posted century opening stands against Australia and in the final. India went in with two spinners for every match. It helped that all the matches were played at Melbourne and Sydney which have turning tracks and long boundaries. Sivaramakrishnan and Shastri claimed 18 wickets between them in five matches.
For his 182 runs and 8 wickets, Shastri was chosen as the man of the series which in this tournament was called 'The Champion of Champions'. He won an Audi 100 car for his efforts. By the special order of Prime Minister Rajiv Gandhi, Indian customs waived the heavy duty its import would have normally entailed.
On July 2017 Shastri, the former team director, has been appointed as Head Coach for the national side by the Cricket Advisory Committee (CAC), comprising Sourav Ganguly, VVS Laxman and Sachin Tendulkar. The contract has him getting paid Rs.8 crore per year. Rs.1.5 Crore more than his predecessor Anil Kumble.[