निखिल रंजन बैनर्जी (जन्म: 14 अक्टूबर, 1931)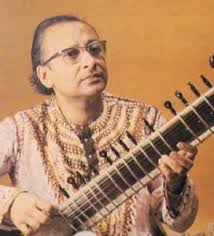 निखिल रंजन बैनर्जी (अंग्रेज़ी: Nikhil Banerjee, जन्म: 14 अक्टूबर, 1931 - मृत्यु: 27 जनवरी, 1986) 20वीं सदी में भारत के प्रमुख सितार वादकों में से एक थे।
आरंभिक जीवन
निखिल बैनर्जी का जन्म 14 अक्टूबर, 1931 में पश्चिम बंगाल राज्य के एक ब्राह्मण घराने में हुआ था। निखिल रंजन बैनर्जी को सितार बजाना इनके पिता जितेन्द्रनाथ बैनर्जी ने सिखाया। सितार बजाने की उनमें बचपन से ही विलक्षण प्रतिभा थी। निखिल रंजन बैनर्जी ने नौ साल की उम्र में अखिल भारतीय सितार प्रतियोगिता जीती और जल्द ही ऑल इंडिया रेडियो पर सितार बजाने लगे। शुरुआती प्रशिक्षण के लिए जितेन्द्रनाथ के अनुरोध पर मुश्ताक़ अली ख़ाँ ने निखिल बैनर्जी को अपना शिष्य बनाया। निखिल बैनर्जी उस्ताद अलाउद्दीन ख़ाँ से शिक्षा प्राप्त करना चाहते थे, लेकिन अलाउद्दीन ख़ाँ और शिष्य नहीं चाहते थे। अन्त में रेडियो पर निखिल बैनर्जी का सितार वादन सुनने पर अलाउद्दीन ख़ाँ ने अपना निर्णय बदला। मुख्यत: निखिल बैनर्जी उस्ताद अलाउद्दीन ख़ाँ के शिष्य थे, लेकिन उन्होंने अली अकबर ख़ाँ से भी शिक्षा प्राप्त की।
निखिल रंजन बैनर्जी की मृत्यु 27 जनवरी, 1986 में हुई थी।
मैहर घराने का कठोर अनुशासन था। सालों तक निखिल बैनर्जी ने प्रात: चार बजे से रात के ग्यारह बजे तक रियाज़ किया। निखिल बैनर्जी के अतिरिक्त उस्ताद अलाउद्दीन ख़ाँ के शिष्यों में उनके पुत्र अली अकबर ख़ाँ, पौत्र आशीष ख़ाँ, भतीजे बहादुर ख़ाँ (सरोद), रवि शंकर (सितार), पुत्री अन्नपूर्णा (सुरबहार), पन्नालाल घोष (बाँसुरी) और बसन्त राय (सरोद) भी थे। उस्ताद अलाउद्दीन ख़ाँ ने अपने शिष्यों को वादन पद्धति के साथ मैहर घराने के दृष्टिकोण से भी परिचित कराया।
निखिल रंजन बैनर्जी को 1987 में भारत सरकार ने कला के क्षेत्र में पद्म भूषण, 1968 में पद्म श्री और 1974 में संगीत नाटक अकादमी पुरस्कार से सम्मानित किया था।
Nikhil Ranjan Banerjee ( 14 October 1931 – 27 January 1986) was an Indian classical sitarist of the Maihar Gharana. A student of the legendary Baba Allauddin Khan, Pandit Nikhil Banerjee was known for his technical virtuosity and clinical execution. Along with Pandit Ravi Shankar and Ustad Vilayat Khan, he emerged as one of the leading exponents of the sitar. He was a recipient of the Indian civilian honour of the Padma Bhushan.
Nikhil Banerjee was born on 14 October 1931 in Calcutta. His father, Jitendranath Banerjee, was an amateur sitarist and Banerjee was fascinated by his father's playing. Although he wanted to try his hand at an instrument as early as the age of four, he was discouraged by his father and grandfather. At the age of five, however, they relented and he acquired a small sitar, initially learning under his father. Banerjee grew into a child prodigy. He won an all-India sitar competition and became the youngest musician employed by All India Radio at the age of nine. Jitendranath approached Mushtaq Ali Khan to take Nikhil as a disciple, but only learned from this master for a few short weeks. Instead Birendra Kishore Roy Chowdhury, the zamindar of Gouripur in present-day Bangladesh, became responsible for much of his early training. He also had considerable training under Pt. Radhika Mohan Maitra, before he went under the discipleship of Ustd. Allauddin Khan.
Around 1946 Nikhil Banerjee met the great khyal singer Amir Khan through the master's teaching of Nikhil Banerjee's sister, and his enthusiasm for his music was reinforced by hearing him in concert a couple of years later. Amir Khan continued to have a significant influence on Banerjee's musical development.
In 1947 Banerjee met Ustad Allauddin Khan, who was to become his main guru along with his son, Ali Akbar Khan. Both were sarod players. Banerjee went to Allauddin Khan's concerts and was desperate to have him as his teacher. Allauddin Khan did not want to take on more students, but changed his mind after listening to one of Banerjee's radio broadcasts. Allauddin Khan was Banerjee's main teacher, after he left Maihar he also learned from Ali Akbar Khan, the son of Allaudin Khan, for many years.
The discipline under Ustad Allauddin Khan was intense. For years, Nikhil's practice would start at four in the morning and, with few breaks, continue to eleven o'clock at night. Among others, Ustad Allauddin Khan also taught his son Ali Akbar Khan, grandson Aashish Khan, and nephew Bahadur Khan on the sarod; Ravi Shankar on the sitar; his daughter, Annapurna Devi, on the surbahar; Pannalal Ghosh on the flute; and Vasant Rai the sarod.
Ustad Allauddin Khan was passing on not only playing technique but the musical knowledge and approach of the Maihar gharana (school); yet there was a definite trend in his teaching to infuse the sitar and sarod with the been-baj aesthetic of the Rudra veena, surbahar and sursringar—long, elaborate alap (unaccompanied improvisation) built on intricate meend work (bending of the note).[citation needed] He was also well known for adjusting his teaching to his particular students' strengths and weaknesses. Consequently, under his teaching, Shankar and Banerjee developed different sitar styles.
After Maihar, Banerjee embarked on a concert career that was to take him to all corners of the world and last right up to his untimely death. All through his life he kept taking lessons from Ustad Allauddin Khan and his children, Ustad Ali Akbar Khan and Smt. Annapurna Devi. Perhaps reflecting his early upbringing, he always remained a humble musician, and was content with much less limelight than a player of his stature could have vied for. Even so, in 1968, he was decorated with the Padma Shri, and in 1974 received the prestigious Sangeet Natak Akademi Award.
Although he was often resident at the Ali Akbar College of Music in California he taught few pupils on a one-to-one basis, for his stated reason that he did not feel he had adequate time to devote to his students, as he was still learning and performing. He hoped that developing a proper disciple relationship with students would become possible later in his life, but, sadly, his early demise meant it did not happen. Nevertheless, a number of prominent sitarists have been influenced by his teaching and distinctive style.
Banerjee recorded only a handful of recordings during his lifetime but a series of live performance recordings continue to be released posthumously making sure that his musical legacy is preserved for posterity. He did not always enjoy recording within the confines of the studio, though his early studio recordings with EMI India such as Lalit, Purya Kalyan and Malkauns are now considered to be classic renditions of these ragas. The posthumous live albums, many of which were brought out around the turn of the 21st century by Raga Records in New York, and Chhandadhara of Germany, are widely considered to be the finest documents of his playing. Many of his unpublished concert recordings are available which are testimony to his musical thought.
Nikhil Banerjee was in failing health through the 80s, having survived three heart attacks. On 27 January 1986, on the birthday of his younger daughter, at the relatively young age of 54, Nikhil Banerjee died of a fourth heart attack. At the time of his death, he was a faculty member at the Ali Akbar College of Music in Calcutta. He was posthumously awarded the Padma Bhushan title by the government of India in the same year as his death.
He is survived by his wife Roma and two daughters. His elder daughter is married into the Tagore family. His younger daughter Devdutta is a supermodel and acclaimed actress. Is widely accepted knowledge that he did not enjoy teaching nor accept formal disciples.