मिर्ज़ा इस्माइल (जन्म- 23 अक्टूबर, 1883)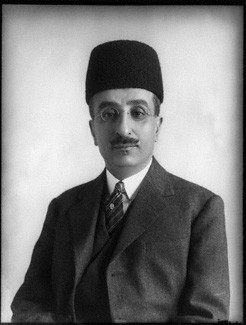 सर मिर्ज़ा मुहम्मद इस्माइल 'अमीन-उल-मुल्क' (अंग्रेज़ी: Sir Mirza Muhammad Ismail 'Amin-ul-Mulq', जन्म- 23 अक्टूबर, 1883; मृत्यु- 5 जनवरी, 1959) सन 1908 में मैसूर के महाराजा के सहायक सचिव थे, जो कुछ समय बाद मैसूर के दीवान भी नियुक्त हुए।
मिर्ज़ा मुहम्मद इस्माइल की शिक्षा मैसूर और 'सेंट्रल कालेज', बंगलोर में हुई थी।
वर्ष 1908 में वे महाराजा मैसूर के सहायक सचिव और कुछ काल बाद मैसूर के दीवान नियुक्त हुए थे।
'बंबई विश्वविद्यालय' के वाइस चांसलर पद पर भी मिर्ज़ा मुहम्मद इस्माइल ने कार्य किया था।
लंदन में होने वाली पहली और दूसरी राउंड टेबुल कान्फ़्रेंस में ये भी शामिल हुए थे।
मिर्ज़ा मुहम्मद इस्माइल 'अमीन-उल-मुल्क' भारत में शिक्षा संबंधी विषयों के शुभचिंतकों में से एक थे।
नागपुर, अलीगढ़, आगरा, बनारस, पटना, ढाका आदि विश्वविद्यालयों के दीक्षांत भाषणों से उनकी शिक्षा संबंधी योग्यता का पता चलता है।
मैसूर लौटने से पहले मिर्ज़ा मुहम्मद इस्माइल जयपुर राज्य के दीवान भी रहे थे।
सन 1959 में मिर्ज़ा मुहम्मद इस्माइल का देहांत हुआ।
Sir Mirza Muhammad Ismail - Amin-ul-Mulq, KCIE, OBE ; (24 October 1883 – 5 January 1959) was the Diwan (Prime Minister) of the Kingdoms of Mysore, Jaipur and Hyderabad.
Sir Chetpat Pattabhirama Ramaswami Iyer, Diwan, Travancore considered him "one of the cleverest men in India". Long-time friend Sir Chandrasekhara Venkata Raman said that "Sir Mirza's accessibility and personal charm coupled with his depth of knowledge and his keen sense of human and cultural values made him a great and highly successful administrator
Mirza Ismail was born on 24 October 1883 in Bangalore. He was the grandson of Ali Asker. Krishnaraja Wodeyar IV and he were classmates in college. After his graduation from Bangalore in 1904 he started off as an Asst Superintendent of Police with the government.
Mirza Ismail became the private secretary to the Maharajah, who had great faith in his administrative acumen and abilities to implement them. It was at this time the King urged Sir Mokshagundam Visvesvaraya to guide him. It is well documented that Sir Mokshagundam Visvesvaraya became Mirza Ismail's mentor. In 1926 on the recommendation of Vishvesvaraya the King supplemented Mirza Ismail by elevating him to the coveted position of the Diwan of Mysore.
He attended to the needs of society with an impartial outlook, religious biases were never part of his administrative agenda, though it is not clear why he was instrumental in setting up a mosque in Bangalore. Peace, Progress, Economic Wealth and welfare for the people and the state were his top priority. The Bangalore Town Hall was built by the King of Mysore, and designed by Mirza Ismail. The first rural electrification programme in India were also implemented by him.
The Nobel laureate Sir C.V. Raman paid eloquent tributes to Sir Mirza in the following words:" For many years, in fair weather as well as in foul, Sir Mirza Ismail remained the truest of friends to me, ever ready to give support and advice. He leaves behind him a memory which will be treasured and cherished by all who have known him." He was a superlative administrator and set an inspiring example to the officials by undertaking extensive tours and personally looking to the grievances of the people. Over his fourteen years of service, Mysore State made substantial progress in the field of industries, both in the private and public sectors. The sugar factory at Shimoga and the Khadi Production Centre at Badanval were the other industries that were set up during his time. A trade commissioner was also appointed in London.
Industries started during his period as diwan include Porcelain Factory and the Glass Factory all in Bangalore were established paper, cement, steel, fertilizers, sugar and electric bulbs. Vasya Bank, cement factory, the Chemical and Fertilizers factory and Sugar mills. In 1940, he laid the foundation stone of the Jamia Masjid mosque, near City Market in Bangalore.
A major part of his administration was spent in suppressing various kinds of public disturbances. He had to do a great deal of tight-rope walking in the face of popular agitations conducted by the Congress Party. He had to maintain good relations with the top Indian National Congress leaders like Gandhi and Nehru on one hand and in alliance with Maharaja Krishnaraja Wodeyar IV, he did everything possible to suppress Congress movement in the State for fear of communal violence and unrest on the Garden City of India. It was this very fear which came to the fore over Sultanpet Ganapathi Disturbances in Bangalore in 1928 this upheaval created the long desired opportunity the Congress desired and they finally gained ground in the illusive state of Mysore also.
Following the King Krishnaraja Wodeyar IV death in 1940, he continued as the Diwan with king Jayachamaraja Wodeyar. However, he resigned in 1941 over differences.
In 1941, he joined the Kingdom of Jaipur in Rajasthan as the Prime Minister. The chamber of commerce in Jaipur duly recorded the regime of Sir Mirza Ismail was "the beginning of the Industrial era of Jaipur."
Soon after his arrival in Jaipur, in 1942, he constituted a committee on Constitutional Reforms, these efforts considerably enhanced HH Maharaja Sawai Man Singh II's reputation and his Durbar in the Congress circles. The main thoroughfare of Jaipur has been named Mirza Ismail Road in his memory.
Ghanshyam Das Birla was a close friend of Sir Mirza Ismail who used to fund the grand projects Mirza Ismail envisaged for Jaipur. When banks were permitted to open branches in Jaipur, United Commercial Bank, under chairmanship of GD Birla, was the first to be permitted to open a branch there in 1945. The National Ball- bearing company was established under guidance from Sir Mirza.
In 1945, he chaired the "Indian Writers Council" for the International PEN in Jaipur where Sarojini Naidu and Edward Morgan Forster were some of the attendants. Even after resigning as Prime Minister Sir Mirza Ismail remained advisor to the State and its affair pertaining to development. 1949 he was instrumental with the sanctioning of the building for the Jaipur Medical Association.
Sir Mirza's grandfather Ali Askar was a Persian trader who fled Iran and took refuge under the wings of the Maharaja of Mysore. He trained the royal cavalry and supplied horses to the stable. He was an ardent advocate of Hindu-Muslim unity. Over a period of time he evolved into a prominent builder and landowner in Bangalore and adjoining cities. Bangalore has named two thoroughfares in the honour of him Ali Askar Road and his brother Aga Abbas Ali Road honoring their accomplishments in the city of Bangalore. Ali Asker created the Ali Asker Waqf Estate.
Mirza Ismail married Zeebundeh Begum Shirazi and they had three children Humayun Mirza, Shah Taj Begum and Gauhar Taj Begum. Khaleel Shirazie whose business empire extended from Madras to Singapore and China was his cousin, he was also the father in law to Mirza Ismail's children Humayun Mirza and Shah Taj Begum respectively. While his youngest daughter Gauhar Taj married his cousin Mirza Namazie's son in Singapore's Mirza Ghulam Hussain Namazie who was Director of MA Namazie Ltd, Singapore,
M. M. Ispahani the founder of The House of Ispahani and M. M. Ispahani Limited one of Bangladesh most illustrious businessmen was Mirza Ismail's cousin.
Sir Mirza's grandson, Akbar Mirza Khaleeli, followed in his grandfathers footsteps and joined the Indian Foreign Service between 1959–1994 and who served as ambassador in Iran, Italy and Australia. He was Advisor to the Indian Government on Middle Eastern Affairs for many years after his retirement. Mirza Ismail's granddaughter Shakereh Khaleeli née Namazie, ex-wife of Akbar Khaleeli was murdered in 1991, and a final verdict of life imprisonment was awarded to her murderer in 2008. They have four daughters: Zeebundeh Khaleeli, Sabah Backhache, Rehane Yavar Dhala and Essmath Khaleeli.
Agha Shahi and Agha Hilaly also inspired by Mirza Ismail, they chose to migrate to Pakistan during partition and became Foreign Secretaries of the Nation.