ब्रह्मबांधव उपाध्याय ( मृत्यु- 27 अक्तूबर, 1907)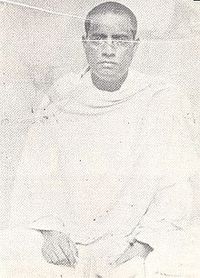 ब्रह्मबांधव उपाध्याय (जन्म- 1 फ़रवरी, 1861, कलकत्ता, पश्चिम बंगाल; मृत्यु- 27 अक्तूबर, 1907) भारतीय स्वतंत्रता सेनानी, पत्रकार, धर्मशास्त्री और रहस्यवादी थे। इन्होंने गुरूदेव श्री रवींद्रनाथ टैगोर की शांति निकेतन की स्थापना में सहयोग दिया।
जन्म
ब्रह्मबांधव उपाध्याय का जन्म 1 फ़रवरी, 1861 को कलकत्ता (कोलकत्ता), पश्चिम बंगाल के निकट खन्नन में हुआ था।
3 सितंबर, 1907 को ब्रह्मबांधव उपाध्याय गिरफ्तार हुए और अदालत में अपनी सारी जिम्मेदारी स्वीकार कर ली। जब मुकदमा चल रहा था कि बिमारी के कारण 27 अक्तूबर, 1907 को देहावसान हो गया।
ब्रह्मबांधव उपाध्याय एक प्रकांड विद्वान थे जिनका हिंदी, अंग्रेज़ी, संस्कृत और फारसी भाषाओं पर असाधरण अधिकार था। वे पहले अध्याक थे। ब्रह्मबांधव उपाध्याय ने गुरूदेव श्री रवींद्रनाथ टैगोर की शांति निकेतन की स्थापना में सहयोग दिया। भारतीय दर्शनशास्त्र पर इंग्लैंड में ब्रह्मबांधव उपाध्याय ने कई भाषण दिए। इन्होंने बाद के दिनों में कई पत्रों का संपादन किया और अंग्रेज़ों के विरूद्ध उत्तेजक लेख लिखे।
Brahmabandhav Upadhyay (born Bhavani Charan Bandyopadhyay) (1 February 1861 – 27 October 1907) was a theologian, journalist and Indian freedom fighter. He was a friend of Ramakrishna Paramhansa Deb and Keshub Chandra Sen, classmate of Swami Vivekananda and close acquaintances of Rabindranath Tagore.

Brahmabandhab Upadhyay was born as Bhavani Charan Bandyopadhyay in a Kulin Brahmin family. The term Kulin indicates to a cult in barhmanical hindu society of early era when a person was allowed to marry any number of wives. His grand father was known to have married fifty six wives. His father, Debi Charan Bandyopadhyay was a police officer of the British regime. Debicharan had three sons. The eldest was Hari Charan, who became a doctor in Calcutta, the second was Parbati Charan who practiced as a pleader, and the third was Bhavani Charan. He was born in village Khannyan in Hooghly district of undivided Bengal (presently in West Bengal). Bhavani Charan lost his mother Radha Kumari when he was only one year of age and was raised by one of his grand mothers.
Bhavani Charan received his education in institutions such as Scottish Mission School, Hooghly Collegiate School, Metropolitan Institution (now Vidyasagar College), and the General Assembly's Institution (now Scottish Church College in Calcutta. In the General Assembly's Institution, during 1880s, he was in the same class with Narendranath Dutta, who, at a later date, became Swami Vivekananda. He was a friend of Rabindranath Tagore.