विजेन्द्र कुमार सिंह ( जन्म 29 अक्टूबर, 1985 )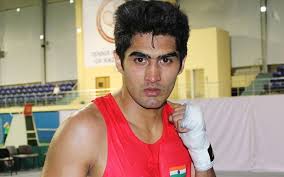 विजेन्द्र कुमार सिंह एक सुप्रसिद्ध भारतीय मुक्केबाज़ है। विजेन्द्र सिंह का जन्म 29 अक्टूबर, 1985 को कलुवास गाँव (भिवानी ज़िला), हरियाणा में हुआ था। विजेन्द्र सिंह ने मुक्केबाज़ी की शुरुआत बचपन में भिवानी बॉक्सिंग क्लब से कोच जगदीश सिंह की देख-रेख में की।
बीजिंग ओलम्पिक
विजेन्द्र कुमार ने बीजिंग ओलम्पिक में मुक्केबाज़ी के प्रथम चरण में गाम्बिया के बडोऊ ज़ैक को 13-2 से पराजित किया। दूसरे चरण में थाइलैंण्ड के अंगकान चोमफुहफुआंग को 13-3 से पराजित कर क्वार्टर फ़ाइनल में प्रवेश किया। क्वार्टर फ़ाइनल में इक्वाडोर के कारलोस गोजगोरा को 9-4 से पराजित कर सेमीफ़ाइनल में पहुँच कांस्य पदक पक्का कर लिया था। इसके बाद 22 अगस्त, 2008 को सेमीफ़ाइनल के मिडिल वेट वर्ग में क्यूबा के अमीलो कोररिया से 5-8 के स्कोर से पराजित होकर भारतीय ओलम्पिक के इतिहास में मुक्केबाज़ी की स्पर्धा में कांस्य पदक जीतने वाले प्रथम भारतीय मुक्केबाज़ बन गये।
विजेन्द्र सिंह ने वर्ष 2004 के एथेंस ओलम्पिक में सर्वप्रथम भाग लिया, किन्तु वह वेल्टर वेट वर्ग में तुर्की के मुस्तफ़ा कारागोलेयू से 20-25 से पराजित हो गये।
राष्ट्रमण्डल खेल वर्ष 2006 में इंग्लैंण्ड के नील पिरकिन्स को सेमीफ़ाइनल में पराजित कर फ़ाइनल में प्रवेश किया, किन्तु दक्षिण अफ़्रीका के बोनगानी मविलासी से पराजित हो गए और कांस्य पदक ही जीत सके।
दोहा ओलम्पिक खेल वर्ष 2006 में मुक्केबाज़ी मिडिल वेट वर्ग में कज़ाकिस्तान के बख़्तियार अरतायेव से सेमीफ़ाइनल में 24-29 से पराजित होकर कांस्य पदक जीत सके।
Vijender Singh Beniwal (born 29 October 1985), better known as Vijender Singh is an Indian professional boxer and the current WBO Asia Pacific Super Middleweight Champion and WBO Oriental Super Middleweight Champion from Kaluwas, Bhiwani district in Haryana.He was educated in his village, after which he received a bachelor's degree from a local college in Bhiwani. He practised boxing at the Bhiwani Boxing Club where coach Jagdish Singh recognised his talent and encouraged him to take up boxing. He was coached by the Indian Boxing Coach Jagdish Singh.
Having won medals in different competitions at the national level, Vijender was picked to train and compete at several international level competitions such as the 2004 Athens Summer Olympics and the 2006 Commonwealth Games. At the 2006 Asian Games in Doha, he won the Gold medal after losing the semifinal bout against Kazakhstan's Bakhtiyar Artayev. At the 2008 Beijing Summer Olympics, he defeated Carlos Góngora of Ecuador 9–4 in the quarterfinals which garnered him a bronze medal—the first ever Olympic medal for an Indian boxer.
After this win, Vijender was given a number of awards, including the Rajiv Gandhi Khel Ratna award—India's highest sporting honour and Padma Shri, the fourth highest civilian honour. In 2009, he participated at the World Amateur Boxing Championships where he won the bronze medal. In the same year, the International Boxing Association (AIBA) announced Vijender as the top-ranked boxer in its annual middleweight category list with 2800 points. Vijender represented India at the London 2012 Olympic Games.
On 29 June 2015, Vijender Singh bid adieu to his amateur career by turning professional as he signed a multi-year agreement with Queensberry Promotions through IOS Sports and Entertainment. This ruled him out of 2016 Olympics as he no longer remains eligible as an amateur.
Vijender Singh married Archana Singh on 17 May 2011. The couple have one child Arbir Singh.