अदूर गोपालकृष्णन (जन्म- 3 जुलाई, 1941)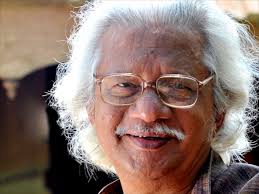 अदूर गोपालकृष्णन (जन्म- 3 जुलाई, 1941, अदूर गाँव, केरल) प्रसिद्ध भारतीय फ़िल्म निर्देशक, पटकथा लेखक और निर्माता हैं। वे मलयालम सिनेमा और भारत के चोटी के फ़िल्म निर्माताओं में से एक माने जाते हैं। अदूर गोपालकृष्णन की फ़िल्में न केवल भारत में, बल्कि विदेशों में भी सराही जाती रही हैं। सत्तर के दशक में उनकी पहली ही फ़िल्म 'स्वयंवरम्' को सर्वश्रेष्ठ फ़िल्म, निर्देशक और कैमरा मैन पुरस्कार मिला था। हाल ही में उनकी फ़िल्म 'मतिलुकल' को पेरिस में युवाओं के बारहवें अंतरराष्ट्रीय फ़िल्म समारोह में सर्वेश्रेष्ठ फ़िल्म और सर्वेश्रेष्ठ निर्देशक का पुरस्कार मिला। उन्हें वर्ष 1984 में 'पद्म श्री', 2004 में 'दादा साहब फाल्के पुरस्कार' और 2006 में 'पद्म विभूषण' दिया गया था।
जन्म तथा प्रारम्भिक जीवन
अदूर गोपालकृष्णन का जन्म 3 जुलाई, 1941 को केरल के अदूर गाँव में हुआ था। इनके पिता का नाम माधवन उन्नीथन और माता मोत्ताथु गौरी कुंजम्मा थीं। गोपालकृष्णन जब मात्र आठ वर्ष के थे, तभी उन्होंने शौकिया तौर पर नाटकों में एक अभिनेता के रूप में अपना कलात्मक जीवन शुरू कर दिया था। अदूर गोपालकृष्णन ने पुणे में स्थित 'भारतीय फ़िल्म और टेलीविज़न प्रशिक्षण संस्थान' से प्रशिक्षण हासिल किया। इसके बाद उन्होंने फ़िल्म निर्माण का कार्य प्रारम्भ किया। वर्ष 1972 में अदूर गोपाकृष्णन ने अपनी पहली फ़िल्म 'स्वयंवरम' बनाई। इस फ़िल्म से उन्होंने एक गंभीर फ़िल्मकार के रूप में अपनी पहचान बनाई। उन्होंने बहुत अधिक फ़िल्में तो नहीं बनाई हैं, किंतु जो भी फ़िल्में बनाई, वे विविध विषयों पर आधारित रहीं। इन फ़िल्मों की पटकथा भी उन्होंने स्वयं लिखी। उनकी पहली फ़िल्म 'स्वयंवरम' जहाँ विचार धाराओं के टकराव की कहानी है, वहीं दूसरी फ़िल्म 'इलियापथम' में केरल के सामंती समाज के पतन को दिखाया गया है। तीन साल पहले आई उनकी अंतिम फ़िल्म 'निग़लकत्थू' एक जल्लाद के जीवन पर आधारित है, जिसका बेटा क्रांतिकारी होता है।
भारतीय सिनेमा में अदूर गोपालकृष्णन के अभूतपूर्व योगदान को देखते हुए उन्हें चार बार सर्वश्रेष्ठ निर्देशक का 'राष्ट्रीय पुरस्कार' और तीन बार सर्वश्रेष्ठ पटकथा लेखक का 'राष्ट्रीय पुरस्कार' मिल चुका है। यही नहीं उन्हें वर्ष 1984 में 'पद्म श्री', 2004 में 'दादा साहब फाल्के पुरस्कार' और 2006 में 'पद्म विभूषण' से भी सम्मानित किया जा चुका है।
Adoor Gopalakrishnan is an Indian film director, script writer, and producer. Adoor Gopalakrishnan had a major role in revolutioning Malayalam cinema during the 1970s and is regarded as one of the most notable filmmakers of India. Adoor's first film Swayamvaram (1972) is credited for pioneering the new wave cinema movement in Kerala along with Olavum Theeravum (1970) and Athidhi (1974). Most of his films go to festivals around the world, and are released in Kerala. All the eleven films he directed, from Swayamvaram to Oru Pennum Randaanum (2008), were screened at several international film festivals and won him several national and international awards. He won National Film Awards 16 times, Kerala State Film Awards 17 times and also won several international film awards. He won the prestigious British Film Institute Award for Elippathayam (1981). Adoor received the Padma Shri in 1984 and the Padma Vibhushan in 2006. The Nation honoured Adoor for his valuable contributions to Indian cinema by awarding him the highest cinema award of India, the Dadasaheb Phalke Award for the year 2004.
Gopalakrishnan was born on 3 July 1941 in the village of Mannadi ( Medayil Bungalow ) near Adoor, present day Kerala, India as the son of Madhavan Unnithan and Mouttathu Gauri Kunjamma. He started his artistic life as an actor in amateur plays when he was 8. Later he shifted his base to writing and direction and wrote and directed a few plays. After securing a degree in Economics, Political Science and Public Administration in 1961 from the Gandhigram Rural Institute,[4] he worked as a Government officer near Dindigul in Tamil Nadu . In 1962, he left his job to study screenwriting and direction from the Pune Film Institute. He completed his course from there with a scholarship from the Government of India. With his classmates and friends, Adoor established Chithralekha Film Society and Chalachithra Sahakarana Sangham; the organization was the first film society in Kerala and it aimed at production, distribution and exhibition of films in the co-operative sector.
Adoor has scripted and directed eleven feature films and about thirty short films and documentaries. Notable amongst the non-feature films are those on Kerala's performing arts.
Adoor's debut film, the national award-winning Swayamvaram (1972) was a milestone in Malayalam film history. The film was exhibited widely in various international film festivals including those held in Moscow, Melbourne, London and Paris. The films that followed namely Kodiyettam, Elippathayam, Mukhamukham, Anantaram, Mathilukal, Vidheyan and Kathapurushan lived up to the reputation of his first film and were well received by critics at various film festivals and fetched him many awards. However, Mukhamukham was criticized in Kerala while Vidheyan was at the centre of a debate due to the differences in opinion between the writer of story of the film Sakhariya and Adoor.
Adoor's later films are Nizhalkuthu, narrating the experiences of an executioner who comes to know that one of his subjects was innocent, and Naalu Penungal, a film adaptation of four short stories by Thakazhi Sivasankara Pillai.
All his films have won national and international awards (National award for best film twice, best director five times, and best script two times. His films have also won his actors and technicians several national awards). Adoor's third feature, Elippathayam won him the coveted British Film Institute Award for 'the most original and imaginative film' of 1982. The International Film Critics Prize (FIPRESCI) has gone to him six times successively for Mukhamukham, Anantharam, Mathilukal, Vidheyan, Kathapurushan and Nizhalkkuthu. Winner of several international awards like the UNICEF film prize (Venice), OCIC film prize (Amiens), INTERFILM Prize (Mannheim) etc., his films have been shown in Cannes, Venice, Berlin, Toronto, London, Rotterdam and every important festival around the world.
In consideration of his contribution to Indian cinema, the nation honoured him with the title of Padma Shri(India's fourth highest civilian award) in 1984 and Padma Vibhushan(India's second highest civilian award) in 2006.
Adoor is settled in Thiruvananthapuram (Trivandrum) in Kerala. His daughter Aswathi Dorje is an IPS officer (part of the Assam cadre, 2000 batch), currently acting as Deputy Commissioners of Police in Mumbai since June 2010.