हंसा मेहता (जन्म: 3 जुलाई, 1897)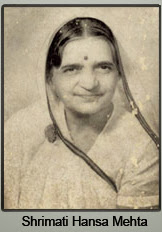 हंसा मेहता (जन्म: 3 जुलाई, 1897 - मृत्य: 4 अप्रॅल, 1995) एक समाजसेवी, स्वतंत्रता सेनानी और शिक्षाविद के रूप में भारत में काफ़ी प्रसिद्ध रही हैं। इनके पिता मनुभाई मेहता बड़ौदा और बीकानेर रियासतों के दीवान थे। हंसा मेहता का विवाह देश के प्रमुख चिकित्सकों में से एक तथा गाँधी जी के निकट सहयोगी जीवराज मेहता जी के साथ हुआ था।
जन्म परिचय-
हंसा की शिक्षा आरम्भ में बड़ौदा में हुई। 1919 में वे पत्रकारिता और समाजशास्त्र की उच्च शिक्षा के लिए इंग्लैण्ड चले गईं। वहाँ उनका परिचय सरोजनी नायडू और राजकुमारी अमृत कौर से हुआ। इसी परिचय का प्रभाव था कि आगे चलकर हंसा मेहता ने स्वतंत्रता संग्राम में भी भाग लिया। अध्ययन पूरा करके हंसा मेहता 1923 में भारत वापस आ गईं और मुम्बई के प्रसिद्ध चिकित्सक डॉ. जीवराज मेहता से उनका विवाह हो गया। हंसा ने साइमन कमीशन के बहिष्कार में आगे बढ़कर भाग लिया और सविनय अवज्ञा आन्दोलन में शराब और विदेशी वस्त्रों की दुकानों पर धरना देने में महिलाओं का नेतृत्व किया। महिलाओं को संगठित करके उनके माध्यम से समाज में जागृति उत्पन्न करने के काम में भी वे अग्रणी थीं। इन्हीं सब कारणों से विदेशी सरकार ने 1930 और 1932 ई. में उन्हें जेल में बन्द कर दिया था।
महिलाओं की समस्याओं के समाधान के लिए प्रयत्नशील हंसा मेहता ने जेनेवा के 'अंतर्राष्ट्रीय महिला सम्मेलन' में भारत का प्रतिनिधित्व किया। 1931 में वे 'मुम्बई लेजिस्लेटिव कौंसिल' की सदस्य चुनी गईं। वे देश की संविधान परिषद की भी सदस्य थीं। 1941 से 1958 तक 'बड़ौदा विश्वविद्यालय' की वाइस चांसलर के रूप में उन्होंने शिक्षा जगत में भी अपनी छाप छोड़ी।
Hansa Jivraj Mehta (3 July 1897 – 4 April 1995) was a reformist, social activist, educator, independence activist, and writer from India. She wrote many children's books in Gujarati and translated many English stories, including Gulliver's Travels. She organized the picketing of shops selling foreign clothes and liquor, and participated in other freedom movement activities in line with the advice of Mahatma Gandhi. She was even arrested and sent to jail by the British.
After independence, she was among the 15 women who were part of the constituent assembly that drafted the Indian Constitution.
Hansa was elected to Bombay Schools Committee in 1926 and became president of All India Women's Conference in 1945–46. In her presidential address at the All India Women's Conference convention held in Hyderabad, she proposed a Charter of Women's Rights. She held different posts in India from 1945 to 1960 - the vice-chancellor of SNDT Women's University, member of All India Secondary Board of Education, president of Inter University Board of India and vice-chancellor of Maharaja Sayajirao University of Baroda, among others.
Hansa was born in a Nagar Brahmin family. She was the daughter of Manubhai Mehta and the granddaughter of Nandshankar Mehta, the author of the first Gujarati novel Karan Ghelo. She was married to Jivraj Narayan Mehta, an eminent physician and administrator.
Hansa represented India on the Nuclear Sub-Committee on the status of women in 1946. As the Indian delegate on the UN Human Rights Commission in 1947–48, she was responsible for changing the language of the Universal Declaration of Human Rights from "all men are created equal" (Eleanor Roosevelt's preferred phrase) to all human beings,[8] highlighting the need for gender equality.[9] Hansa later went on to become the vice chairman of the Human Rights Commission of the United Nations in 1950. She was also a member of the Executive Board of UNESCO.
Hansa was awarded the Padma Bhushan in 1959.