इलमकुलम मनक्कल शंकरन नंबूदरीपाद (जन्म- 14 जुलाई, 1909)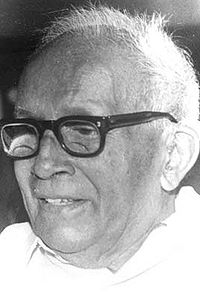 इलमकुलम मनक्कल शंकरन नंबूदरीपाद (जन्म- 14 जुलाई, 1909, पालघाट ज़िला, केरल; मृत्यु- 19 मार्च, 1998, तिरुवनंतपुरम, केरल) भारत के प्रसिद्ध कम्युनिस्ट नेताओं में से एक थे। केरल का प्रथम मुख्यमंत्री बनने का सौभाग्य इन्हें मिला था। ई. एम. एस. नंबूदरीपाद एक समाजवादी मार्क्सवादी विचारक, क्रांतिकारी, लेखक, इतिहासकार और सामाजिक टीकाकार के रूप में भी प्रसिद्ध थे। वे भारत में पहली गैर 'भारतीय राष्ट्रीय कांग्रेस' के मुख्यमंत्री के रूप में पहली लोकतांत्रिक ढंग से निर्वाचित कम्युनिस्ट सरकार के नेता बने थे।
ई. एम. एस. नंबूदरीपाद का जन्म 14 जुलाई, 1909 में केरल के पालघाट ज़िले में एक प्रतिष्ठित ब्राह्मण परिवार में हुआ था। इनके पिता का नाम परमेश्वरन नंबूदरीपाद था। इनके बचपन में ही पिता का निधन हो गया था। इनका पालन-पोषण इनकी माता ने किया। माँ ने इन्हें ऋग्वेद पढ़ाने का निश्चय किया। कई वर्षों तक नंबूदरीपाद संस्कृत का अध्ययन करते रहे। उन्होंने अपनी प्रारंभिक शिक्षा पलघाट और त्रिचुर से प्राप्त की। इनका विवाह आर्या अंतरजनम से हुआ था।
जिस समय नंबूदरीपाद बी. ए. में थे, तब वे 1932 में 'सविनय अवज्ञा आन्दोलन' से जुड़ गए। उन्हें गिरफ्तार कर तीन वर्ष की सजा सुनाई गयी, किन्तु उन्हें 1933 में रिहा कर दिया गया। सन 1937 में ई. एम. एस. नंबूदरीपाद कांग्रेस के टिकट पर मद्रास विधान परिषद में चुने गये। वे प्रदेश कांग्रेस कमेटी के सचिव भी बनाये गये थे। सन 1940 में नंबूदरीपाद भारत की कम्युनिस्ट पार्टी के सदस्य चयनित हुए। वे कुछ वर्षों तक पार्टी के पोलितब्यूरो के सदस्य रहे।
1957 में ई. एम. एस. नंबूदरीपाद केरल असेम्बली के सदस्य चुने गये और प्रदेश के पहले कम्युनिस्ट मुख्यमंत्री बने। इस पद पर वह 5 अप्रैल, 1957 से 31 जुलाई, 1959 तक रहे। यह सरकार 1959 में बर्खास्त कर दी गई तो 1960 के मध्यावधि चुनाव के बाद वे विधान सभा में विरोधी दल के नेता बने। 1967 में उन्होंने संयुक्त मोर्चा के नेता के रूप में पुन: मुख्यमंत्री का पद सम्भाला[2] और 6 मार्च, 1967 से 1 नवम्बर, 1969 तक इस पद पर कार्य किया।
नंबूदरीपाद मलयालम और अंग्रेज़ी के प्रसिद्ध रचनाकार थे। अंग्रेज़ी में उनकी कुछ लोकप्रिय रचनाएँ निम्नलिखित है-द नेशनल क्योश्चशन इन केरला/गांधी एण्ड हिन्दुज्म/द विसेन्ट क्योश्चन इन केरला
Elamkulam Manakkal Sankaran Namboodiripad (13 June 1909 – 19 March 1998), popularly EMS, was an Indian communist politician, who served as the first Chief Minister of Kerala state in 1957–59 and then again in 1967–69. As a member of the Communist Party of India (CPI), he became the first non-Indian National Congress chief minister in the Indian republic. In 1964, he led a faction of the CPI that broke away to form the Communist Party of India (Marxist) (CPI(M)). He completed his graduation from St. Thomas College, Thrissur.
As chief minister, EMS pioneered radical land and educational reforms in Kerala, which helped it become the country's leader in social indicators. It is largely due to his commitment and guidance that the CPI(M), of which he was Politburo member and general secretary for 14 years, has become such a domineering political force, playing a vital role in India's new era of coalition politics.
Elamkulam Manakkal Sankaran Namboodiripad was born on 13 June 1909, as the fourth son of Parameswaran Namboodiripad and Vishnudatha Antharjanam, at Elamkulam, in Perintalmanna taluk of the present Malappuram district into an aristocratic upper-caste Brahmin family.In his early years he was a close friend of Comrade Sr.P.M. Mathew. He was associated with V. T. Bhattathiripad, M. R. Bhattathiripad and many others in the fight against the casteism and conservatism that existed in the Namboothiri community. He became one of the office bearers of Valluvanadu Yogaskshema Sabha, an organisation of progressive Namboothiri youth. During his college days, he was deeply associated with the Indian National Congress and the Indian independence movement.
EMS was married to Arya Antharjanam and had two sons and two daughters.
He was well known for his stammer. When asked if he always stammered, he would reply, "No, only when I speak
In 1934, he was one of the founders of Congress Socialist Party, a socialist wing within the Indian National Congress, and elected as its All India Joint Secretary from 1934 to 1940. During this period, he was also elected to the Madras Legislative Assembly (1939).
He remained committed to socialist ideals, and his compassion towards the working class led him to join the Communist movement. The Indian government considered him to be one of the founders of the Communist Party of India (CPI) in Kerala, forcing him to go into hiding. During the 1962 Sino-Indian war, he was among leaders who aired China's view on the border issue. When the CPI split in 1964, EMS stood with the Communist Party of India (Marxist) (CPI(M)). He was the leader of the Kerala state committee of CPI(M). He served as a member of the Central Committee and the Politburo of the CPI(M) until his death in 1998. EMS became general secretary in 1977, a designation he held until 1992. A Marxist scholar, he influenced the development of Kerala, of whom he was the first Chief Minister.
A Communist-led government under E. M. S. Namboodiripad resulted from the first elections for the new Kerala Legislative Assembly in 1957, making him the first communist leader in India to head a popularly elected government.It was one of the earliest elected Communist governments, after Communist success in the 1945 elections in the Republic of San Marino (a city-state surrounded by Italy).It was also the first time for a regional party in India to win state elections. On 5 April 1957 he was appointed as the first chief minister of Kerala. His government introduced the Land Reform Ordinance and Education Bill. In 1959, the Central Government dismissed his government through the controversial Article 356 of the Indian Constitution following "The Liberation Struggle".
Indira Gandhi convinced Nehru, who was hesitant to dismiss a democratically elected government, to make such a decision. Central Intelligence Agency's involvement in the ouster has been long suspected. Declassified CIA documents show that the first Communist government concerned them and "preventing additional Keralas became an important argument for augmenting U.S. assistance to India". According to the biography of former US Ambassador Ellsworth Bunker, "the election results rang alarm bells in Washington"
He became the Chief Minister of Kerala for the second time in 1967 as the leader of a seven-party coalition (Saptakakshi Munnani) which included the CPI and Muslim League. Soon after becoming Chief Minister again, on 31 January 1968 he inaugurated Asia's first mechanised coir factory called Floorco in Pozhikkara, Paravur. This time his tenure lasted for two and a half years, and the government fell on 24 October 1969 due internal conflicts within the constituent parties.
Namboodiripad was the Leader of Opposition in the Kerala Legislative Assembly from 1960 to 1964 and again from 1970 to 1977. His vision of decentralisation of power and resources (People's Plan) and the Kerala Literacy Movement influenced Kerala society. He authored several books in English and Malayalam. Chintha Publication, Kerala has published all his books under the title, "E M S Sanchika". He also was well known as a journalist.
Despite his age and failing health, E.M.S. was still active in political and social fields. He actively campaigned during the 1998 Lok Sabha elections. Soon after the election results came, he contracted pneumonia, and was admitted to a private hospital in Thiruvananthapuram, where he died at 4 PM on 19 March 1998, aged 88. He was cremated with full state honours in Thycaud electric crematorium in Thiruvananthapuram.
Three more deaths occurred in his family within five years after his death, starting with his daughter-in-law Dr. Yamuna in August 2001, and later followed by his wife Arya Antharjanam in January 2002 and son E.M. Sreedharan in November 2002. His grandson (Sreedharan's son) Sujith Shankar is an actor, who debuted in Rajeev Ravi's Njan Steve Lopez.