संतोष गंगवार (जन्म: 1 नवम्बर, 1948)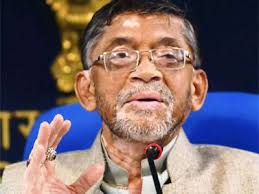 संतोष गंगवार (जन्म: 1 नवम्बर, 1948 बरेली, उत्तर प्रदेश) सोलहवीं लोकसभा के सांसद एवं केंद्र सरकार में वर्तमान वित्त राज्य मंत्री हैं। इससे पूर्व वे केंद्र सरकार में कपड़ा राज्य मंत्री थे। संतोष गंगवार पहले भी अटल बिहारी वाजपेयी की सरकार में पेट्रोलियम राज्यमंत्री रह चुके हैं।
परिचय
पिछले तीन दशक से सामाजिक कार्य और राजनीति में सक्रिय भूमिका निभा रहे भारतीय जनता पार्टी के नेता संतोष गंगवार का जन्म 1 नवंबर, 1948 को उत्तर प्रदेश के बरेली नगर में तिओलिया नामक गाँव में हुआ था। उन्हाेंने अपनी शिक्षा रूहेलखंड विश्वविद्यालय और आगरा विश्वविद्यालय से पूरी की थी।अपनी शिक्षा के अंतर्गत उन्होंने बी.एस.सी तथा एल.एल.बी. की डिग्रियाँ प्राप्त की हैं। उनकी पत्‍‌नी का नाम सौभाग्य गंगवार है। वे एक पुत्र और एक पुत्री के पिता हैं। संतोष गंगवार पिछले तीन दशक से समाज सेवा के अतिरिक्त राजनीति में सक्रिय हैं। उन्होंने बरेली में शहरी सहकारी बैंक लिमिटेड की स्थापना में महती भूमिका अदा की और वर्ष 1996 में इसके अध्यक्ष रहे। उन्हें इतिहास और भूगोल से जुड़ी पुस्तकें पढ़ने का शौक है।
लगातार 6 बार लोकसभा चुनाव जीतने वाले संतोष गंगवार देश में आपातकाल के दौरान सरकार विरोधी आंदोलन को लेकर जेल भी जा चुके हैं। वह 1996 में उत्तर प्रदेश भाजपा इकाई के महासचिव बनाए गए थे। इसके अलावा उत्तर प्रदेश में पार्टी इकाई के कार्य समिति के सदस्य भी रह चुके हैं। 13वीं लोकसभा में अटल बिहारी वाजपेयी के नेतृत्व में बनी सरकार में वह पेट्रोलियम एवं प्राकृतिक गैस राज्य मंत्री के साथ-साथ संसदीय कार्य राज्य मंत्री का पदभार भी संभाल चुके हैं। इसके अलावा वह विज्ञान एवं तकनीकि राज्यमंत्री भी रह चुके हैं। राजग सरकार में केंद्रीय राज्यमंत्री रह चुके संतोष गंगवार 16वीं लोकसभा में भी सांसद चुने गए हैं। वह उत्तर प्रदेश के बरेली से 1989 से चुनाव जीतते आ रहे हैं। हालांकि 15वीं (2009-2014) लोकसभा में उन्हें कांग्रेस के प्रवीण सिंह एरोन के हाथों हार झेलनी पड़ी थी।
Santosh Gangwar (born 1 November 1948) is a Minister of State for Finance in the Government of India. He is a Member of Parliament (16th Lok Sabha), former minister of state in Government of India and a leader of Bharatiya Janata Party (BJP). He has been Member of Parliament for the city of Bareilly since 1989 till date (except 2009-2014). He was also the chief whip of the party in 14th Lok Sabha. He faced defeat in the 15th Lok Sabha Elections, 2009 by a very narrow margin. He has been elected as Member of Parliament in 16th Lok Sabha. He won by a margin of over 2.4 lakh votes over his rival candidate in 2014 general election.
Gangwar is associated with social work and active politics for over three decades.Born on November 1, 1948 in Bareilly, Santosh Kumar Gangwar has been an alumnus of the Agra University and the Rohilkhand University in Uttar Pradesh from where he completed his B Sc and LLB Degrees.
Before joining politics, Gangwar was actively involved in the establishment of the Urban Cooperative Bank in Bareilly and held the position of its chairman since its beginning in the year 1996. In Bareilly, he has been given credit for getting several projects executed for public use such as Chaupla Railway over-bridge, state-of-the-art library and mini bye pass, etc. Married to Saubhagya Gangwar, he is blessed with two children (one son and one daughter).
Gangwar was jailed during the Emergency for guiding a people's movement against the then Government. He served as a member of the Uttar Pradesh State BJP Working Committee and held the position of General Secretary of the Uttar Pradesh BJP Unit in 1996.
Gangwar was elected for the first time to the 9th Lok Sabha in 1989 from the Bareilly constituency. He represented that constituency continuously until 2009 as a BJP Member of Parliament, which involved six successive terms.
He has held ministerial posts in the Government of India.He was Minister of State for Petroleum and Natural Gas with additional charge of Parliament Affairs in 13th Lok Sabha. Prior to this, Gangwar was Minister of State of Science and Technology with additional charge of Parliamentary Affairs during October and November 1999
Currently,He is Member of Parliament in 16th Lok Sabha.
He served in as Minister of State for Textiles from 26 May 2014 to 5 July 2016, after which he was sworn in as Minister of State for Finance.
Gangwar forayed into national politics in the year 1989, when he got elected from Bareilly in the 9th Lok Sabha on a BJP ticket. In 1996, Gangwar became the General Secretary of the BJP's Uttar Pradesh unit. Later, he kept on winning from the same constituency and remained an MP in the next six successive terms till 2009. In the 14th Lok Sabha, he was the chief whip of his party, but in the year 2009 elections for 15th Lok Sabha, he had to face defeat by a narrow margin.