नामदेव (जन्म- 9 नवम्बर, 1270)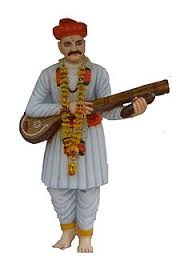 नामदेव (जन्म- 9 नवम्बर, 1270 नरसी-बामनी, महाराष्ट्र; मृत्य- 1350 पंढरपुर, महाराष्ट्र) भारत के प्रमुख मध्यकालीन संत कवि, जिन्होंने मराठी भाषा में अपनी रचनाएँ लिखीं।
जीवन परिचय
नामदेव विवाहित थे और उनके पांच बच्चे थे। युवावस्था में वह ख़ूनी लुटेरों के गिरोह के सदस्य थे, लेकिन एक दिन जब उन्होंने उस महिला का करुण विलाप सुना, जिसके पति की उन्होंने हत्या कर दी थी, तो उन्हें गहरा पश्चाताप हुआ। कहते है कि वह आत्महत्या करने ही वाले थे कि उन्हें भगवान विष्णु ने प्रकट होकर बचा लिया। इसके बाद नामदेव भक्ति की ओर मुड़ गए और वाराकरी के प्रमुख प्रतिपादक बने।
काव्य रचना
वह संप्रदाय भक्ति की अभिव्यक्ति एवं धार्मिक व्यवस्था में जाति बंधन से मुक्ति के लिए जाना गया। नामदेव ने कई अभंग लिखे, जिनमें भगवान के प्रति उनके समर्पण की अभिव्यक्ति है। महाराष्ट्र और पंजाब में अत्यधिक लोकप्रिय उनके कुछ भजन सिक्खों की पवित्र पुस्तक आदि ग्रंथ में शामिल हैं। नामदेव ने भक्ति गीतों की परंपरा को प्रेरणा दी, जो महाराष्ट्र में चार सदी तक जारी तथा महान भक्त कवि तुकाराम की रचनाओं में पराकाष्ठा तक पहुंची।
Namdev, also transliterated as Namdeo and Namadeva, (traditionally, c. 1270 – c. 1350) was a poet-saint from Maharashtra, India who is significant to the Varkari sect of Hinduism. He is also venerated in Sikhism, as well as Hindu warrior-ascetic traditions such as the Dadupanthis and the Niranjani Sampraday that emerged in north India during the Islamic rule.
The details of Namdev's life are unclear. He is the subject of many miracle-filled hagiographies composed centuries after he died. Scholars find these biographies to be inconsistent and contradictory.
Namdev was influenced by Vaishnavism, and became widely known in India for his devotional songs set to music (bhajan-kirtans). His philosophy contains both nirguna and saguna Brahman elements, with monistic themes.Namdev's legacy is remembered in modern times in the Varkari tradition, along with those of other gurus, with masses of people walking together in biannual pilgrimages to Pandharpur in south Maharashtra.