यशवंतराव बलवंतराव चह्वाण ( मृत्यु- 25 नवंबर, 1984)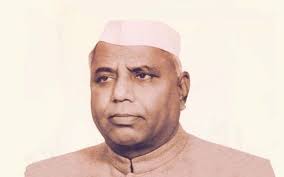 यशवंतराव बलवंतराव चह्वाण (जन्म- 12 मार्च, 1913 - मृत्यु- 25 नवंबर, 1984) भारत के पाँचवे उपप्रधानमंत्री और महाराष्ट्र के प्रथम मुख्यमंत्री थे। एक समय भारत देश के प्रमुख राजनेता और केन्द्र सरकार के महत्त्वपूर्ण विभागों के सफल मंत्री थे। यशवंतराव चह्वाण एक मज़बूत कांग्रेस नेता, स्वतंत्रता सेनानी, सहकारी नेता, सामाजिक कार्यकर्ता और लेखक थे। ये 'आम आदमी के नेता' के रूप में लोकप्रिय थे। यशवंतराव चह्वाण ने अपने भाषणों और लेखों में दृढ़ता से समाजवादी लोकतंत्र की वकालत की और महाराष्ट्र में किसानों की बेहतरी के लिए सहकारी समितियों को स्थापित करने में महत्त्वपूर्ण भूमिका निभाई।
जीवन परिचय
यशवंतराव बलवंतराव चह्वाण का जन्म 12 मार्च, 1914 ई. को महाराष्ट्र के सातारा ज़िले के एक किसान परिवार में हुआ था। बचपन में ही इनके पिताजी का देहांत हो गया था, इसलिये इनका लालन पालन इनके चाचा और माँ ने किया था। अपने बचपन से ही भारत के स्वतंत्रता संघर्ष से प्रभावित थे। प्रतिकूल पारिवारिक स्थिति के बावजूद यशवंतराव अपनी शिक्षा पूर्ण करने में सफल रहे। पुणे से क़ानून की डिग्री लेने के बाद वे वकालत करने लगे। 1932 के सविनय अवज्ञा आन्दोलन में गिरफ्तारी के साथ उनका सार्वजनिक जीवन आरम्भ हुआ। भारत छोड़ो आन्दोलन में कुछ समय भूमिगत रहकर सतारा के आन्दोलन में सहायता देते हुए 1943 में वे फिर पकड़ लिए गए।
जेल से रिहा होने के बाद चह्वाण मुंबई विधानसभा के सदस्य चुने गए। 1952 के चुनाव में सफल होने पर उन्हें मंत्रिमंडल में लिया गया। फिर वे मुंबई के मुख्यमंत्री और गुजरात के पृथक राज्य बनने पर महाराष्ट्र के मुख्यमंत्री बने। 1962 के चीनी आक्रमण के समय जब कृष्ण मेनन को रक्षा मंत्री का पद छोड़ना पड़ा तो यशवंतराव चह्वाण को देश के रक्षा मंत्री के पद पर नियुक्त किया गया। 1966 तक वे इस पद पर रहे। फिर उन्होंने क्रमश: गृहमंत्री, वित्त मंत्री और विदेश मंत्री के पद संभाले।
1969 के कांग्रेस विभाजन के समय यशवंतराव चह्वाण के व्यवहार की आलोचना हुई थी। पहले उन्होंने इंदिरा जी के विरोध में मत दिया, किन्तु जब उस पक्ष को सफलता नहीं मिली तो वे फिर इंदिरा कांग्रेस में आ गए। 1977 की कांग्रेस की पराजय के बाद चह्वाण प्रतिपक्ष के नेता बने थे। जनता पार्टी की सरकार के गिरने पर उन्होंने एक बार फिर दल बदला और चरणसिंह के साथ मिल गए। चरणसिंह की सरकार तो नहीं बन पाई, लोगों की दृष्टि में चह्वाण की प्रतिष्ठा गिर गई।
इतने उच्च पदों पर रहने के बाद जीवन के अंतिम पहर में वे राष्ट्र की राजनीति के पटल से लुप्तप्राय हो गए थे। यशवंतराव चह्वाण का 25 नवंबर, 1984 को दिल्ली में निधन हो गया।
Yashwantrao Balwantrao Chavan (12 March 1913 – 25 November 1984) was the first Chief Minister of Maharashtra after the division of Bombay State and the fifth Deputy Prime Minister of India. He was a strong Congress leader, co-operative leader, social activist and writer. He was popularly known as Leader of Common People. He advocated social democracy in his speeches and articles and was instrumental in establishing co-operatives in Maharashtra for the betterment of the farmers.
Yashwantrao Chavan was born in a Maratha Hendre Patil family on 12 March 1913 in the village of Devrashtre in Satara District (now in Sangli District) of Maharashtra, India. He lost his father in his early childhood and was brought up by his uncle and mother. His mother taught him about self-dependency and patriotism. From his childhood he was fascinated by the freedom struggle of India.
Despite the adverse family situation,Chavan was an active participant in the struggle for independence of India. In 1930, he was fined for his participation in the Non-cooperation Movement led by Mahatma Gandhi. During this period he came in contact with Swami Ramanand Bharti, Dhulappa Bhaurao Navale, Gaurihar (Appasaheb) Sihasane V. S. Page and Govind Kruparam Wani. Their friendship lasted forever. In 1932, he was sentenced to 18 months in prison for hoisting the Indian flag in Satara.
Chavan obtained his B.A. degree in history and political science from the then Bombay University in 1938. In this period, he was involved in many social activities and was closely associated with the Congress party and its leaders, such as Jawaharlal Nehru, Sardar Patel and Keshavrao Jedhe. In 1940, he became President of Satara District Congress. In 1941 he passed his LLB. In 1942, he married Venutai at Phaltan in Dist Satara.
He was one of the delegates at the Bombay session of the A.I.C.C. in 1942 that gave the call for Quit India and he was subsequently arrested for his participation in the movement. Chavan was finally released from jail in 1944.
In 1946, he was first elected as Member of Legislative Assembly of the Bombay State from the South Satara constituency. In the same year he was appointed as parliamentary secretary to the Home Minister of Bombay State. In the next government of Morarji Desai he was appointed as Minister of Civil Supplies, Social Welfare and Forests. In 1953 he was a signatory to the Nagpur Pact that assured equitable development of all regions of what is now the state of Maharashtra. the 1950s witnessed the Samyukta Maharashtra Samiti (United Maharashtra Movement) leading struggle for United Maharashtra with Mumbai as its capital.Chavan never joined the Samyukta Maharashtra Samiti (United Maharashtra Movement) and in fact called Prime minister Nehru, who opposed formation of language based state reorganization, as "Greater than Maharashtra".
In 1957 Assembly elections Yashwantrao Chavan was elected from the Karad constituency. This time he was elected as Leader of Congress Legislative Party and became Chief Minister of the bilingual Bombay state.The election saw the Congress party losing badly in the Marathi speaking areas to the Samyukta Maharashtra Samiti.However,he was able to persuade Nehru to agree to form Maharashtra and therefore he is regarded as the chief architect in the formation of Marathi speaking state of Maharashtra. On 1 May 1960, Yashwantrao Chavan became the first Chief Minister of Maharashtra.[2] From 1957 to 1960 he also served on the All India Congress Working Committee. Chavan's vision for Maharashtra for the development envisaged the equal development of both the industrial and agricultural sectors across all the regions of the state. He sought to realise this vision through the co-operative movement. Legislation regarding democratic decentralized bodies and the Agricultural Land Ceiling Act were passed during his tenure as Chief MinisterAfter the resignation of Krishna Menon as Defense Minister in 1962 in the wake of India-China Border Conflict, Yashwantrao was given that portfolio by Prime minister Jawaharlal Nehru. He handled the delicate post-war situation firmly and took several decisions to empower the armed forces and negotiated, along with Pandit Nehru, with China to end the hostilities. He also held the Defense portfolio in the Lal Bahadur Shastri Government during the Indo-Pakistan War of September 1965.
In the by-elections in 1962, Chavan was elected unopposed as Member of Parliament from the Nashik parliamentary constituency. On 14 November 1966, he was appointed Home Minister of India by Prime minister, Indira Gandhi. Yeshwantrao came in for criticism at the time of the first congress split in 1969. He had stuck to his earlier commitment to vote for the official Congress candidate, Sanjeeva Reddy in the presidential elections and in doing so, had invited the ire of Mrs. Indira Gandhi, but later be shifted his ground and supported her. In doing so, he exposed himself to the charge of duplicity and of being a fence-sitter. According to Hatalkar, it might be said in his favour that he had nothing in common with the Syndicate faction of the Congress party but was fully in rapport with Mrs. Gandhi's views, if not her methods, that his prime anxiety was to maintain the unity of the Congress, but that when he found that the split was inevitable, he did not succumb to the blandishments held out before him by some members of the Syndicate.
On 26 June 1970, she appointed him the Finance Minister of India. During his term, Indian economy went into recession for the first time since 1966 and real GDP growth fell by 0.55% in 1972.
He was appointed as the Foreign Minister on 11 October 1974. In June 1975, an Internal State of Emergency was declared in India by the Indira Gandhi Government. This period saw a severe crackdown on leaders and parties opposed to Mrs. Gandhi's rule. Yashwantrao remained in her Government during this period. In the subsequent general elections 1977, the Congress was routed with the party leader and Prime minister, Indira Gandhi herself losing her parliamentary seat. Therefore in the new Parliament, Chavan was elected the Congress Party Parliamentary leader. As Congress now the biggest opposition party, he became the Leader of opposition.

At the end of 1978, at its annual session in Bangalore, the Congress split into two namely; Congress (Indira) and Congress (Urs). The important leaders who joined the Congress Urs were Devaraj Urs, Dev Kant Baruah, Kasu Brahmananda Reddy, A.K. Antony, Sharad Pawar, Sarat Chandra Sinha, Priyaranjan Das Munshi and Yashwantrao Chavan. On the other side, Indira Gandhi established her own party called Congress (I) and it included leaders like Shankar Dayal Sharma, Umashankar Dikshit, Kamruddin Ali Ahmad, Chidambaram Subramaniam, Barrister A.R.Antulay and Gulabrao Patil. Yashwantrao Chavan's political career suffered a major setback following his decision to move away from Indira Gandhi. Congress (Urs) disintegrated and Devaraj Urs himself joined the Janata Party and Congress(Urs) was renamed the Indian Congress (Socialist).Yeshwantrao was appointed as Home Minister and Deputy Prime Minister of India in the short-lived cabinet of Prime Minister Charan Singh in 1979.
In the general elections of January 1980, Congress (I) won a majority in Parliament and came to power under the leadership of Indira Gandhi. In this election, Yashwantrao Chavan was the only candidate elected from Maharashtra as MP on a Congress (S) ticket. In 1981, Yashwantrao was admitted to Congress(I) after a six month wait.Critics at that time commented that the "Fence-sitter has come home to roost". In 1982, he was appointed the Chairman of the 8th Finance Commission of India.
Yashwantrao Chavan died of a heart attack on 25 November 1984 in Delhi. He was 71. He was cremated in Karad with full state honours on 27 NovemberYashwantrao Chavan died of a heart attack on 25 November 1984 in Delhi. He was 71. He was cremated in Karad with full state honours on 27 November