स्वाति तिरुनल (मृत्यु- 25 दिसम्बर, 1846)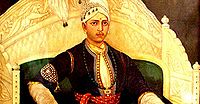 स्वाति तिरुनल ( जन्म- 13 अप्रैल, 1813, त्रावणकोर, केरल; मृत्यु- 25 दिसम्बर, 1846) त्रावणकोर (वर्तमान तिरुवंगूर, केरल) के महाराजा थे। ये दक्षिण भारतीय कर्नाटक संगीत परंपरा के सर्वोत्कृष्ट संगीतज्ञों में से एक थे।
संक्षिप्त परिचय
मात्र 16 वर्ष की आयु में ही स्वाति तिरुनल दक्षिण भारतीय राज्य के शासक बन गये थे।
अपने शासन काल के समय में कला के महानतम संरक्षकों में वह गिने जाते थे।
स्वाति तिरुनल स्वयं भी 10 से अधिक भाषाओं में पारंगत थे, जिनमें संस्कृत, तेलुगू, कन्नड़, मराठी, हिन्दी और अंग्रेज़ी शामिल थीं। वह इन भाषाओं में कविताएँ लिखते थे।
चित्रकला, शिल्पकारी और अन्य कलाओं में भी स्वाति तिरुनल काफ़ी निपुण थे। माना जाता है कि उन्होंने लगभग 500 गीतों की रचना की थी।
'वर्णम', 'कृति', 'स्वरजाति', 'पदम' और 'जवाली' के साथ-साथ उन्होंने दो गीति-नाट्यों की भी रचना की थी।
स्वाति तिरुनल ने कई ध्रुपद, ख़याल और ठुमरियों की भी रचना की, लेकिन उन्हें कर्नाटक संगीत, विशेषकर 'पदम' (प्रेम गीत) के लिए सबसे अधिक ख्याति मिली।
Prem Adib (1917–1959) was an Indian film actor. He was acclaimed as one of the top actors of the early 1940s, along with Pahadi Sanyal, Ashok Kumar, P. C. Barua, Master Vinayak and others. Adib is best remembered for his role as Ram in Bharat Milap (1942). Prem Adib became popular after playing Rama in Bharat Milap (1942) and Ram Rajya (1946). These films embodying India's "traditional values" had Prem Adib and Shobhana Samarth portraying the "ideal Rama and Sita". Adib and Samarth continued their pairing as Rama and Sita, acting together in another Ramayana based film Rambaan (1948). They became popular enough to have them emulating the Gods in calendars of that era.
Ram Rajya (1946) also had "the distinction" of being the only film that was seen by Mahatma Gandhi.
Prem Narayan (Adib) was born to a Kashmiri Brahmin family in 1917. His father Pandit Ram Prasad, was a lawyer by profession. The name Adib, meaning Vidhwan or Learned had been conferred on the family by Wajid Ali Shah. The family took on Adib as their surname.

Adib was involved in a controversy when a minor actress acting through her father, filed a case on him for breach of contract related to work. The case became known in legal literature as Raj Rani v Prem Adib. Prem Adib as the defendant won, as the case was void due the girl's minority, and also because of which she could not contract her father to sign on her behalf.

Filmography
Angulimaal 1960
Bhakt Raj 1959
Samarat Prithviraj Chauvan 1957
Chandi Pooja 1955
Ganga Maiyya 1955
Bhagwat Mahima 1954
Maha Puja 1952
Mordhwaj 1951
Lav Kush 1949
Bholi 1949
Maa Ka Pyaar 1948
Anokhi Ada (1948)
Rambaan (1948)
Veerangana 1946
Subhadra 1945
Chand 1944
Amrapali 1944
Police 1943
Ram Rajya 1942
Bharat Milap 1942
Chudiyan 1942
Station Master 1938
Nirala Hindustan 1938
Talaq (1938)