शिखा पांडे -(जन्म: 12 मई, 1989)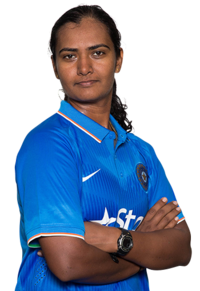 शिखा पांडे (जन्म: 12 मई, 1989, करीमनगर, गोवा) भारतीय महिला क्रिकेट खिलाड़ी हैं। भारत के लिये उन्होंने 9 मार्च, 2014 को बांग्लादेश के कॉक्स बाज़ार क्रिकेट स्टेडियम में बांग्लादेश के खिलाफ खेलते हुए अपने अंतरराष्ट्रीय ट्वेंटी 20 (टी -20) की शुरुआत की।
परिचय
शिखा पांडे का जन्म 12 मई, 1989 को करीमनगर गोवा में हुआ था। उन्होंने अपनी स्कूली शिक्षा केन्द्रीय माध्यमिक शिक्षा बोर्ड से की। गोवा कॉलेज ऑफ़ इंजीनियरिंग से उन्होंने इलेक्ट्रानिक्स और इलेक्ट्रिकल इंजीनियरिंग में डिग्री प्राप्त की। उसके बाद 2011 में वह भारतीय वायु सेना में शामिल हो गई और एक एयर यातायात नियंत्रक बन गईं।
शिखा पांडे को 15 साल की उम्र में 2004 में गोवा के लिए खेलने के लिए चयनित किया गया था। बाद में 17 साल की उम्र में 2007-2008 के लिए उन्हें गोवा के महिला वरिष्ठ राज्य साइड के पक्ष में खेलने के लिए चुना गया था। पूर्व भारतीय महिला टीम के कप्तान और उसके बाद भारतीय कोच और दक्षिण क्षेत्र चयनकर्ता पूर्णिमा राव ने उन्हें अंडर-19 क्रिकेट टूर्नामेंट के तहत प्रोत्साहित किया और भारत के लिए खेलने के लिए प्रेरित किया।
उपलब्धियाँ
-शिखा पांडे दिलीप सरदेसाई के बाद किसी भी भारतीय राष्ट्रीय टीम के लिए खेलने के लिए गोवा की पहली खिलाड़ी हैं।
-वह गोवा में जन्मी ऐसी खिलाड़ी हैं, जिन्होंने वनडे और अंतर्राष्ट्रीय टी 20 खेला और दिलीप सरदेसाई के बाद टेस्ट क्रिकेट खेलने वाली दूसरी खिलाड़ी हैं।
-शिखा पांडे पहली क्रिकेटर हैं, जिन्होंने दोनों राज्य स्तर पर गोवा के लिए और अंतरराष्ट्रीय स्तर पर भारत के लिए क्रिकेट खेला है।
-26 नवंबर, 2014 को दक्षिण अफ्रीका के खिलाफ भारत की जीत में शिखा पांडे ने महत्त्वपूर्ण भूमिका निभाई थीं, जिसमें उन्होंने 3 विकेट लिये और 59 रन बनाए।
Shikha Pandey (born 12 May 1989) is an Indian cricketer. She made her international Twenty20 (T20) debut on 9 March 2014 while playing against Bangladesh at Cox's Bazar cricket stadium in Bangladesh.In August of the same year, she made her One Day International cricket (ODI) and Test cricket debut while playing against England at Wormsley and Scarborough respectively. As of 5 July 2017 she has played two Tests, twenty seven ODIs and twenty two T20s for India.
Pandey did her schooling under the Central Board of Secondary Education, India. She holds a degree in Electronics and Electrical Engineering from Goa College of Engineering. In 2011, she joined Indian Air Force, and became an Air traffic controller.
At the age of 15, Pandey was selected to play for Goa in 2004. Later at the age of 17 for the 2007–08 season, she was selected to play for Goa's Women Senior State Side. During a south zone under-19 cricket tournament, former Indian women's team captain and then Indian coach and south zone selector Purnima Rau encouraged her and motivated her to play for India. She took a year off from her engineering course and played in Board President's XI against the visiting England and West Indies teams in 2010 and January 2011 respectively. She continued to play for Goa and after 2013–14 season of Inter-State T20 tournament (Plate group) she was selected for India's tour of Bangladesh consisting 3 friendly matches with Bangladesh and 2014 ICC Women's World Twenty20. After Dilip Sardesai, she is the first player from Goa to play for any Indian national team. She is also the first Goa Cricket Association affiliated cricketer to play international level cricket for India. She is the first Goa-born player to play ODIs and international T20s and 2nd player to play Test cricket, after Saredesai,[8] thus becoming first cricketer to have played both state level cricket for Goa and international level cricket for India. After the T20 World Cup, she played one-off Test match and 2 ODI matches against England. She was instrumental in India's win against South Africa on 26 November 2014. She took 3 wickets and scored 59 runs.
Pandey was part of the Indian team to reach the final of the 2017 Women's Cricket World Cup where the team lost to England by nine runs.