योगेश कुमार सभरवाल (जन्म- 14 जनवरी, 1942)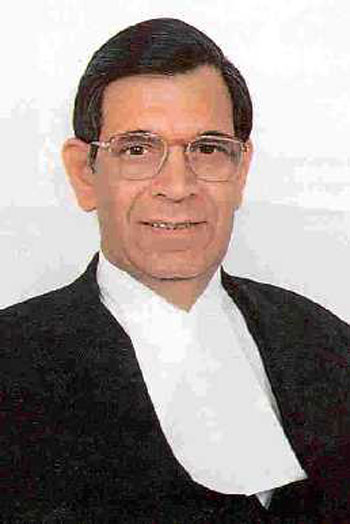 योगेश कुमार सभरवाल (जन्म- 14 जनवरी, 1942; मृत्यु- 3 जुलाई, 2015, नई दिल्ली) भारत के सर्वोच्च न्यायालय के भूतपूर्व मुख्य न्यायाधीश रहे हैं। वे देश के 36वें मुख्य न्यायाधीश रहे।
17 नवम्बर, 1986 को योगेश कुमार सभरवाल दिल्ली उच्च न्यायालय में अतिरिक्त न्यायाधीश बनाये गए थे।
3 फ़रवरी, 1999 को योगेश कुमार मुंबई उच्च न्यायालय के मुख्य न्यायाधीश के रूप में नियुक्त हुए।
योगेश कुमार सभरवाल 1 नवम्बर, 2005 को भारत के मुख्य न्यायाधीश बनाये गए। वे इस पद पर 13 जनवरी, 2007 (कुल 438 दिन) तक रहे।
Yogesh Kumar Sabharwal (14 January 1942 – 3 July 2015) was the 36th Chief Justice of India.Sabharwal worked as an advocate for Indian Railways from 1969 to 1981, as an advocate for Delhi administration from 1973 to 1976-1977, later as Additional Standing Counsel and then as Standing Counsel. He also served as Counsel to the Central Government from 1980 to 1986. He represented Delhi in the Bar Council of India from 1969 to 1973.
He became an Additional Judge in the Delhi High Court on 17 November 1986 and a judge soon after.
On 3 February 1999, he was appointed as Chief Justice of Bombay High Court. In less than a year, he was appointed as a judge, Supreme Court of India.
Being the senior-most judge of the Supreme Court of India at the time, Sabharwal was appointed as the Chief Justice of India to succeed Mr. R.C. Lahoti who was retiring on 31 October 2005. He was sworn in as the Chief Justice by the President of India, A P J Abdul Kalam on 1 November 2005 for a period of about 14 months as he would turn 65, the retirement age for Chief Justices, on 14 January 2007.As a judge of the Supreme Court, he delivered several important judgements dealing with constitutional matters.
A constitutional bench headed by Justice Sabharwal in October 2005 held as unconstitutional the dissolution of Bihar assembly on the basis of the report of Governor Buta Singh but refused to revert the action, thereby paving way for fresh elections.
He headed the bench which refused to grant any relief in the 2006 Delhi sealing drive in which thousands of illegal constructions were demolished across Delhi. This became controversial after it was later found that his two sons were connected with the real estate business in Delhi.
In 2007, he headed a nine judge constitution bench which ruled that all laws placed under the ninth schedule after 24 April 1973, shall be open to be challenged in court if they violate the fundamental rights guaranteed under Article 14, 19, 20 and 21 of the Constitution. This judgment was made in response to a number of petitions made on various laws including the Tamil Nadu Reservation Act, 1994.
Sabharwal died of a heart attack on 3 July 2015, aged 73. He is survived by his 2 sons.