20 October World Statistics Day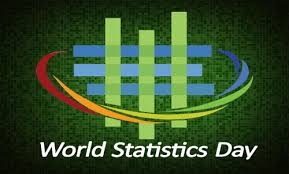 This is the second World Statistics Day. This year's theme emphasizes the critical role of high-quality official statistical information in analysis and informed policy decision-making in support of sustainable development. It also reflects the importance of sustainable national statistical capacity to produce reliable and timely statistics and indicators measuring a country's progress.
The UN General Assembly decided with resolution 69/282 to celebrate the day every five years from now on.
The Assembly also noted that 2015 marks the bicentenary of the birth of George Boole, whose work on the application of the principles of logic as a form of algebra underpins modern computer science.
The first World Statistics Day was celebrated in 2010, as decided in resolution 64/267, and was deemed an overwhelming success, with activities organized in more than 130 Member States and by at least 40 international and regional organizations and entities.