May 21 -Anti Terrorism Day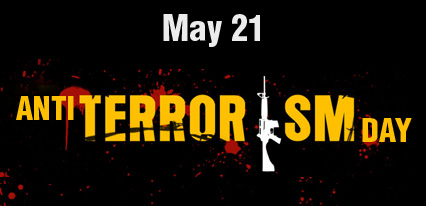 Martyrdom of former Prime Minister Rajiv Gandhi, also known as Anti Terrorism Day is observed across India on 21 May. The date so chosen is to commemorate the death anniversary of one of the most eminent Prime Ministers of India, Shri Rajiv Gandhi (20 August 1944 – 21 May 1991). He had been victimized of this menace and to honor and respect his contributions, the day is celebrated on annual basis. This day is also observed to make people aware of the ongoing terrorist activities and the precautions to be taken by the commoners to prevent these acts of terrorism.
Promoting unity, peace and harmony across the nation has been one of the major motives behind celebrating this day. Every year, a two minutes silence is observed in whole India to mourn for the loss of Shri Rajiv Gandhi and many other innocent people who have been victimized by the terrorism.
Anti Terrorism or Anti Violence Pledge is taken in all the government offices and public sector undertakings which is as follows – "We, the people of India, having abiding faith in our country's tradition of non-violence and tolerance, hereby solemnly affirm to oppose with our strength, all forms of terrorism and violence. We pledge to uphold and promote peace, social harmony, and understand among all fellow human beings and fight the forces of disruption threatening human lives and values."
Several other activities take place on the Anti-Terrorism Day, including seminars promoting anti-terrorism, floral wreath is laid on the Rajiv Gandhi statue, anti integrity oath is taken and marches are carried out by the Congressmen all across the nation. The main aim of this Day is to reduce the terrorism to the maximum possible extent.