October 31 -National Integration Day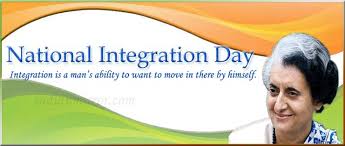 National Integration Day is celebrated on 31st October while Smt. Indra Gandhi's birthday lies on 19 January.
31st October is death-day of Smt. Indra Gandhi.
Also, National Integration Day is not celebrated on the occasion of death of our former PM, it is rather celebrated on the birthday of Sardar Vallabhbhai Patel who took upon his shoulders the task of uniting over 500 princely states to India. If he would not have been there, India would have been divided into lot many dominions with separate governments. He managed to complete this difficult task and unite the whole of diverse India. So, it is the birthday of this legendary personality which is celebrated as National Integration Day.