रामनाथ कोविंद (अंग्रेज़ी: Ramnath Kovind, जन्म- 1 अक्टूबर, 1945, कानपुर)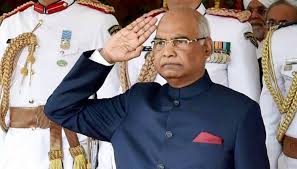 रामनाथ कोविंद (अंग्रेज़ी: Ramnath Kovind, जन्म- 1 अक्टूबर, 1945, कानपुर, उत्तर प्रदेश) भारत के 14वें महामहिम (राष्ट्रपति) हैं। 25 जुलाई, 2017 को पूर्व राष्ट्रपति प्रणब मुखर्जी का कार्यकाल पूर्ण होने के बाद उन्होंने देश के राष्ट्रपति पद का कार्यभार ग्रहण किया है। उन्हें उच्चतम न्यायालय के मुख्य न्यायाधीश जे.एस. खेहर ने भारत के राष्ट्रपति पद की शपथ दिलायी। रामनाथ कोविंद 20 जुलाई, 2017 को देश के 14वें राष्ट्रपति निर्वाचित हुए थे। वे एन.डी.ए. द्वारा 19 जून, 2017 को भारत के राष्ट्रपति पद हेतु उम्मीदवार घोषित किये गए थे। भारतीय जनता पार्टी के राष्ट्रीय अध्यक्ष अमित शाह ने प्रेस कांफ्रेंस करके उनकी उम्मीदवारी की घोषणा की थी। पेशे से वकील कोविंद भाजपा के 'अनुसूचित जाति मोर्चा' के प्रमुख रहे हैं। वे राज्य सभा सदस्य तथा बिहार के राज्यपाल भी रह चुके हैं।
Ram Nath Kovind (born 1 October 1945) is the 14th and current President of India since 25 July 2017. Previously he had served as the 26th Governor of Bihar from 2015 to 2017 and was a Member of Parliament, Rajya Sabha from 1994 to 2006. Kovind was nominated as a presidential candidate by the ruling NDA coalition and won the 2017 presidential election.
Before entering politics, he was a lawyer for 16 years and practised in the Delhi High Court and the Supreme Court until 1993
Ram Nath Kovind was born on 1 October 1945, in Paraunkh village in the Kanpur Dehat district of Uttar Pradesh, as the youngest of five brothers and two sisters. His father Maikulal Kovind ran a small shop. Kovind was born in a mud hut, which eventually collapsed. He was only five when his mother died of burns when their thatched dwelling caught fire. Kovind later donated the land to the community. Kovind was born into the Kori caste, considered underprivileged even among the Dalits.
After his elementary school education, he had to walk each day to Kanpur village, 8 km away, to attend junior school, as nobody in the village had a bicycle. He holds a bachelor's degree in commerce and an LLB from DAV College (affiliated with Kanpur University)