कुमार सानु, (जन्म- 20 अक्टूबर, 1957, कोलकाता, पश्चिम बंगाल)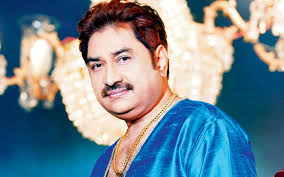 कुमार सानु, वास्तविक नाम- केदारनाथ भट्टाचार्य (अंग्रेज़ी: Kedarnath Bhattacharaya, जन्म- 20 अक्टूबर, 1957, कोलकाता, पश्चिम बंगाल) भारतीय सिनेमा के सर्वाधिक प्रसिद्ध और सफलतम पार्श्वगायकों में से एक हैं। हिंदी फिल्म इंडस्ट्री का 90 का दशक कुमार सानू की आवाज के लिए जाना जाता था। इस दौर में कुमार सानू के एक के बाद एक सुपरहिट गाने आये, जो आज भी सुने जाते हैं। इसी कारण उनका नाम हिंदी फिल्म इंडस्ट्री के सबसे पसंदिता गायकों की सूची में रखा जाता हैं। करीब 20 हजार गानों का रिकॉर्ड बना चुके कुमार सानू ने कई भाषाओं में गीत गाए हैं और एक दिन में 28 गाने गा कर अपना नाम 'गिनीज बुक' में दर्ज करवाया है। वे प्लेबैक सिंगिंग की लीजैंड माने जाते हैं। कुमार सानु लगातार 5 बार फिल्मफेयर अवार्ड पा चुके हैं। 2009 में उनकी उत्कृष्ट गायकी के लिए उन्हें 'पद्मश्री' से भी सम्मानित किया गया।
Kedarnath Bhattacharaya (born 20 October 1957), better known as Kumar Sanu, is a leading Bollywood Indian playback singer. He is famous for singing thousands of Bollywood songs.
Early life
Sanu's father, Pashupati Bhattacharya, was a vocalist and composer. The two and Sanu's elder sister lived in the Sinthee area of Calcutta (now Kolkata) near Biswanath Park.
Career
Main article: Kumar Sanu discography and filmography
Kumar Sanu started his playback career, as Sanu Bhattacharya. In 1986, he got Bangladeshi film Tin Kanya, directed by Shibli Sadiq. Sanu had his first major Bollywood song in Hero Hiralal (1989).
In 1989, Jagjit Singh introduced Kumar Sanu to Kalyanji-Anandji in Mumbai. On their suggestion, he changed his name from "Kedarnath Bhattacharya" to "Kumar Sanu" because his voice and singing style were much influenced by Kishore Kumar. Sanu then relocated to Mumbai, where Kalyanji-Anandji gave him a chance to sing in the film Jaadugar.
For the 1990 film Aashiqui, music directors Nadeem-Shravan got Sanu to sing all but one of the songs. He won the first of his record five consecutive Filmfare Awards as Best Male Playback Singer. His next Filmfare Awards came for songs in the movies Saajan (1991), Deewana (1992), Baazigar (1993) and 1942: A Love Story (1994). He won 5 back to back Filmfare awards for singing, between 1990 and 1994.