वी शांताराम ( मृत्यु- 30 अक्टूबर, 1990)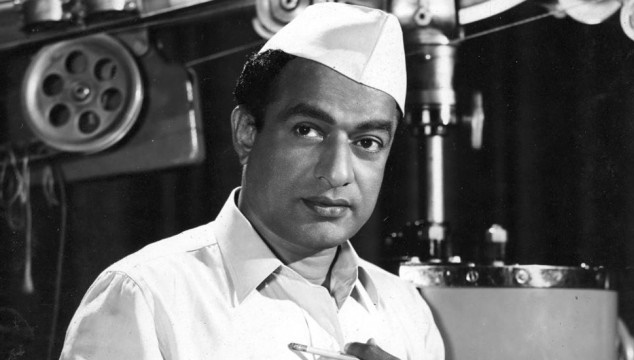 राजाराम वांकुडरे शांताराम (अंग्रेज़ी: Rajaram Vankudre Shantaram, जन्म- 18 नवंबर, 1901, कोल्हापुर; मृत्यु- 30 अक्टूबर, 1990) एक कुशल निर्देशक, फ़िल्मकार, बेहतरीन अभिनेता थे। हिन्दी फ़िल्मों में बतौर निर्देशक शुरुआत करने वाले शांताराम ने डॉक्टर कोटनिस की 'अमर कहानी' (1946), 'अमर भूपाली' (1951), 'झनक-झनक पायल बाजे' (1955), 'दो आंखें बारह हाथ' (1957) और 'नवरंग' (1959) जैसी विविधतापूर्ण और गूढ़ अर्थों वाली फ़िल्में बनाकर अलग मुक़ाम हासिल किया था।राजाराम वांकुडरे शांताराम (अंग्रेज़ी: Rajaram Vankudre Shantaram, जन्म- 18 नवंबर, 1901, कोल्हापुर; मृत्यु- 30 अक्टूबर, 1990) एक कुशल निर्देशक, फ़िल्मकार, बेहतरीन अभिनेता थे। हिन्दी फ़िल्मों में बतौर निर्देशक शुरुआत करने वाले शांताराम ने डॉक्टर कोटनिस की 'अमर कहानी' (1946), 'अमर भूपाली' (1951), 'झनक-झनक पायल बाजे' (1955), 'दो आंखें बारह हाथ' (1957) और 'नवरंग' (1959) जैसी विविधतापूर्ण और गूढ़ अर्थों वाली फ़िल्में बनाकर अलग मुक़ाम हासिल किया था।
Shantaram Rajaram Vankudre (18 November 1901 – 30 October 1990), referred to as V. Shantaram or Shantaram Bapu, was an Indian Marathi filmmaker, film producer, and actor. He is most known for films such as Dr. Kotnis Ki Amar Kahani (1946), Amar Bhoopali (1951), Jhanak Jhanak Payal Baaje (1955), Do Aankhen Barah Haath (1957), Navrang (1959), Duniya Na Mane (1937), Pinjara (1972), Chani, Iye Marathiche Nagari and Zunj.
V. Shantaram started his film career doing odd jobs in Maharashtra Film Co. owned by Baburao Painter at Kolhapur. He went on to debut as an actor in the silent film Surekha Haran in 1921.
Shantaram, fondly known as Annasaheb, had an illustrious career as a filmmaker for almost seven decades. He was one of the early filmmakers to realize the efficacy of the film medium as an instrument of social change and used it successfully to advocate humanism on one hand and expose bigotry and injustice on the other. V. Shantaram had a very keen interest in music. It is said that he "ghost wrote" music for many of his music directors, and took a very active part in the creation of music. Some of his songs had to rehearsed several times before they were approved by V. Shantaram. He Was Also Praised By Charlie Chaplin for his Marathi film Manoos. Chaplin reportedly liked the film to a great extent.
He directed his first film Netaji Palkar, in 1927. In 1929, he founded the Prabhat Film Company along with Vishnupant Damle, K.R. Dhaiber, S. Fatelal and S.B. Kulkarni, which made Ayodhyecha Raja, the first Marathi language film in 1932 under his direction. He left Prabhat co. in 1942 to form "Rajkamal Kalamandir" in Mumbai. In time, "Rajkamal" became one of the most sophisticated studios of the country.
Shantaram introduced his daughter Rajshree (his daughter by Jayashree) and Jeetendra in the 1964 film Geet Gaya Patharon Ne. That was the debut film for both of them. He also introduced his second wife Sandhya's niece Ranjana Deshmukh into the Marathi film industry through Chandanachi Choli Ang Ang Jaali, directed by his son Kiran Shantaram in 1975. Ranjana dominated the Marathi silver screen in the 70s and 80s.
The Dadasaheb Phalke Award was conferred on him in 1985. He was posthumously awarded the Padma Vibhushan in 1992.
His autobiography Shantarama was published in Hindi and Marathi.
The V. Shantaram Award was constituted by Central Government and Maharashtra State Government. The V. Shantaram Motion Picture Scientific Research and Cultural Foundation, established in 1993, offers various awards to film-makers. The award is presented annually on 18 November. A postage stamp dedicated to Shantaram was released by India Post on 17 November 2001.