शरद गोविंदराव पवार ( जन्म- 12 दिसंबर, 1940, पुणे, महाराष्ट्र)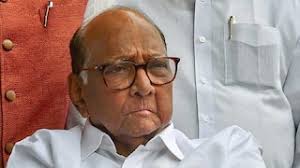 शरद गोविंदराव पवार (अंग्रेज़ी: Sharad Govindrao Pawar, जन्म- 12 दिसंबर, 1940, पुणे, महाराष्ट्र) वरिष्ठ भारतीय राजनीतिज्ञ हैं। वह राज्यसभा के सदस्य और नेशनलिस्ट कांग्रेस पार्टी (एनसीपी) के अध्यक्ष रहे हैं, जिसकी स्थापना उन्होंने 1999 में की थी। शरद पवार अलग-अलग समय पर तीन बार महाराष्ट्र के मुख्यमंत्री रहे। 1991-1993 के दौरान केन्द्र सरकार में रक्षामंत्री और 2004-2014 के मध्य कृषि मंत्री भी रह चुके हैं। वे भारतीय क्रिकेट नियंत्रण बोर्ड के अध्यक्ष पद पर भी आसीन रहे। शरद पवार भारत की सर्वाधिक प्रभावशाली राजनैतिक हस्तियों में आते हैं। पांच दशक लंबे अपने राजनैतिक जीवन में उन्होंने कभी कोई चुनाव नहीं हारा। दो मौके ऐसे भी आए, जब वे भारत के प्रधानमंत्री हो सकते थे। वे भारत और महाराष्ट्र के इतिहास को साठ के दशक से देख रहे हैं।
प्रारंभिक जीवन
शरद गोविंदराव पवार का जन्म 12 दिसम्बर, 1940 को महाराष्ट्र के पुणे में हुआ था। उनके पिता गोविंदराव पवार बारामती के कृषक सहकारी संघ में कार्यरत थे और उनकी माता शारदाबाई पवार कातेवाड़ी में परिवार के फार्म का देख-रेख करती थीं। शरद पवार ने पुणे विश्वविद्यालय से सम्बद्ध ब्रिहन महाराष्ट्र कॉलेज ऑफ़ कॉमर्स से शिक्षा प्राप्त की है।
शरद पवार का विवाह प्रतिभा शिंदे से हुआ। पवार दंपत्ति की एक पुत्री है जो बारामती संसदीय क्षेत्र से सांसद है। शरद पवार के भतीजे अजित पवार भी महाराष्ट्र की राजनीति में प्रमुख स्थान रखते हैं और पूर्व में महाराष्ट्र राज्य के उप-मुख्यमंत्री रह चुके हैं। शरद पवार के छोटे भाई प्रताप पवार मराठी दैनिक 'सकल' का संचालन करते हैं।
Sharad Govindrao Pawar (born 12 December 1940), is an Indian politician from Baramati, Maharashtra, with over 50 years of public service. He holds a position of prominence in politics of India as well as the regional politics of Maharashtra. During his long career, Pawar has served as the Chief Minister of Maharashtra on three occasions and held the posts of Minister of Defence and Minister of Agriculture in the Government of India. He is president of the Nationalist Congress Party (NCP), which he founded in 1999, after separating from the Indian National Congress. He leads the NCP delegation in the Rajya Sabha, the upper chamber of the Indian parliament. He is one of the founders of Maha Vikas Aghadi, a post-poll alliance in Maharashtra between Shivsena, NCP, and INC.
Pawar comes from the town of Baramati in the Pune district of Maharashtra. He is the patriarch of a political family that includes his daughter as well his nephew and other members of his extended family.
Outside of politics, Pawar served as the Chairman of the Board of Control for Cricket in India BCCI from 2005 to 2008 and as the president of the International Cricket Council from 2010 to 2012. On 17 June 2015, he was re-elected as president of the Mumbai Cricket Association, a position he held from 2001 to 2010 and in 2012. On 17 December 2016, he stepped down as the President of Mumbai Cricket Association.
In 2017, the Indian government under his political opponent, prime minister Narendra Modi, conferred upon him Padma Vibhushan, the second-highest civilian honour of India.