विलासराव दगड़ोजीराव देशमुख ( जन्म- 26 मई, 1945, लातूर, महाराष्ट्र; )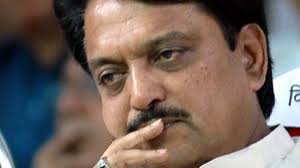 विलासराव दगड़ोजीराव देशमुख (अंग्रेज़ी: Vilasrao Dagadojirao Deshmukh, जन्म- 26 मई, 1945, लातूर, महाराष्ट्र; मृत्यु- 14 अगस्त, 2012, चेन्नई, तमिलनाडु) भारतीय राजनीतिज्ञ और भारतीय राष्ट्रीय कांग्रेस के राजनेता थे। वह दो बार महाराष्ट्र के मुख्यमंत्री रहे। विलासराव देशमुख महाराष्ट्र के लातूर ज़िले से थे। उनको भारत सरकार की पंद्रहवीं लोकसभा के मंत्रीमंडल में बड़े उद्योग एवं सार्वजनिक उपक्रम में मंत्री बनाया गया था। उनके पुत्र रितेश देशमुख हिन्दी सिनेमा जगत के प्रसिद्ध अभिनेता हैं। मुख्यमंत्री रहे विलासराव देशमुख के दूसरे कार्यकाल के दौरान मुंबई सीरियल ब्लास्ट हुए थे। धमाकों की नैतिक जिम्मेदारी लेते हुए उन्होंने अपने पद से त्यागपत्र दे दिया था।
परिचय
विलासराव देशमुख का जन्म 26 मई, 1945 को लातूर जिले के बाभालगांव के एक मराठा परिवार में हुआ था। उन्होंने पुणे विश्वविद्यालय से विज्ञान और कला दोनों में स्नातक की पढ़ाई की। पुणे के ही इंडियन लॉ सोसाइटी लॉ कॉलेज से उन्होंने कानून की पढ़ाई की। विलासराव देशमुख ने युवावस्था में ही समाज सेवा करना शुरू कर दिया था। उन्होंने सूखा राहत कार्य में बढ़-चढ़ कर हिस्सा लिया। उनकी पत्नी वैशाली देशमुख हैं। इनके तीन पुत्र हैं- अमित देशमुख, रितेश देशमुख और धीरज देशमुख। अमित देशमुख लातूर से विधायक हैं। जबकि रितेश देशमुख जानेमाने बॉलीवुड कलाकार हैं
Vilasrao Dagadojirao Deshmukh (26 May 1945 – 14 August 2012) was an Indian politician who served two terms as the Chief Minister of the state of Maharashtra. He also served in the Union cabinet as the Minister of Science and Technology and Minister of Earth Sciences.
Vilasrao Deshmukh was a Member of Parliament in Rajya Sabha, India. He had previously held the posts of Minister of Rural Development and Minister of Panchayati Raj, Government of India and Minister of Heavy Industries and Public Enterprises, Government of India. He was a member of Rajya Sabha representing Maharashtra. Vilasrao Deshmukh was two-time Chief Minister of Maharashtra, from 1999 to 2003 and from 2004 to 2008. He was a member of the Indian National Congress and originally belonged to Latur district in the Marathwada region of Maharashtra.
Critically ill with kidney and liver failures, Deshmukh died on 14 August 2012 due to multiple organ failure at Global Hospitals, Chennai. He is survived by his wife Vaishali and three sons, including actor Riteish Deshmukh.