Mahadevi Varma (26May1907-11Sep1987)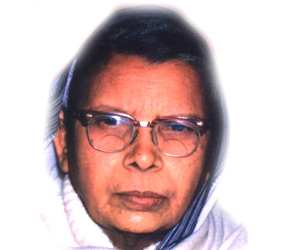 Mahadevi Varma- (26May1907-11Sep1987) was best known as an outstanding Hindi poet, and was a freedom fighter, woman's activist and educationist from India. She is widely regarded as the "modern Meera". She was a major poet of the Chhayavaad generation, a period of romanticism in Modern Hindi poetry ranging from 1914–1938. With the passage of time, her limited but outstanding prose has been recognised as unique in Hindi literature. She was a prominent poet in Hindi Kavi sammelans (Gatherings of poets).
She was the Principal, and then the Vice-Chancellor of Prayag Mahila Vidyapeeth, a woman's residential college in Allahabad. She was awarded India's highest literary award, for lifetime achievement, the Sahitya Akademi Fellowship in 1979, followed by the Jnanpith Award in 1982. She was the recipient of the Padma Bhushan in 1956 and the Padma Vibhushan in 1988, India's third and second highest civilian awards respectively.