Hema Malini (16-Oct-1948)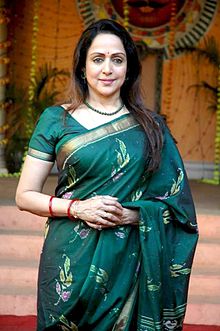 Hema Malini ("Hema Malini Chakravarty") (born 16 October 1948, Ammankudi (Orathanadu), Tamil Nadu, India) is an Indian actress, director, producer, dancer and politician. 1963 she made acting début in Tamil film "Ithu Sathiyam" as a dancer/supporting actress. Malini first acted in main role in Sapno Ka Saudagar (1968), and went on to feature in numerous Bollywood films, primarily as the lead actress. In most of her films, she starred opposite her husband; Dharmendra and with Rajesh Khanna and Devanand.
Malini was initially promoted as the "Dream Girl", and in 1977 starred in a film of the same name.[3] She has played both comic and dramatic roles, as well as being a dancer.[4][5][6][7] She has appeared in more than 150 films. During her career, Malini received eleven nominations for the Filmfare Award for Best Actress, winning the award in 1972. In 2000, Malini won the Filmfare Lifetime Achievement Award and also the Padma Shri, the fourth-highest civilian honour awarded by the Government of India. In 2012, the Sir Padampat Singhania University conferred an Honorary Doctorate on Malini in recognition of her contribution to Indian cinema. Malini served as chairperson of the National Film Development Corporation. In 2006, Malini received Sopori Academy of Music And Performing Arts (SaMaPa) Vitasta award from Bhajan Sopori in Delhi for her contribution and service to Indian culture and dance.
From 2003 to 2009, Malini was elected to the Rajya Sabha, the upper House of parliament, as a representative of the Bharatiya Janata Party.[10] Malini has been involved with charitable and social ventures.