Sardar Vallabhbhai Patel (31 October 1875 – 15 December 1950)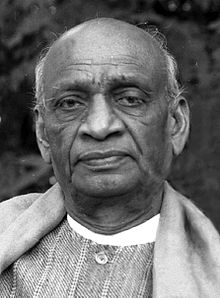 Vallabhbhai Jhaverbhai Patel ( 31 October 1875 – 15 December 1950) was an Indian barrister and statesman, one of the leaders of the Indian National Congress and one of the founding fathers of the Republic of India. He was a social leader who played a leading role in the country's struggle for independence and guided its integration into a united, independent nation. In India and elsewhere, he was often addressed as Sardar, which means Chief in Hindi, Urdu and Persian.

He was raised in the countryside of Gujarat. Patel was employed in successful practice as a lawyer. He subsequently organised peasants from Kheda, Borsad, and Bardoli in Gujarat in non-violent civil disobedience against oppressive policies imposed by the British Raj; in this role, he became one of the most influential leaders in Gujarat. He rose to the leadership of the Indian National Congress, in which capacity he would organise the party for the elections held in 1934 and 1937, as well as continue to promote the Quit India Movement.

As the first Home Minister and Deputy Prime Minister of India, Patel organised relief for refugees fleeing from Punjab and Delhi and led efforts to restore peace across the nation. Patel took charge of the task to forge a united India by integrating into the newly independent nation those British colonial provinces "allocated" to India. Besides those provinces under direct British rule, approximately 565 self-governing princely states had been released from British suzerainty by the Indian Independence Act 1947. Through both frank diplomacy as well an option to deploy military force, Patel would persuade almost every princely state to accede to India. Patel's commitment to national integration in the newly independent country was total and uncompromising, earning him the sobriquet "Iron Man of India" He is also affectionately remembered as the "Patron saint of India's civil servants" for having established the modern all-India services system.

An annual commemoration of Patel, known as the Rashtriya Ekta Diwas (National Unity Day), was introduced by the Government of India in 2014 and is to be held annually on his birthday, 31 October.