Lal Bahadur Shastri (2 October 1904 – 11 January 1966)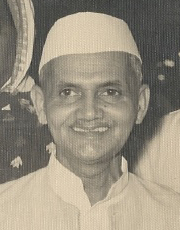 Lal Bahadur Shastri (2 October 1904 – 11 January 1966) was the Prime Minister of the Republic of India and a leader of the Indian National Congress party.
Shastri joined the Indian independence movement in the 1920s. Deeply impressed and influenced by Mahatma Gandhi (with whom he shares his birthday), he became a loyal follower, first of Gandhi, and then of Jawaharlal Nehru. Following independence in 1947, he joined the latter's government and became one of Prime Minister Nehru's principal lieutenants, first as Railways Minister (1951–56), and then in a variety of other functions, including Home Minister. Shastri while a staunch supporter of Nehru, differed from his socialist policies on Industry
Shastri as Prime Minister continued Nehru's policies of non-alignment but disregarded socialism as he believed in ending license raj. He led the country during the Indo-Pakistan War of 1965. His slogan of "Jai Jawan Jai Kisan" ("Hail the soldier, Hail the farmer") became very popular during the war and is remembered even today. The war formally ended with the Tashkent Agreement of 10 January 1966; he died of a heart attack the following day, still in Tashkent.