Navjot Singh Sidhu (20-Oct-1963)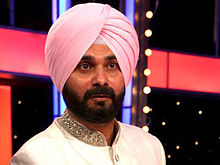 Navjot Singh Sidhu (born 20 October 1963) is a former Indian cricketer and a former Member of Parliament from Amritsar (Lok Sabha constituency) between 2004 and 2014.
After retirement from cricket Navjot Singh Sidhu took up television commentary, TV shows, and politics. In 2006, he was convicted for homicide in a 1988 road rage incident, whereupon he resigned from his political position, but after appealing to the Indian Supreme Court, the sentence was suspended, and he won the by-election for his seat. Earlier he used to be seen in a popular Indian comedy show, Comedy Nights with Kapil as a permanent guest. But now is in The Kapil Sharma Show.