Harivanshrai 'Bachchan' (27 November 1907 – 18 January 2003)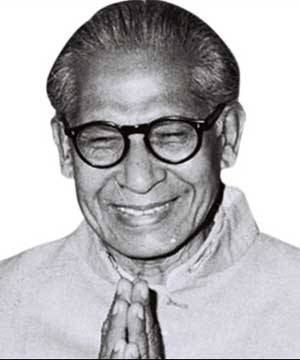 Harivansh Rai Srivastava alias Bachchan (27 November 1907 – 18 January 2003) was a noted Indian poet of the Nayi Kavita literary movement (romantic upsurge) of early 20th century Hindi literature. Born in a Srivastava Kayastha family, in the village of Babupatti (Raniganj) in the district of Pratapgarh, he was also a famous poet of the Hindi Kavi Sammelan. He is best known for his early work Madhushala He is also the father of the noted Hindi film actor, Amitabh Bachchan. In 1976, he was honoured with the Padma Bhushan for his immense contribution to Hindi literatureBorn in a Kayastha family, in Allahabad while his ancestors belonged to the village of Babupatti in Raniganj tehsil in the district of Pratapgarh, U.P. near Allahabad in the United Provinces (modern Uttar Pradesh) he was the eldest son of Pratap Narayan Shrivastav and Saraswati Devi. He was called bachchan (meaning Kid at home). He received his formal schooling in a municipal school and followed the family tradition of attending Kayastha Paathshaalas learn Urdu as the first step to a career in law. He later studied at the Allahabad University and Banaras Hindu University. In this period, he came under the influence of the independence movement, then under the leadership of Mahatma Gandhi. He honoured with "Proud Past Alumni" in the list of 42 members, from "Allahabad University Alumni Association", NCR, Ghaziabad (Greater Noida) Chapter 2007–2008 registered under society act 1860 with registration no. 407/2000.
Realizing that this was not the path he wanted to follow, he went back to the university. However, from 1941 to 1952 he taught in the English Department at the Allahabad University and after that he spent the next two years at St Catharine's College, Cambridge, Cambridge University doing his doctoral thesis on W.B. Yeats. It was then, that he used 'Bachchan' as his last name instead of Srivastava. Harivanshrai's thesis got him his PhD at Cambridge. He is the second Indian to get his doctorate in English literature from Cambridge. After returning to India he again took to teaching and also served at All India Radio, Allahabad.