Atal Bihari Vajpayee (25-Dec-1924)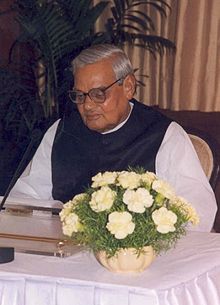 Atal Bihari Vajpayee (born 25 December 1924) is an Indian statesman who was the 10th Prime Minister of India, first for 13 days in 1996 and then from 1998 to 2004. A leader of the Bharatiya Janata Party (BJP), he is the first Prime Minister from outside the Indian National Congress party to serve a full five-year term.
A parliamentarian for over four decades, Vajpayee was elected to the Lok Sabha (the lower house of India's Parliament) ten times, and twice to the Rajya Sabha (upper house). He also served as the Member of Parliament for Lucknow, Uttar Pradesh, until 2009, when he retired from active politics due to health concerns. Vajpayee was one amongst the founder members of erstwhile Bharatiya Jana Sangh, which he had also headed. He was also the Minister of External Affairs in the cabinet of Morarji Desai. When Janata government collapsed, Vajpayee restarted the Jana Sangh as the Bharatiya Janata Party in 1980.
On 25 December 2014 the office of President of India announced the Bharat Ratna award, India's highest civilian honour, to Vajpayee. In a special gesture, the President of India conferred Bharat Ratna to Atal Bihari Vajpayee in his residence on 27 March 2015. His birthday, 25 December, was declared "Good Governance Day"