अशोक कुमार - जन्म: (13 अक्तूबर, 1911)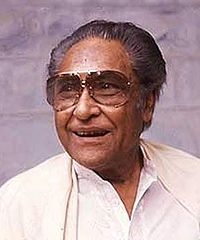 अशोक कुमार , जन्म: 13 अक्तूबर, 1911 - मृत्यु: 10 दिसंबर, 2000) हिन्दी फ़िल्मों के प्रसिद्ध अभिनेता, निर्माता-निर्देशक थे। अशोक कुमार को सन् 1999 में भारत सरकार ने कला के क्षेत्र में पद्म भूषण से सम्मानित किया था। हिन्दी सिनेमा के युगपुरुष कुमुद कुमार गांगुली उर्फ अशोक कुमार को ऐसे अभिनेता के रूप में याद किया जाता है जिन्होंने उस समय प्रचलित थियेटर शैली को समाप्त कर अभिनय को स्वाभाविकता प्रदान की और छह दशकों तक अपने बेहतरीन काम से सिनेप्रेमियों को रोमांचित किया। अशोक कुमार का असली नाम कुमुद गांगुली है। इन्हें दादा मुनी के नाम से जाना जाता है। अशोक कुमार ने 300 से ज़्यादा फ़िल्मों में अभिनय किया।
Ashok Kumar (13 October 1911 – 10 December 2001), born Kumudlal Ganguly, and also fondly called Dadamoni, was an Indian film actor who attained iconic status in Indian cinema. He was honoured in 1988 with the Dadasaheb Phalke Award, the highest national award for cinema artists, by the Government of India and also received the Padma Bhushan in 1999 for his contributions to Indian cinema. He is considered to be one of India's finest actors ever, playing leading, negative and character roles with equal panache.
Ashok Kumar was born Kumudlal Ganguly to a Bengali family in Bhagalpur, then in the Bengal Presidency of British India and now in the Bihar state of India. His father, Kunjlal Ganguly, was a lawyer while his mother, Gouri Devi, was a home-maker. Kumudlal (as he was then known) was the eldest of four children. His only sister, Sati Devi, a few years younger to him, was married at a very young age to Sashadhar Mukherjee and became the matriarch of a large "film family". Next was his brother, Kalyan, more than 14 years younger (b.1926), who later took the screen name Anoop Kumar, and youngest of all was Abhas (b.1929), whose screen name was Kishore Kumar, who became a phenomenally successful playback singer of Hindi films. Although the eldest by several years, Ashok Kumar outlived all his siblings. In fact, he stopped celebrating his birthday after his youngest brother, Kishore, died on that very day, Ashok's birthday, in 1987.
While still a teenager, and well before he had even given thought to a career in films, the young Kumudlal was married to Shobha in a match arranged by their parents in the usual Indian style.Their lifelong marriage was a harmonious and conventional one, and despite his film career, the couple retained a very middle-class outlook and value system, bringing up their children with traditional values in a remarkably simple home. They were the parents of one son, Aroop Ganguly, and three daughters named Bharati Patel, Rupa Verma and Preeti Ganguly. Their son, Aroop Kumar Ganguly, worked in exactly one film, appearing as hero in Bezubaan (1962), which flopped at the box office. He then made a career in the corporate world. Ashok's eldest daughter, Bharati Patel, is the mother of the actress Anuradha Patel, who is married to actor Kanwaljeet Singh. Ashok's second daughter, Rupa Verma, is the wife of the actor and comedian Deven Verma. Ashok's youngest daughter, Preeti Ganguly, was the only one among his daughters to enter the film industry. She acted as a comedienne in several Hindi films during the 1970s and 1980s, and died unmarried in 2012.
Ashok Kumar's daughter Bharati married twice, and both times for love. Her first marriage was to a Mr. Patel, a Gujarati gentleman. By this marriage, she had one daughter, the actress Anuradha Patel, who is married to the actor Kanwaljeet Singh. Later, and much against the wishes of all her relatives, Bharati had a second marriage with Hameed Jaffrey, a Muslim who was the brother of the actor Saeed Jaffrey. By this second marriage, Bharati had another daughter, Shaheen Jaffrey, whose principal claim to fame is that she may have been the first love of actor Salman Khan. By this second marriage, Bharati also acquired a step-daughter, Geneviève, who was Hameed's daughter by his first wife Valarie Salway, a woman of mixed Scottish, Irish, Portuguese and Spanish heritage.Geneviève married a Sindhi businessman named Jagdeep Advani. Their daughter is the upcoming model and actress Kiara Advani. Thus, Ashok Kumar has no blood relationship with Kiara Advani and she is not his great-granddaughter, as is sometimes rumoured.

Reverently called Dadamoni (affectionate term for elder brother), Kumudlal Ganguly was born in Bhagalpur and educated at Presidency College of the University of Calcutta, Kolkata, where he studied to become a lawyer. However, his heart was not in his law studies. Ganguly was more interested in cinema, in which he dreamt of working as a technician.
He acted in fewer films in the 1980s and 1990s, and occasionally appeared on television, most famously anchoring the first Indian soap opera Hum Log and appearing as the title character in the unforgettable Bahadur Shah Zafar. He is today largely remembered for his television appearances in the 1980s.
Ashok Kumar's last film role was in the 1997 movie Aankhon Mein Tum Ho. Besides acting, he was an avid painter and a practitioner of homeopathy. A qualified homoeopath, Ashok Kumar earned a reputation for conjuring up miracle cures. Altogether, he starred in over 275 films. He has done more than 30 Bengali dramas in Dhakuria.
Ashok Kumar died at the age of 90 in Mumbai on 10 December 2001 of heart failure at his residence in Chembur. The then Prime Minister Atal Bihari Vajpayee described him as "an inspiration... for many generations of aspiring actors.
Awards and recognition
1959 – Sangeet Natak Akademi Award
1962 – Filmfare Best Actor Award, Rakhi
1963 – Bengal Film Journalists' Association – Best Actor Award (Hindi), Gumrah
1966 – Filmfare Best Supporting Actor Award, Afsana
1969 – Filmfare Best Actor Award, Aashirwaad
1969 – National Film Awards for Best Actor, Aashirwaad
1969 – Bengal Film Journalists' Association – Best Actor Award (Hindi), Aashirwaad
1988 – Dadasaheb Phalke Award, India's highest award for cinematic excellence
1994 – Star Screen Lifetime Achievement Award
1995 – Filmfare Lifetime Achievement Award
1999 – Padma Bhushan
2001 – Awadh Samman by the Government of Uttar Pradesh
2007 - "Special Award" by Star Screen Awards
Selected filmography
Main article: Ashok Kumar filmography
Some of Kumar's most popular films include:
Achhut Kanya (1936)
Janmabhoomi (1936)
Bandhan (1940)
Jhoola (1941)
Anjaan (1941)
Kismet (1943)
Mahal (1949)
Parineeta (1953)
Bhai-Bhai (1956)
Chalti Ka Naam Gaadi (1958)
Howrah Bridge (1958)
Kanoon (1960)
Dharmputra (1961)
Ummeed (1962)
Grahasti (1963)
Gumraah (1963)
Chitralekha (1964)
Hatey Bazarey (1967)
Jewel Thief (1967)
Aabroo (1968)
Aashirwad (1968)
Intaquam (1969)
Victoria No. 203 (1972)
Choti Si Baat (1975)
Mili (1975)
Anand Ashram(1977)
Khatta Meetha (1978)
Khoobsurat (1980)
Shaukeen (1982)
Bhago Bhut Aaya (1985)
Mr. India (1987)
Sangram (1993)
Mera Damad (1995)